The receiver plays a crucial role in the formation of a complete home theater. Many well-known brands release these devices on the market, but Yamaha has been one of the real leaders in the industry for many years. With these considerations in mind, I have prepared a Yamaha RX-A2A review for you today. The model was released in 2020, belonging to Yamaha's premium Aventage lineup. It is now the most affordable version of this series, combining optimal performance for most of your needs and a reasonable price.
Design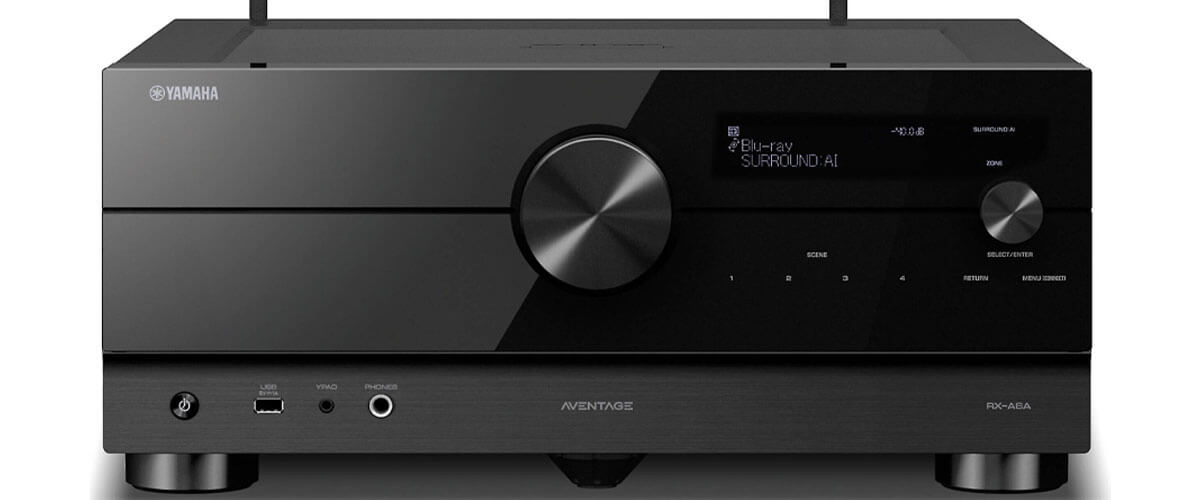 Yamaha has always distinguished itself from competitors through the elaborate design of its products. And the RX-A2A was no exception. The minimalistic design and the glossy black front panel of the device, on which there is a large volume knob in the middle, certainly draw attention.
To the right of the volume control, you will find 4 shortcut buttons. The power button, ports for the microphone, and headphones with 3.5 mm / 6.5 mm connectors are on the opposite side of the receiver, respectively. An excellent engineering solution is using a fifth leg in the center of the chassis model base, damping any vibrations, which positively affects the overall sound quality.
Features and specs
The Yamaha Aventage RX-A2A has a 7.2-channel amplifier with about 100 watts per channel (8 ohms, 20 Hz – 20 kHz, 0.06% THD). Since the device is the cheapest option from the premium class, it is equipped with a 384kHz/32-bit BB PCM5102A DAC. Of course, if you consider newer models, they are equipped with even better components. For example, the RX-A4A already has the latest Qualcomm QCS407 64-bit processor and Surround:AI.
But let's take a closer look at the RX-A2A specifications. It works with 4K resolution (120Hz), HDR10+, Dolby Vision, and Dolby Surround encodings. As a result, the picture looks quite bright and clear. This model also supports 8K resolution (60Hz) and advanced gaming capabilities. The only nuance to consider is that before you turn the receiver on, you must first activate the video synchronization of the TV. If this is not done, sometimes the sound and video will not be displayed, and the image format will be reduced.
There is also support for surround sound formats, such as DTS:X and Dolby Atmos. So watching movies will definitely take you to the next level.
As for connectors and connections, the receiver has 7 HDMI inputs (2.1) and 1 HDMI output (2.1) with HDCP 2.3 and eARC support. Available connection methods include 2 subwoofer outputs, Wi-Fi, USB inputs, network ports, Bluetooth, and Phono (MM) input.
Yamaha has two multi-room zones. This definitely expands the possibilities of using the receiver.This function allows you to enable playback from different sources in the main and Zone 2.
AirPlay 2 technology was also present in this model, allowing my iPhone to stream video and music to supported screens and speakers. So those who are worried about streaming services may not worry – they are also present here.
Listening experience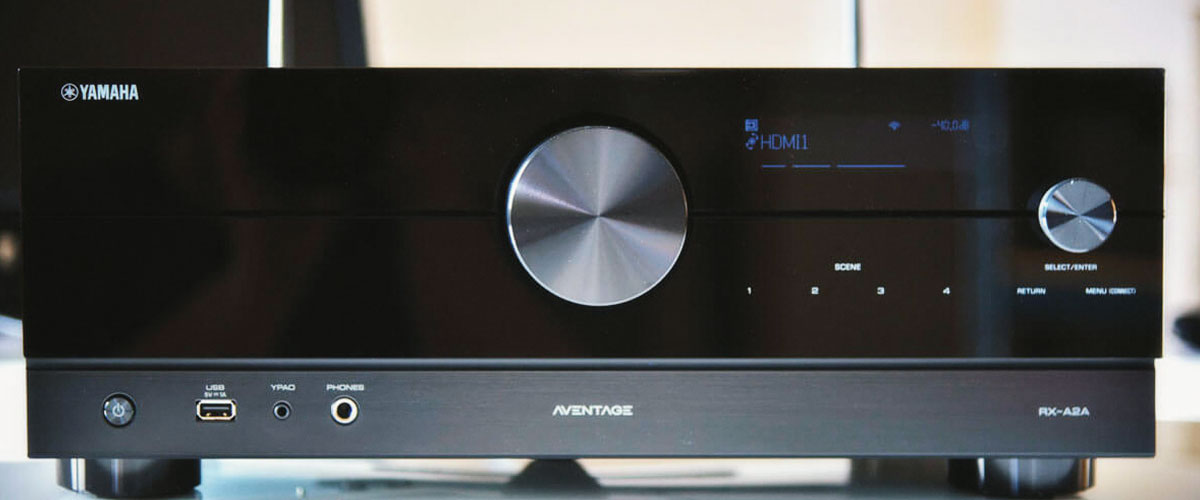 Before using the receiver, I first calibrated the sound with exclusive YPAO technology, and I must say, I achieved excellent results. Watching the movie "Fast and Furious 9" turned out to be quite a thrilling experience. The car chases sounded quite dynamic to me, and the squeals and truck drifts were pleasingly broad and fizzy. Thanks to the presence of surround sound technology, I was able to feel like I was in the middle of the action.
The explosions were less surprising. I'd say they sounded a little rough. As for the rest of the soundstage, it was neatly detailed.
During testing, I faced the problem of delayed sound several times. Namely, "Automatic Lip-sync" did not work correctly. It is hard to say whether this problem is present in all devices of this model or if it was just my "luck."
However, to summarize, I would like to note that the sound did not disappoint me, and although Yamaha RX-A2A is not the leader among the top models, you will definitely be satisfied with the unit for this money.
Key specs
Channels: 7.2.
Power output: 100W/8 Ohm.
HDMI inputs/outputs: 7/1.
Video functions: 8K/60Hz, 4K/120Hz, 4K/60Hz pass-through, video upconversion (up to 1080p and 4K) for analog and HDMI sources.
Bluetooth/Wi-Fi: yes/yes.
Streaming services: AirPlay2, Deezer, Tidal, Pandora, SiriusXM, Napster, SoundCloud, Amazon Music, Amazon Music HD, Mood mix.
Supports: HDMI ARC, HDMI eARC, HDMI CEC, HDCP2.3, HDR10, HDR10+, Dolby Vision.
Surround sound: DTS HD Master, DTS Neural:X, Dolby TrueHD, Dolby Surround, Dolby Digital Plus, Dolby Atmos Height Virtualization, Dolby Atmos.
We are supported by our audience. When you purchase through links on our site, we may earn an affiliate commission at no extra cost to you.
Our newsletter
* We will never send you spam or share your email with third parties