In this article, I have selected the best receivers for vinyl because there is probably no person left these days who would not own or dream of having a home stereo or home theater system that includes all possible components. And since vinyl has deservedly risen to the forefront in recent years, its presence in such systems plays an important role for true connoisseurs. In my selection, you will find two categories of receivers, stereo, and AV, each of which can connect a turntable with phono inputs. So I'm sure this will help you decide what kind of system you want to put together and what receiver to choose for it. And first, let's understand the difference between stereo and AV receivers.
Our pick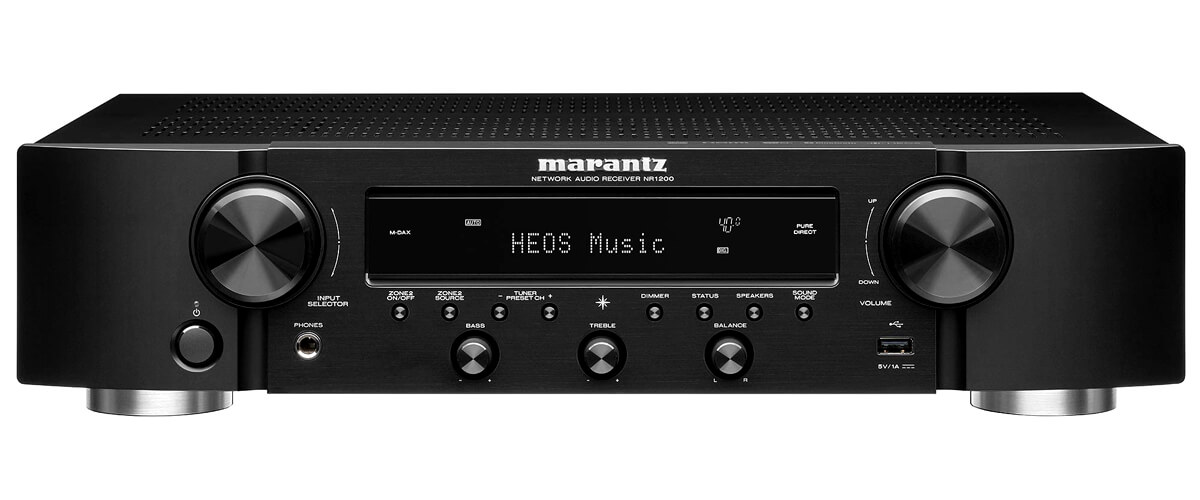 Marantz NR1200
Best stereo receiver
The Marantz NR1200 is a slim 2-channel stereo receiver with HEOS built-in featuring a separate 75W per channel L/R power amp circuit and power transformer in a slim profile.
Read the full review
.
Our pick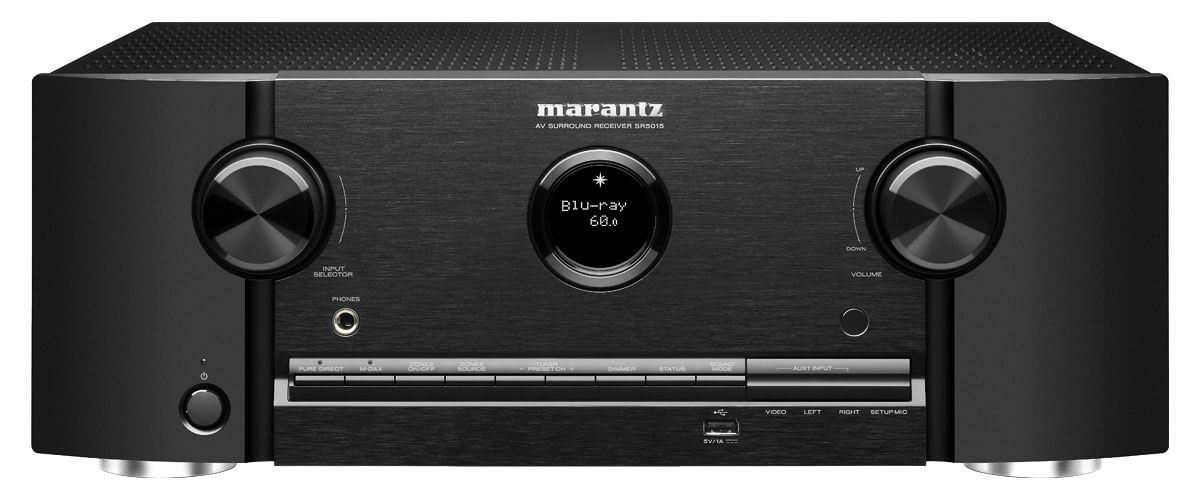 Marantz SR5015
Best AV receiver
The Marantz SR5015 is a 7.2 Channel 8K AV receiver with HEOS built-in featuring 100W per channel power, 8K upscaling, and enhanced audio return channel HDMI support.
Read the full review
.
Receiver for turntables comparison table
Name
Channels
Power output
HDMI in/out
Bluetooth/Wi-Fi
Review
Marantz NR1200

best stereo receiver

2.1
75W/8 Ohm, 100W/6 Ohm
5/1
yes/yes
Review
Yamaha R-S202

budget stereo

2.0
140W/8 Ohm
0/0
yes/no
Review
Marantz SR5015

best AV receiver

7.2
100W/8 Ohm, 140W/6 Ohm
6/2
yes/yes
Review
Denon AVR-X1700H

budget AVR

7.2
80W/8 Ohm, 120W/6 Ohm
6/1
yes/yes
Review
What receiver to choose for the record player?
Each type of receiver has its advantages and disadvantages over the other. But one thing they have in common is that they exist to make the sound better for you. So let me tell you briefly what their differences are.
AV receivers are the basis of your home system, allowing you to connect all sorts of audio and video sources (depending on their configuration). That means you don't have to go to the cinema because you can enjoy all the modern technology at home. These devices are focused on creating surround sound and can decode various video and audio formats for lossless transfer to the screen. And that will matter if you want to end up with an all-in-one system and be able to access most existing resources, including music ones that offer the highest quality audio content. These are complex systems that, along with the obvious benefits, are still less designed for music specifically.
Stereo receivers cannot provide you with movies in today's formats, but they are designed for the perfect sound. So think about whether you need all those options that AV receivers have. I'm not discouraging you, but I suggest you think twice. After all, for the same amount of money, you can buy an average receiver for home theater or a high-end stereo receiver. Therefore, for true connoisseurs exclusively for music, this type will be enough to listen to analog sound in excellent quality. Surround sound is out of the question here; you can connect only two speakers (unlike the AV system, where you can have 5, 7, 9, or more speakers), but to listen to music, you don't need more. Although, to be fair, it is worth noting that a home theater receiver can only be switched to two speakers as well. Still, the stereo receiver is much easier to install and use.
It's up to you to decide, and I'll move on to find the best receiver for turntables for you.
Best receiver for turntables reviews
Stereo receivers
Today I have prepared for you a special Marantz NR1200 review. It is a compact and stylish two-channel stereo receiver released in 2020. Marantz aimed to make it the ultimate music-listening unit with movie capabilities.
The NR1200 is the latest generation of Marantz's popular NR series. The company claims to offer improvements over previous models in terms of design, features, and audio quality. They also tried to make it more versatile and take its performance to another level by filling it with the latest 4K video pass-through and support for multiroom audio. This is very rare for stereo receivers. So, today I will share with you whether Marantz managed to achieve new heights with this model.
Design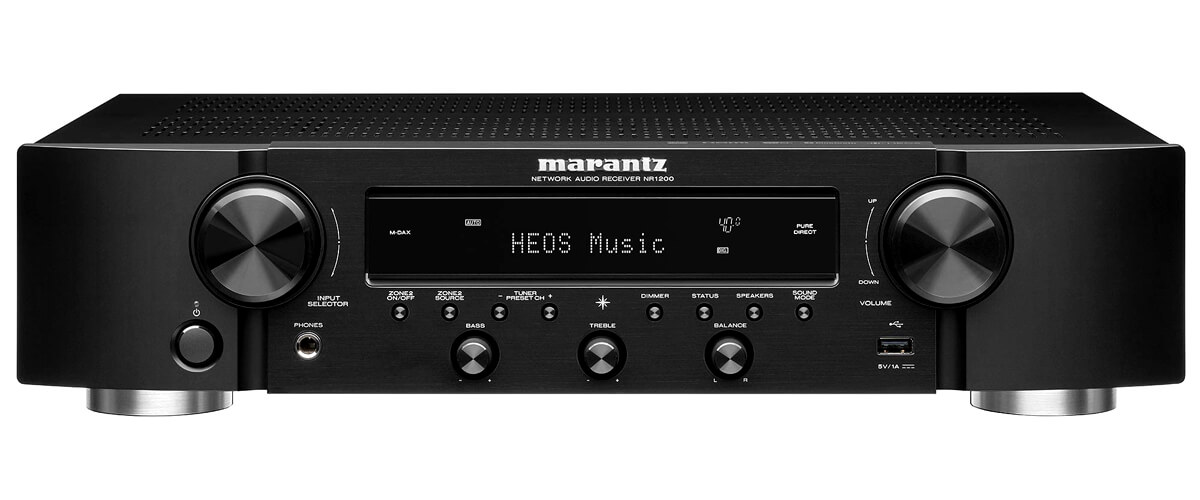 The Marantz NR1200 has an elegant and pretty fancy design that is stylish and functional at the same time. The receiver has a high-quality build, with a well-constructed metal chassis and conveniently large controls and interfaces.
The NR1200 is compact and lightweight, with dimensions of 4.1 x 17.3 x 12.6 inches (104 x 439 x 320 mm) and a weight of 16.5 lbs (7.5 kg) which, together with Onkyo TX-8220 makes the unit among the lightest stereo receivers in its class. Moreover, the unit is easy to use, with a clear and intuitive interface of the built-in menu. So it is hard to get lost in it.
Features and specs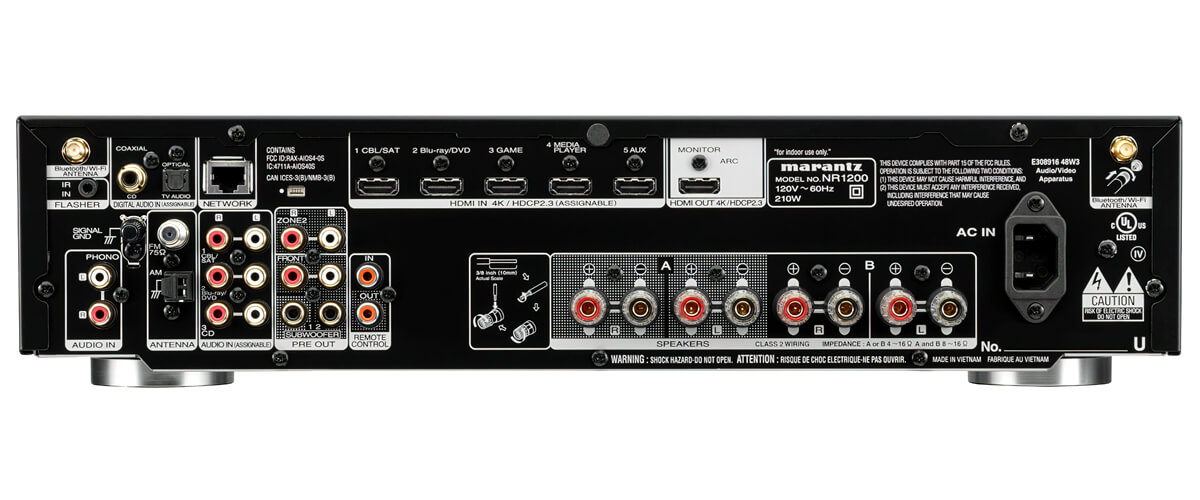 Conceptually, this unit is much closer to AV receivers than to stereo amplifiers, although it does not replace them. It is almost a perfect representative of the Post AV class models. It has two channels, but otherwise, it meets AV-receiver users' requirements.
The Marantz NR1200 provides 50 watts per channel at 8 ohms load. The unit can also work with 4 Ohm speakers, but the manufacturer recommends using an impedance of 6 Ohms or higher. Otherwise, they don't guarantee optimal performance. The receiver features a high-quality amplifier section and a built-in DAC for improved sound quality. The receiver's frequency response is 20 Hz to 20 kHz, with a total harmonic distortion of 0.08% at rated power.
According to the NR1200 specifications, it has the following ports and connections: five HDMI inputs, each supporting HDCP 2.3. The sixth HDMI connector, labeled white on black "MONITOR ARC," allows the device to completely replace your TV's sound system with control from the regular "TV" remote control. Note that the other five HDMI connectors on the rear panel are labeled: 1 CBL/SAT, 2 Blu-ray/DVD, 3 GAME, 4 MEDIA PLAYER, and 5 AUX. And it is done for a reason. Digital switching is represented by coaxial and optical inputs. In addition, there is a cable connection to the network. The wireless option, of course, is present in all its glory - two antenna connectors on the upper corners of the rear panel, marked "Bluetooth/Wi-Fi ANTENNA". Built-in Wi-Fi supports two bands: 2.4 GHz/5 GHz. Apart from this, the receiver supports streaming services. I tested it with Spotify, Tidal, and Amazon Music — all worked correctly. Apart from this, the receiver has Wi-Fi and Bluetooth. I also put its phono stage with my record player to the test. Wonderful experience! Now, I can conclude that the NR1200 is a pretty valuable solution for vinyl enthusiasts.
The NR1200 also has a built-in network module and support for HEOS technology, which is found in most Denon and Marantz models. HEOS is a combination of a streamer and an intelligent platform, so the NR1200 can be used with other compatible devices in a multiroom system and controlled by a single application.
Regarding video features, the NR1200 supports 4K at 60 Hz video with HDR. Sadly, the receiver functions only with an older HDR10 and doesn't support HDR10+. At the same time, it can offer quality video conversion and scale up to 4K/60 Hz. The receiver also has Dolby Vision and HLG technologies, which is pretty valuable for a stereo receiver.
This Marantz stereo receiver supports a wide range of audio formats, including DSD and FLAC. The NR1200 decodes ALAC-, FLAC- and WAV-files at bitrates up to 24 bit/192 kHz as well as DSD 2.8 MHz and 5.6 MHz tracks.
Listening experience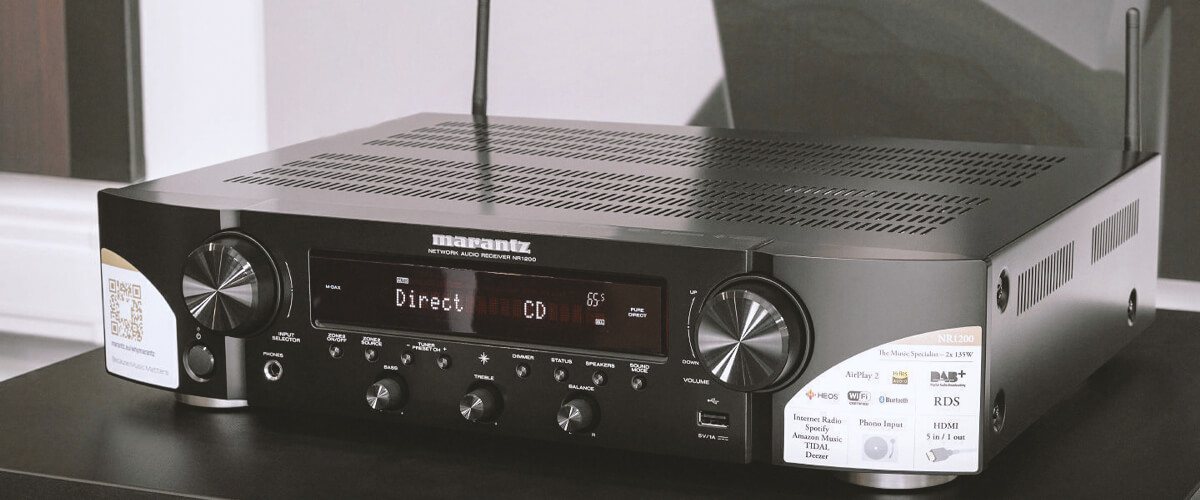 After putting the device to the test in music, I can say that the Marantz NR1200 delivers a high-quality audio performance. It gave me a powerful, detailed, and well-suited one. This device works great with mids, delivering a very balanced sound in every music genre, a juicy and deep bass supplements the overall impression. The sound quality doesn't drop in movies too. Yet, during action moments with lots of explosions and special effects on the screen, it is clear that it could use more power. But still, it is a very solid solution for movies among stereo receivers.
Key specs
Channels: 2.1.
Power output: 75W/8 Ohm, 100W/6 Ohm.
HDMI inputs/outputs: 5/1.
Video functions: 4K/60Hz.
Bluetooth/Wi-Fi: yes/yes.
Streaming services: AirPlay 2, Spotify, TuneIn, Deezer, Tidal, Netflix, Amazon Prime.
Supports: HDMI ARC, HDR, HLG, HDCP2.3, 3D Signal Pass-Through, HDR10.
Surround sound: has not.
The best stereo receiver for turntables is the Marantz NR1200, which will satisfy the requests of most users. With excellent data in terms of power, you can count on listening to records at high volume without interference, with great detail and wide range. The device will provide you with the enjoyment of the sound of the highest quality.
Pros
Used Hi-Fi class components.
High-definition file decoding (FLAC, ALAC, WAV).
Built-in HEOS system for multi-room streaming.
Wi-Fi and Bluetooth.
Cons
Lightweight, not the most resistant to vibration.
Yamaha R-S202 – budget
The Yamaha R-S202 is a stereo receiver released in 2018. Yamaha positions this model as a cost-effective solution for individuals who want to build a home entertainment system and take the listening experience to a new level but are not ready to spend too much money on it. So, I decided to make my Yamaha R-S202 review because it will be of interest to many users, and I haven't tested a budget Yamaha stereo receiver in quite some time. The last time it was the predecessor of today's model, the Yamaha R-S201. So, let's see what innovations the new model has.
The R-S202 features updated connectivity and sound if we directly compare it to the previous generation. When looking at the other models in its class, the R-S202 is more affordable. But are these improvements enough to make it the top offer in the price range? You will find out throughout this article.
Design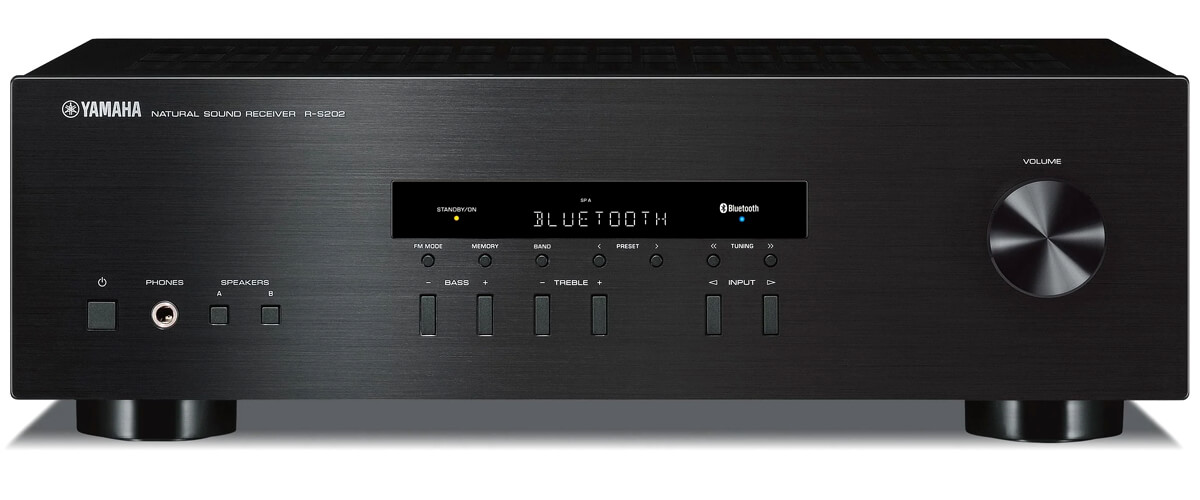 The Yamaha R-S202 has a classic, straightforward design with a sleek black finish. In other words, it is a typical black box with controls on the front supplemented by a screen and a back panel full of various connectors. The build quality is solid, and the control surfaces are straightforward. The dimensions of the Yamaha R-S202 are 17-1/8" x 5-1/2" x 12-5/8" (H x W x D), and it weighs 14.8 lbs. In terms of dimensions and weight, the device is a typical stereo receiver, slightly different from Denon, Onkyo, and Marantz units.
The receiver's discrete output stages are made with complementary pairs of Sanken transistors and operate in class A/B. They are cooled by a ribbed heatsink, which occupies a central place inside the receiver case. The power supply is provided by a Bando transformer. The back wall of the case is traditionally devoted to switching. Acoustic terminals give the budget class of the device - there are four pairs of terminals to connect two pairs of speakers, but, unfortunately, all of them are spring-loaded. R-S202 is equipped with four line inputs on RCA connectors and one output.
Features and specs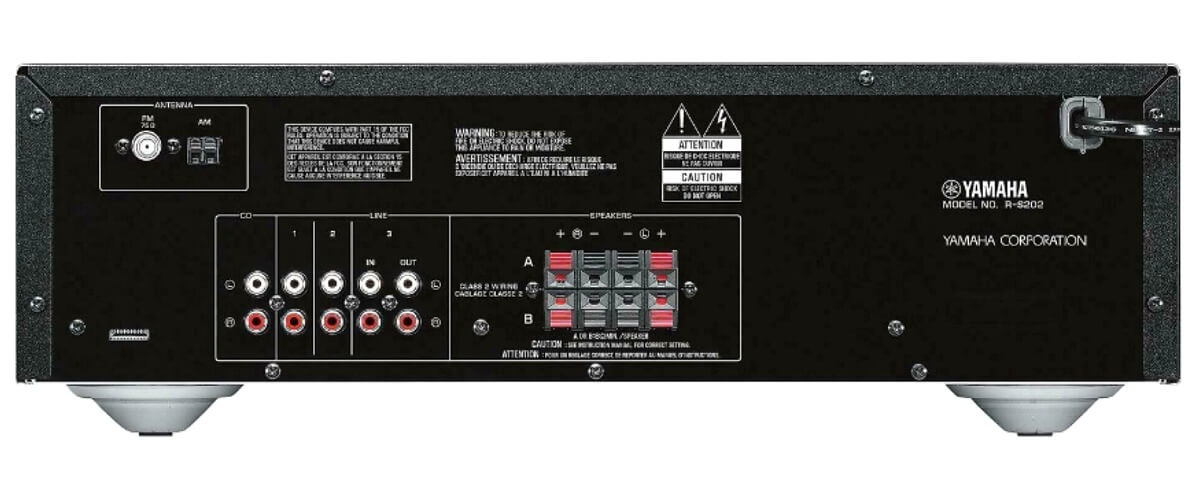 The Yamaha R-S202 2-channel receiver. So, it can work only with stereo and supports varying impedance speakers. Thus, it can provide 100 W at 8 ohm / 40 Hz to 20 kHz / 0.2% THD. With 6-ohm speakers, the unit offers about 165 W per two channels. In turn, with 4-ohm speakers, it delivers 115 W / 1 kHz / 0.7% THD. It can pump more than 140 W with 8-ohm speakers but with 10% THD. Note that the manufacturer guarantees quality sound only with 8-ohm speakers.
According to the R-S202 specifications, it is a classic stereo receiver with a conventional tuner capable of handling AM and FM radio signals. In addition, the tuner has a memory for storing fixed settings, so you can tune all your favorite radio stations once and switch between them. This model is also equipped with a Bluetooth adapter that can receive digital streams from mobile gadgets without the help of wires. That is, when you come home in the evening, you can continue listening to your favorite track on the big stereo from your smartphone that you were listening to on the road.
Setting up the receiver only took a few minutes. It consisted of connecting the speakers. Connecting my iPhone, which I was using, via Bluetooth was no problem. I saved a lot of time because I didn't have to specify the distance to each speaker, the signal levels for each channel, or run auto-tuning like you usually do when setting up a modern AV receiver. Instead, I simply plugged in the speakers and sank into my favorite chair, prepared to immerse myself in the music.
Listening experience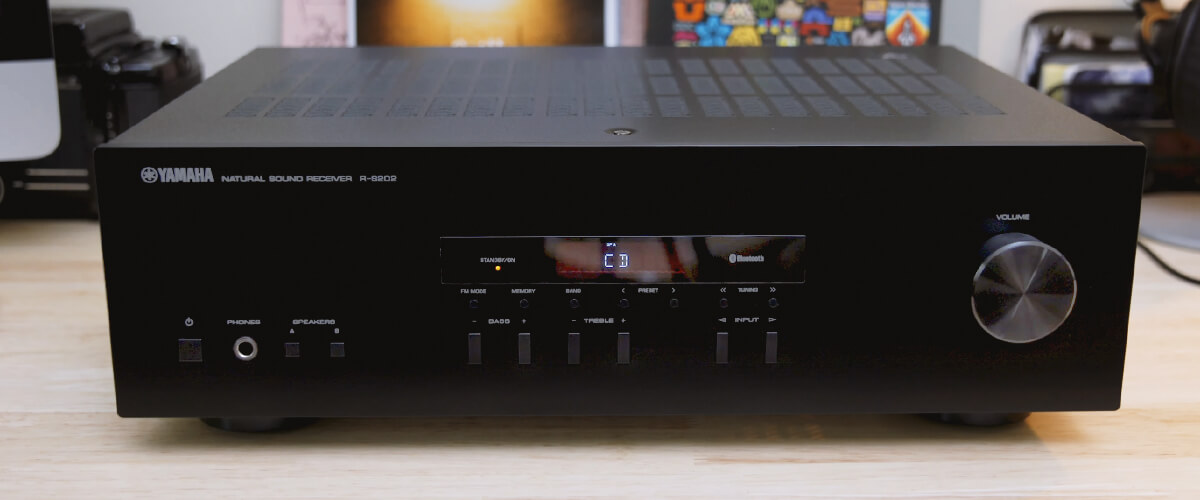 I had a positive experience when listening to this Yamaha stereo receiver. The R-S202 also has enough power to fill my apartment, even when handling peaks.
When I manually played with settings, it was because I wanted to push the unit to its limits and not because it couldn't set itself right out of the box. I manually tried different modes and additions to test the unit's tuning flexibility. Altogether, my tests showed that the R-S202 delivers high dynamic power with low-impedance drive capability, providing a rich and controlled audio output.
Key specs
Channels: 2.0.
Power output: 140W/8 Ohm.
HDMI inputs/outputs: 0/0.
Video functions: has not.
Bluetooth/Wi-Fi: yes/no.
Streaming services: has not.
Surround sound: has not.
The budget stereo receiver with turntable input is the Yamaha R-S202, which is compact, minimalist in design, and has quite decent power. This model transmits the sound cleanly, with good balance and detail, with a little warmth of separate tones. Good quality at a low price.
Pros
Pretty high power.
Bluetooth.
A good detail of the sound.
Cons
Some shortcomings in the dynamics.
AV receivers
Marantz is a well-known company that pays tremendous attention to tuned sound. They have become popular because they don't like to compromise quality for their price. Therefore, when users buy Marantz products, they can expect to have a quality product that adheres to Marantz's classic sound. My today's Marantz SR5015 review aims to check whether its mid-range product adheres to those traditional quality and sound peculiarities and to determine its place in this price segment among the models of other manufacturers.
Design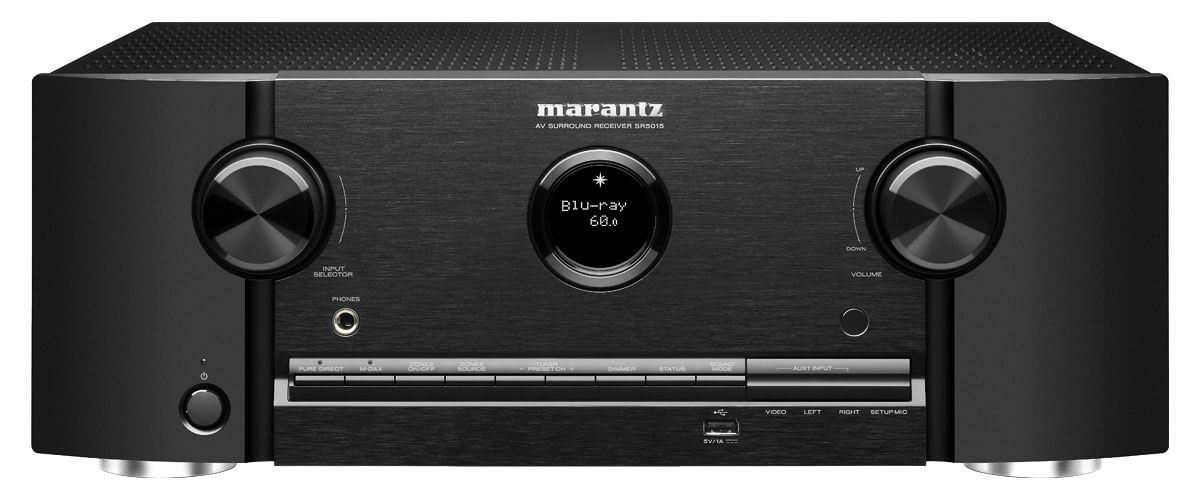 Is there a way to improve perfection? Perhaps, but not in this case. The Marantz SR5015 is a timeless classic - a black box with two large control surfaces on the left, control buttons in the center, and a screen in the middle. Though, one of the competitors, Denon AVR-X2700H, has a more readable screen. The device measures 17.3 x 9.1 x 13.7 inches and weighs slightly over 22 pounds.
Altogether, it is a well-made AV receiver that, in terms of design, sticks to Marantz traditions but has no distinctive features that make it stand out from the line of other, figuratively speaking, black boxes with minor differences from one another.
Features and specs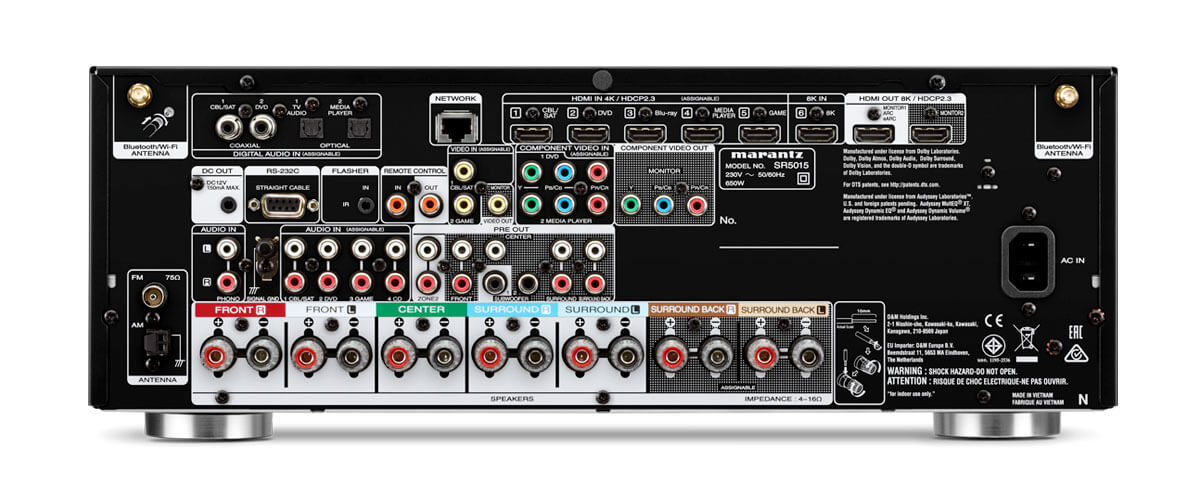 According to the SR5015 specifications, a 7.2 channel receiver provides 100W per channel using 8 Ohm speakers 20Hz-20kHz and 0.08% THD. An interesting aspect is that Marantz's proprietary energy-saving technology automatically adapts the receiver to a wide range of speakers. It also shows stable performance with 4 Ohm speakers, which is pretty unusual for this class of AV receivers.
The receiver supports the latest audio technologies, including Dolby Atmos, Dolby Atmos Height Virtualization Technology, DTS:X, and DTS Virtual:X processing. The set is pretty impressive, isn't it?
Typically, for this price range, the SR5015 supports Zone 2 features. It is also quite common, and even the more expensive models of different brands mainly provide support for only 2 zones.
The model supports 6 HDMI (HDCP 2.3) inputs, but only one of those supports 8k60Hz (but the cheaper Denon AVR-X1700H supports 3 HDMI 8k60Hz). The SR5015 supports two HDMI outputs, 2 (1 front) composite, 2 component inputs, single USB(a) on the front, and single composite and component outputs, 6.3 mm headphones output. In addition, the model supports Ethernet, Wi-Fi, Bluetooth, HEOS-compatible speakers, and all modern streaming services. No frills, but there is everything you need.
Marantz SR5015 features HDR10+ and older, HLG, Dolby Vision, and Dynamic HDR. It shows pleasant video quality, brightness, clarity, and contrast control. Typically, for the price range, the receiver supports 8K upscaling. It meets all modern requirements, and you will have no problems watching any format and video quality.
Listening experience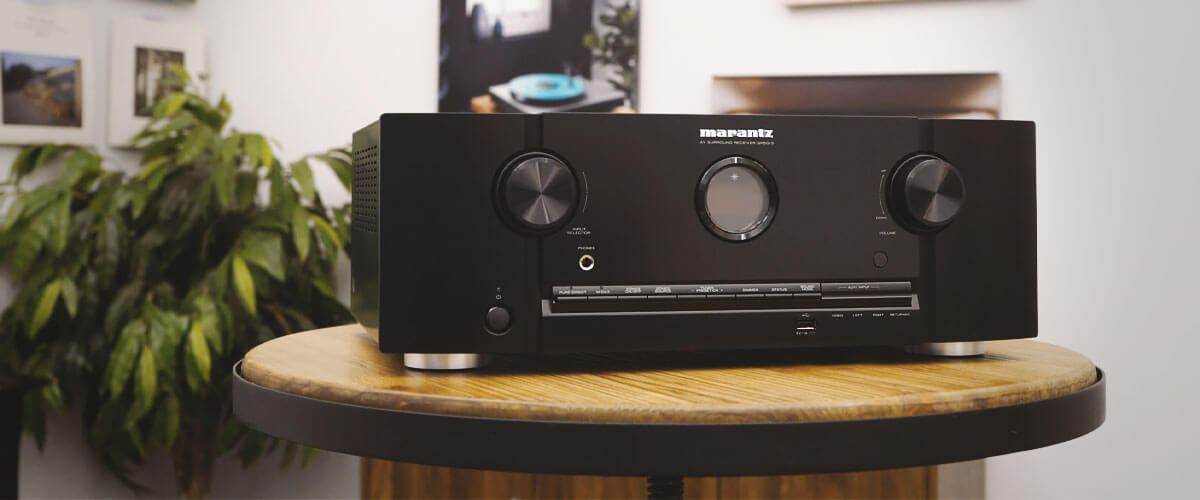 As you would expect from any Marantz AV receiver, the new SR5015 pays special attention to sound quality. When watching movies, it delivers an immersive and richly detailed surround sound experience. Due to its proprietary current feedback topology and definition of HDAM, the SR5015 has the power to fill pretty large rooms with immersive sound and does it surprisingly well. It may even be compared to more expensive models from competitors, such as the Denon AVR-X3700H. And it may even surpass it in dialogue correction.
The unit's performance in music may not match the so-called audiophile quality standard, but it still offers pretty impressive lower frequencies while maintaining clear heights. I often stick to listening to music with classic compressed audio in MP3. The SR5015 also pleasantly surprised me with proprietary Marantz MDAX2 technology that boosts the quality of songs recorded in compressed audio formats such as MP3 or AAC and takes their quality to a new level. Indeed, it doesn't match the lossless FLAC format, but the difference when using MDAX2 is audible.
Key specs
Channels: 7.2.
Power output: 100W/8 Ohm, 140W/6 Ohm.
HDMI inputs/outputs: 6/2.
Video functions: 8K/60Hz, 4K/120Hz, 4K/60Hz pass-through, video upconversion (up to 1080p and 8K) for analog and HDMI sources.
Bluetooth/Wi-Fi: yes/yes.
Streaming services: AirPlay2, Deezer, Tidal, Pandora, SiriusXM, Napster, SoundCloud, Amazon Music, Amazon Music HD, Mood mix.
Supports: HDMI ARC, HDMI eARC, HDMI CEC, HDCP2.3, HDR10, HDR10+, Dolby Vision.
Surround sound: DTS HD Master, DTS Neural:X, Dolby TrueHD, Dolby Surround, Dolby Digital Plus, Dolby Atmos Height Virtualization, Dolby Atmos, Multichannel stereo.
The best receiver for turntable among AVRs is the Marantz SR5015. This multifunctional device has high power and remarkable features for home theater. But the main thing that interests us is that it provides high sound quality, including deep bass on par with clear high frequencies and clean sound at high powers. Great for both music and watching movies.
Pros
Superb sound.
Support for modern video and audio formats.
Built-in HEOS system.
Cons
Very small LCD, for the lover.
No HDMI front input.
Denon AVR-X1700H – budget
Given the competitiveness of the modern AV receiver market, Denon had to take a bold step to strike its competitors. From the first glance at AVR-X1700H specifications, I realized that the competition would be fascinating. And I wasn't wrong back then.
The Marantz has a slim but mighty 5.2 channel NR1510 receiver in this price range. In turn, Yamaha doesn't seem to take a backseat with their 5.2 channel RX-V4A. And when the Denon cavalry, the AVR-X1700H, arrived in October 2021, the market already had the AVR-X2700H. Nevertheless, the hero of my review is not the most expensive model among analogs and is cheaper than the X2700H. So now, when some time has passed, I can make a comprehensive Denon AVR-X1700H review to see whether this unit is actually worth all the fuss around.
Design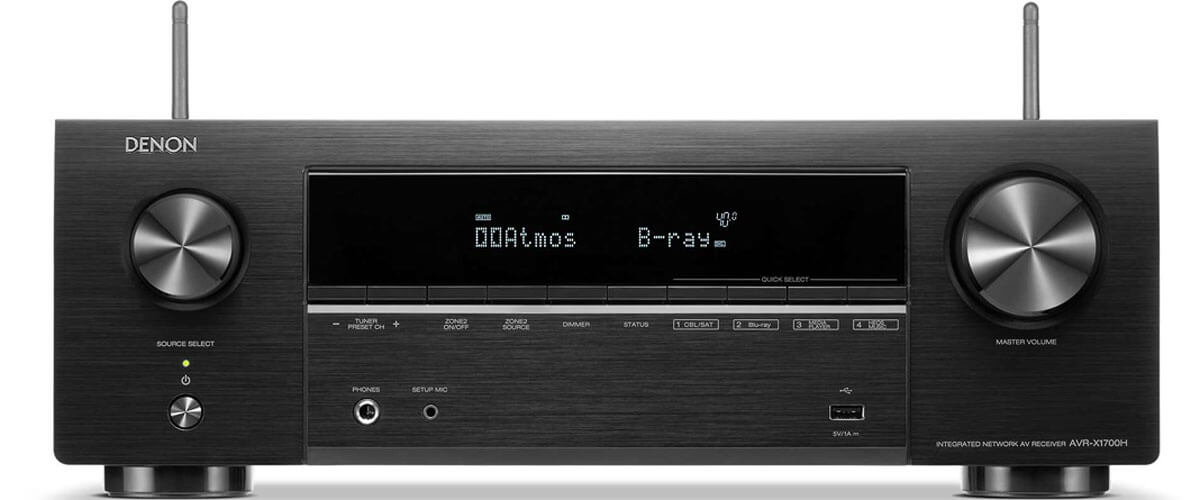 The AVR-X1700H is not a trendsetter when it comes to design. I didn't manage to find much of a change when comparing the X1700H with X2700H. A classic black box with convenient control surfaces and a big readable screen in the middle. Dimensions are also relatively standard for this price range, 17.1× 13.3 × 6 in. The AVR-X1700H weighs slightly less than the AVR-X2700H - 18.96 lbs vs. 21.
After unpacking the receiver and holding it in the hands, it felt solid and rigid, giving a feeling of holding a costly and quality unit. No strange noises or scary crunch sounds that one may have from more simple units. Even though the AVR-X2700H is more expensive, it has the same case and quality. This aspect enormously benefits the AVR-X1700H, as in some cases, more affordable AV receivers have cheaper cases.
Features and specs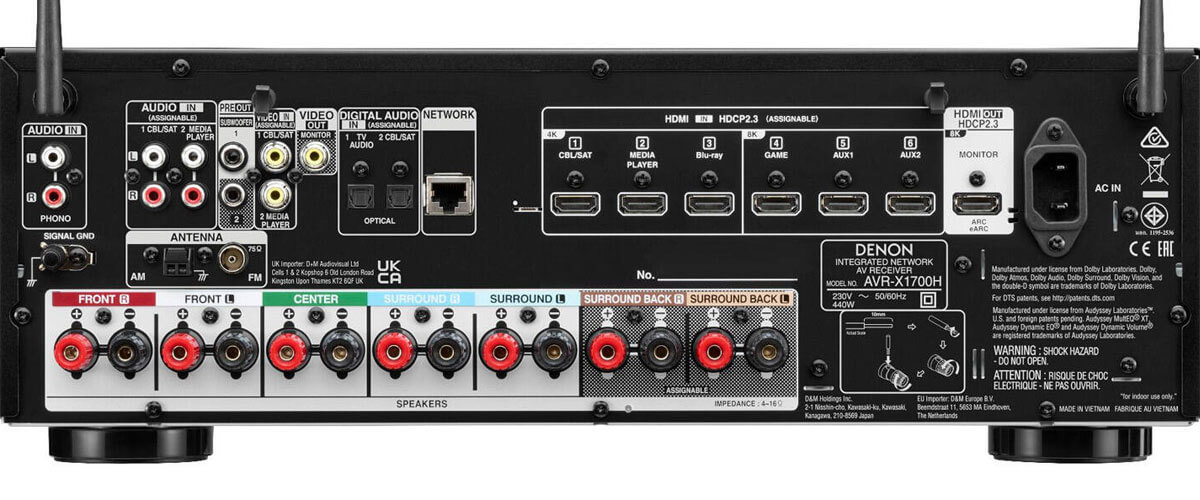 Denon AVR-X1700H has the situation firmly in hand by being a 7.2 Ch AV receiver. For comparison, Marantz, in the same price range, offers 5.2 NR1510, and Yamaha also comes with 5.2 channel RX-V4A. Denon also surpasses its competitors in terms of power, offering 80W with 8-ohm speakers, 20 Hz - 20 kHz, 0.08%. It is enough to fill the middle-sized room with immersive sound, especially with the help of supported Audyssey MultEQ XT and DTS:X technology trees.
Denon has an advantage, having 6 HDMI inputs (HDCP 2.3), 3 of which support 8K resolution at 60 Hz. At the same time, as all analogs, Denon AVR-X1700H features include only a single HDMI output. It also contains 2 composite inputs, a single output, 7 speaker terminals, 2 outputs for subwoofers, assignable bi-amping, an FM antenna, has built-in Wi-Fi and Bluetooth. The receiver fully supports Zone 2 feature, which also gives the AVR-X1700H advantage over the NR1510 from Marantz. The latter supports only HEOS-compatible speakers, with no multi-room feature.
In terms of video capabilities, all HDMI support 4K/120Hz, and, as I have mentioned before, only 3 are 8K/60Hz capable. The AVR-X1700H offers almost complete support of the DTS:X technology family, apart from DTS Neo:X. The same goes for the help of the latest Dolby technologies. But in this case, the only exception is Dolby ProLogic II. HDMI to HDMI scaling and HDR 10+. In terms of video features, the receiver stands alongside its competitors without significant flaws or advantages, with specific characteristics that partially equal it to more expensive models.
Listening experience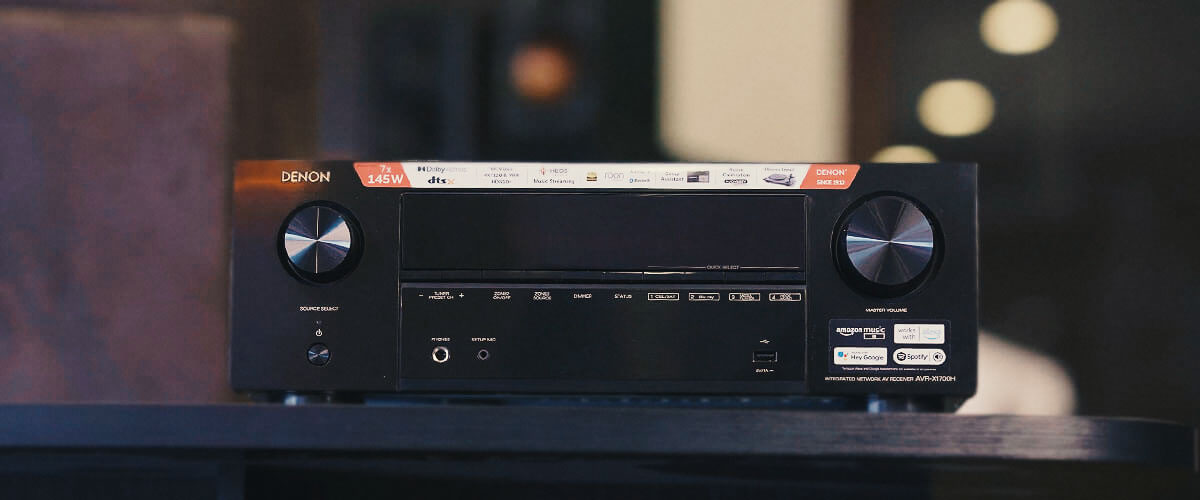 The AVR-X1700H has a pretty pleasant sound when listening to music, showing similar results with a different genre. The level of detail, stability, and vibrato can almost be compared to AVR-X2700H. Compare these two blindfolded, and you won't find much difference in music. With movies, The AVR-X1700H shows detailed, steered, balanced sound. Despite not having the highest power, it delivers just enough to fill a medium-sized room with immersive sound. Two subwoofers work great, delivering theater-like sound.
Denon habitually plays one of the leading companies in the AV receiver industry. Their AVR-X1700H adhered to the company's tradition and didn't disappoint me during the test. It is a severe competitor of Marantz and Yamaha and an excellent choice for optimizing your multimedia system.
Key specs
Channels: 7.2.
Power output: 80W/8 Ohm, 120W/6 Ohm.
HDMI inputs/outputs: 6/1.
Video functions: 8K/60Hz, 4K/120Hz, 4K/60Hz pass-through, video upconversion (up to 1080p and 8K) for analog and HDMI sources.
Bluetooth/Wi-Fi: yes/yes.
Streaming services: AirPlay2, Deezer, Tidal, Pandora, SiriusXM, Napster, SoundCloud, Amazon Music, Amazon Music HD, Mood mix.
Supports: HDMI ARC, HDMI eARC, HDMI CEC, HDCP2.3, HDR10, HDR10+, Dolby Vision.
Surround sound: DTS HD Master, DTS Neural:X, Dolby TrueHD, Dolby Surround, Dolby Digital Plus, Dolby Atmos Height Virtualization, Dolby Atmos, Multichannel stereo.
This budget receiver with phono input will please its future owners with high enough performance and availability of the most modern features. As for its musical abilities, its pleasant sound with good detail and vibrato are sure to please you. Clear treble, deep bass, and a wide range of tones are just what you need when listening to analog music.
Pros
Easy installation and operation.
Wi-Fi, Bluetooth, and USB.
Play music from different streaming services through the MusicCast App.
Support for the most modern video and audio formats.
Cons
No radio reception.
High power consumption.
Yamaha RX-A6A
The receiver is the heart of the home theater system. Thanks to it, you can have an unforgettable experience and add some bright colors to watching movies and listening to music. Today, I have prepared a Yamaha RX-A6A review for you. In my opinion, this device is perfect for the most avid fans of high-quality sound.
The RX-A6A was created in 2021 and is the second model in the premium Aventage series. However, there is not much difference between it and the top flagship RX-A8A, and many of the same technologies are available here at a better price.
Design
Externally, all models of the Aventage series resemble each other, having a pleasant and minimalistic design. The RX-A6A has a glossy black panel with a vast built-in volume control in the center, an input select dial, and an LCD (which can be customized to show the information you want).
You won't find many connectors on the front panel. Such a solution preserves the neatness of the receiver. There is only a 6.3 mm headphone jack, a USB-A port, and a mini-jack for auto-calibration. Audio noise has been reduced thanks to Anti Resonance Technology (A.R.T.) Wedge. Convenient, simple, and ergonomic. I like it.
Features and specs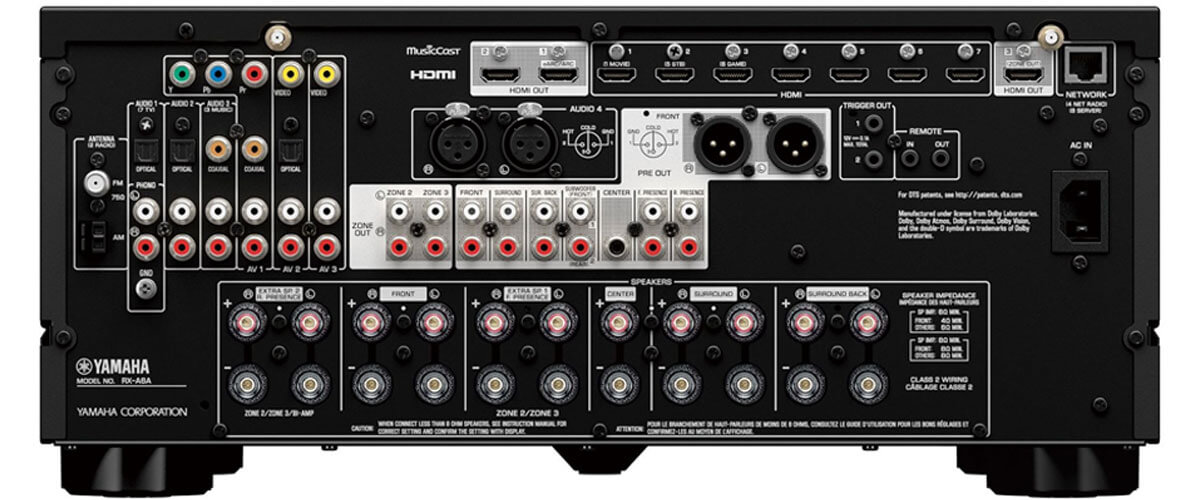 The receiver has a 9.2 channel amplifier with 150 watts per channel (8 ohms, 20Hz - 20kHz, 0.06% THD, 2ch driven). Also, the Yamaha Aventage RX-A6A features a 32-bit SABRE PRO Premier ES9026PRO DAC (main channels) and an ES9007S (height channels).
As for the video capabilities of the model, it supports 8K resolution, last HDR formats, and enhanced gaming. After the testing, I was pleased with the result. The picture was at the highest level, as the movie scenes looked bright and clear. I especially liked the detailing of the individual elements. Due to this, my eyes were not tired after the prolonged viewing.
Also, it presents a fairly wide range of possibilities when it comes to the specifications of the RX-A6A and connection options. It has 7 HDMI inputs and 3 HDMI outputs with HDCP 2.3 and eARC support. By the way, all these ports have HDMI 2.1 with up to 40 Gbps bandwidth. Connection methods include 2 subwoofer outputs, Wi-Fi, Bluetooth, USB port, Phono (MM) input, and so on. Basically, it has everything a modern receiver should have. Therefore, I give another plus to this model.
RX-A6A supports the latest surround sound formats, such as Dolby Atmos, Auro-3D, and DTS:X with CINEMA DSP HD3. Agree that such a set immediately indicates that watching a movie will now become a whole new level of quality. Definitely, it's a plus.
The advantage of this device is also the ability to easily and quickly play music from different streaming services through the MusicCast App. And I have to say, there are many of them, including Spotify, Pandora, Tidal, and others. As for iPhone owners, they will like the presence of AirPlay 2 technology. Convenient features also include the presence of three multi-room zones, which is quite rare (mostly, there is support for 2 zones) in mid-range models.
Despite the excellent hardware and a wide range of features, the small and poorly readable display frustrated me a bit. Obviously, Yamaha sacrificed screen size in favor of a minimalistic and beautiful panel.
Listening experience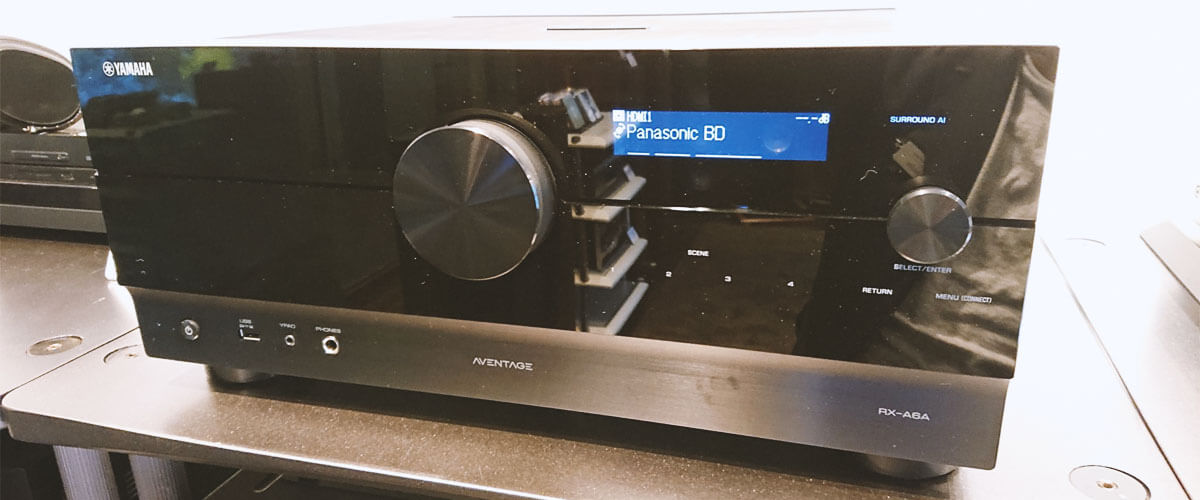 Now let's talk directly about my testing experience. For starters, I calibrated the sound with the YPAO-R.S.C. Although the sound improved, Denon and Marantz have already switched to the more advanced Dirac Live. The setting options are more advanced there, although YPAO is quite able to cope with its task.
The two-channel mode is neutral without adding the typical Yamaha warmth. I did not like Surround:AI because it distracted me by turning on and off the reverb effect in songs where there are vocals and instruments.
As for the surround sound, it was top-notch! The dialogues were heard clearly and perceived in a completely new way. In addition, the action scenes made me shudder and relive everything together with the hero. In a word - great!
Key specs
Channels: 9.2.
Power output: 150W/8 Ohm.
HDMI inputs/outputs: 7/3.
Video functions: 8K/60Hz, 4K/120Hz, 4K/60Hz pass-through, video upconversion (up to 1080p and 8K) for analog and HDMI sources.
Bluetooth/Wi-Fi: yes/yes.
Streaming services: AirPlay2, Deezer, Tidal, Pandora, SiriusXM, Napster, SoundCloud, Amazon Music, Amazon Music HD, Mood mix.
Supports: HDMI ARC, HDMI eARC, HDMI CEC, HDCP2.3, HDR10, HDR10+, Dolby Vision.
Surround sound: DTS HD Master, DTS Neural:X, Dolby TrueHD, Dolby Surround, Dolby Digital Plus, Dolby Atmos Height Virtualization, Dolby Atmos, Auro-3D
The Yamaha RX-A6A is a great receiver for record players. The power it offers will be enough even for large rooms. It is an expensive (mid-range) unit with the most optimal format support and encoding capabilities available today, and it delivers great sound in stereo mode. The analog sound is realistic and detailed, with a great balance of deep bass and mid and high frequencies.
Pros
YPAO-R.S.C. Sound Calibration.
Superb powerful sound.
Supports most existing audio and video formats.
Wi-Fi, Bluetooth, and USB.
Cons
It lacks the warmth of sound that is characteristic of Yamaha technology.
FAQ
What is a phono stage?
The phono stage, or preamplifier (preamp), is the most important component in a vinyl turntable because you can't hear anything without it. It amplifies and equalizes the audio signal from the tonearm needle as it slides along the record's grooves to the desired level. They come in built-in and external, and the latter is an order of magnitude better than the former. Unfortunately, built-in phono stages can't accommodate quality components, while external ones are high-quality. So even if your turntable has a built-in preamp, I recommend buying an external one. Or connect the turntable to a receiver – this will save you all the trouble.
How to connect the player to the receiver?
You need an RCA cable to connect a vinyl player to the receiver (often included in the package, but real audiophiles have plenty of this stuff). After that, you use the Phono/Line output on the turntable and the phono inputs on the receiver. They are called Line In, Analog In, Aux (auxiliary), etc. Nothing else.
Before plugging in, the connection configurations on your turntable and receiver are the only thing to know. If your turntable has a built-in phono stage and your receiver doesn't, you need to switch it to Phono mode. If a preamp is built into your receiver and your turntable does not have one, connect the cables to the receiver's phono inputs. In case a preamplifier is built into both devices, disconnect one (switch the turntable's mode to Line). And if you don't have any preamplifiers built-in – buy an external one, and connect it between the receiver and the turntable.
Think that's it? No! You can also use Bluetooth if you have it on both devices. Remember, though, that the sound is digitized in this case, and we do understand the difference between digital and analog sound, don't we? You can also use the "CD" or "Tape" inputs on the receivers.
Can you hook up an old turntable to a new receiver?
Of course, yes, if the receiver has phono inputs. It is the only requirement for connecting a vinyl player. How to do this, I explained in a previous reply.
Do all receivers have phono input?
Unfortunately, no. So if connecting a vinyl player is an important part of your home AV system, check for background inputs before you buy the receiver. If they are available, you can connect any turntable without any problems.
We are supported by our audience. When you purchase through links on our site, we may earn an affiliate commission at no extra cost to you.
Our newsletter
* We will never send you spam or share your email with third parties