Lately, receivers with multi-room support have become extremely popular among users. And this is understandable, as the function avoids various disputes over who will be watching TV today. But the problem is that it is often quite challenging to choose the optimal device and still stay within the budget allocated for the purchase. So, I have prepared the best multi-zone receivers from different manufacturers and at various prices to make it a little easier for you to determine the suitable device for your situation.
Our pick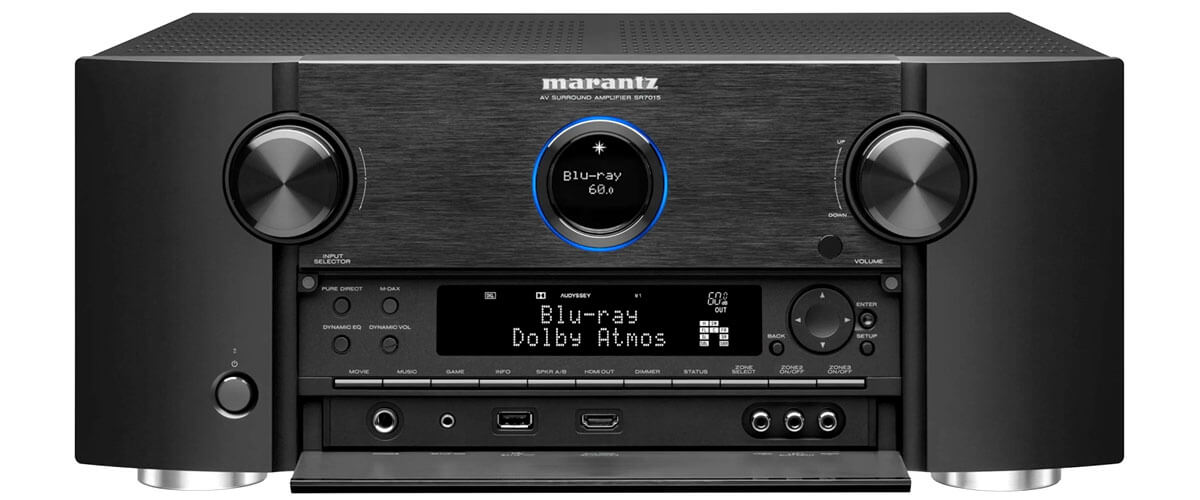 Marantz SR7015
Best multi zone receiver
Enhance your cinema experience with the Marantz SR7015, delivering crystal-clear quality for film, TV, and gaming.
Read the full review
.
But before I start, let's learn a little bit more about a multi-room receiver. This question is important for understanding the value of this option for your multimedia system.
Multi-zone receiver comparison table
Name
Channels
Power output
HDMI in/out
Bluetooth/Wi-Fi
Review
Marantz SR7015

best overall

7.2
125W/8 Ohm, 235W/6 Ohm
8/3
yes/yes
Review
Denon AVR-X4800H
9.2
100W/8 Ohm, 210W/6 Ohm
6/2
yes/yes
Review
Yamaha RX-A2A
7.2
100W/8 Ohm
7/1
yes/yes
Review
Denon AVR-X1700H
7.2
80W/8 Ohm, 120W/6 Ohm
6/1
yes/yes
Review
What is a multi-zone AV receiver?
A multi-zone AV receiver is a device used in home theater, which in addition to its main function, also allows you to listen to or watch different content in other rooms simultaneously. In other words, the device can divide the signal that it receives from sources and direct it to the places you want. This means that the more zones it supports, the more members of your family will be able to spend time doing their favorite things independently of each other.
I also want to say that not all receivers can boast such a function. Some models offer their users built-in HEOS or other multi-room audio platforms. But please note that this does not make the receiver multi-zone, as speakers are connected via Wi-Fi and Bluetooth but not with the help of zones.
Best multi-zone receiver reviews
The Marantz company is considered one of the leaders in the receiver manufacturing industry. Their products have many fans around the world. However, the modern market is filled with various exciting models of this brand, and it can be challenging to choose. That is why I have prepared the Marantz SR7015 review for today. It is IMAX Enhanced certified, supporting Auro-3D's proprietary immersive audio technology, enhanced by the Auro-Matic mixer that delivers three-layer sound, including standard surround, ceiling, and height speakers. This technology makes Marantz's immersive sound stand out from many competitors.
Another famous Marantz technology allowing this company to compete with Denon successfully is HDAM (Hyper Dynamic Amplifier Module). It is used on top-level AV receivers, such as the SR7015, and focuses on noise reduction. Therefore, providing accurate, clear, and detailed sound while still making it feel dynamic, the SR7015, in some cases, outperforms even the mighty Denon AVR-X8500HA.
Design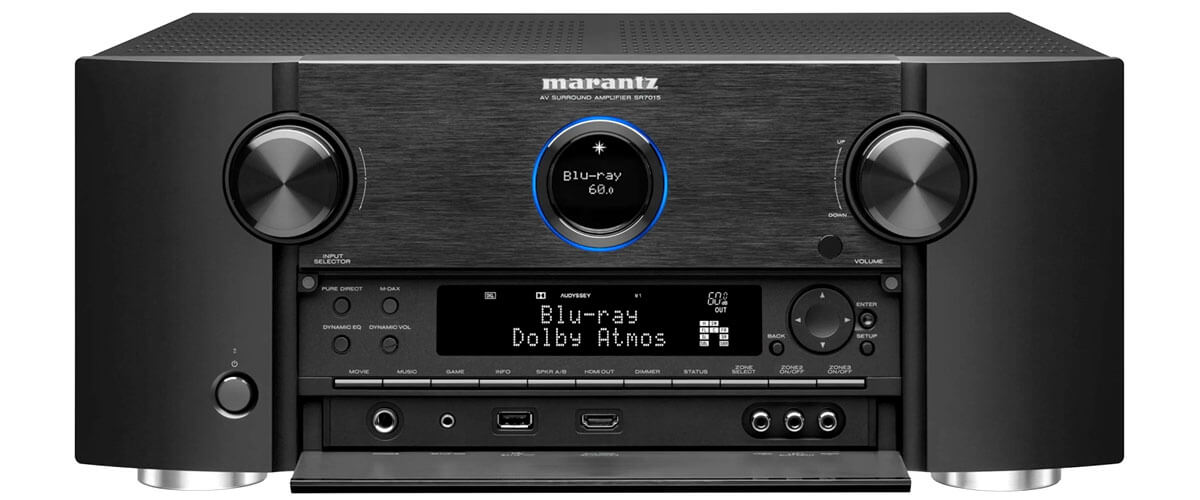 Like other receivers from the product line, the SR7015 offers a classic design consistent with the company traditions. Curvy sides somewhat distinguish it from other AV receivers from other brands. There is a huge power button supplemented by input controls on the left. The right side offers a large volume control dial. The display between these dials shows only the bare minimum information. It's not bad, and besides, Marantz has always been famous for its desire for minimalism and ergonomics.
From the first touch, the unit feels rigid and well-developed. All elements (even the smallest ones) and components look solid and of high quality. However, in terms of size and weight, it is not distinctive from other receivers from the same price range. The unit's dimensions are LxWxH 16.54 x 17.32 x 7.48 inches, and it's a bit heavier than 30 lb. The SR7015 comes in two colors: silver-gold and black.
Features and specs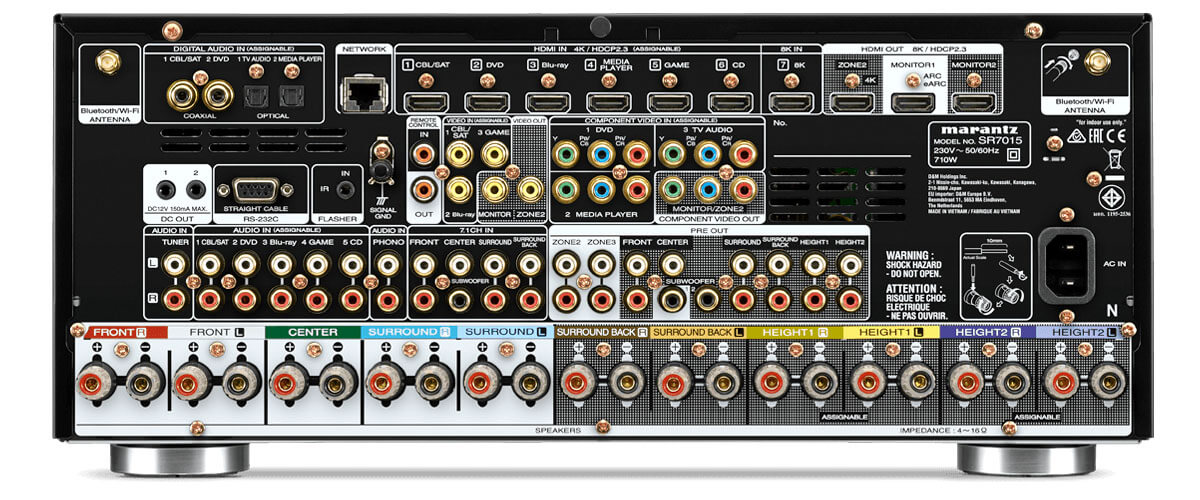 The Marantz SR7015 is a 9.2-channel AV receiver. According to the SR7015 specifications, it offers 125W power per channel with 8 Ohms speakers with 20Hz-kHz 0.08% THD. When using 6 Ohms speakers, it provides 165W 1 kHz with 0.7% THD. The AK4458 chip is a central audio processor in this receiver which guarantees a quality sound without interference. An interesting aspect is that the audio processor can support up to 11 channels, but the receiver has only 9 built-in amplifiers. So it may need an additional amplifier to show its potential entirely.
The SR7050 has a rich set of inputs, including 8 HDMI (1 front) support HDCP 2.3. Sadly, only a single HDMI input supports 2.1. Other inputs include a single USB, 4 composite videos (1 front), 7 line RCAs, 2 coax, and 2 digital optical and 6 analog inputs (1 front). Outputs include 3 HDMI (1 supports eARC), and a single HDMI supports 8K/60Hz and 4K/120Hz. Other ports include Ethernet, remote control, FM/AM antenna, and RS-232C port. The unit is equipped with 2-band Wi-FI and Bluetooth and supports the AirPlay2 function. Also, the receiver supports Deezer, TuneIn, Spotify Connect, TIDAL, Amazon Music, and Amazon Alexa voice assistant. In my opinion, this model's range of features and versatility is clearly above average.
Just like older receivers had to come with built-in support of radio features, modern receivers must support Zone 2. The SR7015 pleasantly surprises by allowing the arrangement of three separate audio rooms as it supports Zone 2 and Zone 3. Also, the model has access to the HEOS ecosystem, which allows for organizing a multi-room setup and managing all the devices through a single application transferring data between HEOS-compatible systems.
This model supports 8K 60 Hz video, including 8K upscaling, with support for HDR options: HDR10+, Dolby Vision, Dynamic HDR, HLG, and HDR10. Also, the receiver supports Quick Frame Transport (QFT) technology and automatic low latency operation mode (ALLM). Furthermore, Marantz SR7015 features all modern immersive sound formats, including DTS: X and Dolby Atmos, Auro-3D, and even DTS Virtual. Quite a profound set of features. Indeed, I was wondering how it sounds. Therefore, next, I will share my experience testing the sound of the SR7015.
Listening experience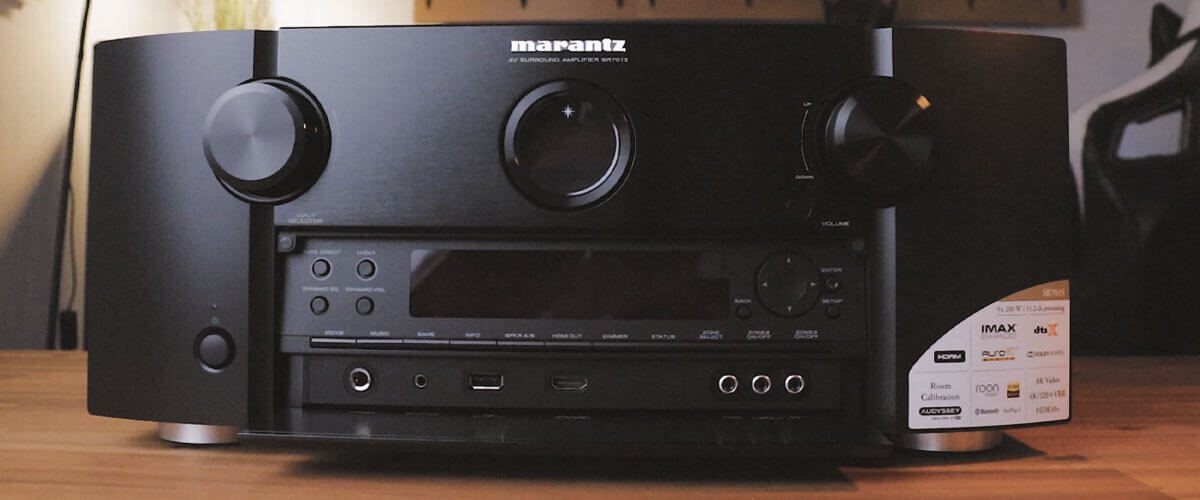 First, I will share how the SR7050 handles surround sound when watching movies. My BP9080X accompanied the receiver to let it show its full strength. The unit provided an incredible bass, filling the room with immersive vibes. It even made my clothes vibrate during active moments. I have to admit a pleasant balance between action scenes and calm moments. In addition, the receiver managed to keep readable dialogues delivering the slightest details. Overall, it left a very positive experience, completely satisfying my needs. I can't wait to get my hands on Avengers 5: The Kang Dynasty to watch with the SR7050.
While music is not the main selling feature for the AV receiver, Marantz SR7050 showed itself very well, keeping a consistent quality and sound distribution. Indeed, a dedicated pre and power amplifier for the same price would deliver a superior and more energetic sound. But concerning its excellent immersive sound in gaming and watching movies, it is a very solid solution worth every cent you pay for it.
Key specs
Channels: 7.2.
Power output: 125W/8 Ohm, 235W/6 Ohm.
HDMI inputs/outputs: 8/3.
Video functions: 8K/60Hz, 4K/120Hz, 4K/60Hz pass-through, video upconversion (up to 1080p and 8K) for analog and HDMI sources.
Bluetooth/Wi-Fi: yes/yes.
Streaming services: AirPlay 2, Pandora, Spotify, Napster, SiriusXM, TIDAL, Deezer, Qobuz, Amazon Music.
Suppots: HDCP2.3, HDMI ARC, HDMI eARC, Dolby Vision, CEC, HLG, HDR, HDR 10+.
Surround sound: DTS HD Master, Dolby Atmos, Dolby Atmos Height Virtualization, Dolby TrueHD, Dolby Surround, DTS:X, DTS Neural:X, Multichannel Stereo, Auro 3D, IMAX Enhanced.
The Marantz SR7015 is unequivocally the leader of my top and the best multi-zone receiver overall. Quality components, excellent assembly, and all the necessary technologies guarantee great sound and picture. And the additional features (including multi-room) make it a versatile and multi-purpose model.
Denon AVR-X4800H
It wasn't long since Denon put the market of AV Receivers on the blades with its AVR-X4700H, and they have already presented the new AVR-X4800H. Considering all the fuss about their new receiver, I didn't have to think twice when I got the chance to make a Denon AVR-X4800H review.
The AVR-X4700 belongs to the same price range yet comes a bit cheaper than the new AVR-X4800H. Altogether, the new unit is an upgraded version that offers an upgraded 9.4-channel amplified sound, including 4 independent subwoofers. Theoretically, this provides an immersive experience, especially including HEOS support and Zone 3 features. All these features may take this receiver to the top, especially considering its price.
Design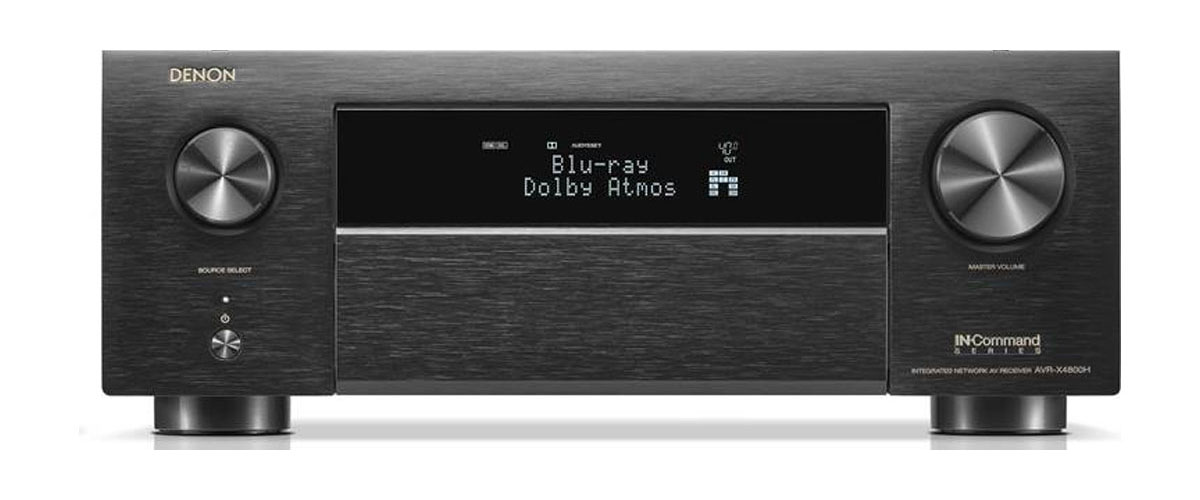 In terms of design, the new model offers next to nothing special. From the first glance at the front panel, one may not even see the difference between these two devices. The same large control surfaces, a small power button on the lower-left side, and a large screen with valuable information.
Altogether, the AVR-X4800H follows Denon's traditional design path - making solid, well-built, classically designed receivers. The unit's chassis is robust and reliable, but at the same time, it requires quite a bit of space, considering its size of 17.1 x 6.6 x 14.9". Weight is not much different from its predecessor or models from competitors, such as Marantz. The unit weighs 29.1 lb.
Features and specs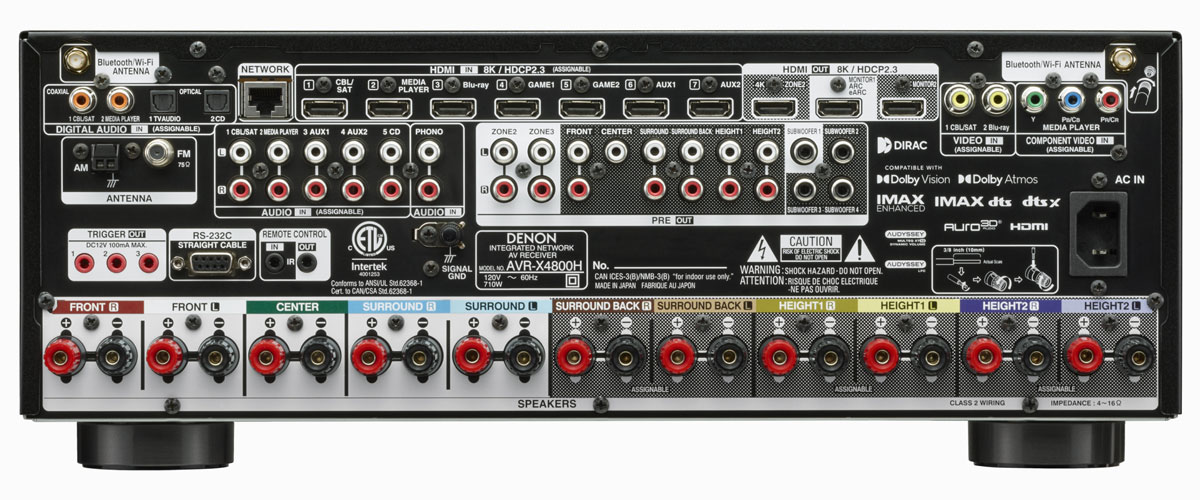 The AVR-X4800H is a 9.4 channel 8K compatible AV receiver. It delivers up to 125W of power per channel with 8-ohm speakers (20-20,000 Hz) at 0.05% THD. The device fully supports Dolby technologies, including the latest DTS Virtual:X and Auro-3D. An exciting moment is that the device has 4 amplified subwoofer outputs, creating an immersive and deep sound in several zones. According to the AVR-X4800H specifications, it supports Zone 3 features, creating up to 3 separate rooms and controlling them from a single unit.
The receiver has 7 HDMI inputs. Sadly, none of them is located on the front side. Also, on the rare side, there are 3 HDMI outputs. All HDMIs are 2.1 and can maintain 8K/60Hz AB or 4K/120Hz AB. Inputs and outputs come with 2.3 HDCP technology. The device has 5 analog inputs, single phono, 2 digital optical and coaxial connectors, an assignable bi-amp drive, and an FM/AM antenna. Network capabilities are presented by fully supporting modern streaming services such as Amazon Alexa, Apple Airplay, etc., 2,5/5Ghz WI-FI, and Bluetooth. Altogether, a substantial number of ports and connectors.
The Denon AVR-X4800H features the latest video technologies. As I have noticed, it showed an outstanding capability with 4K/120hz video and 8K upscaling. The list of other video features includes support for Dolby Vision, HDR10+, and those that came before it, Dynamic HDR. In addition, it allowed me to watch action movies seamlessly, without a single stutter or lag. Speaking about gaming, if you have a compatible console or PC, you can play at 4k 120 frames per second with no problems, thanks to the support of VRR, ALLM, and Quick Frame Transport.
The Smart TV connectivity feature was another aspect that took my attention. With all my respect to the Denon remote, I am more used to my TV one. This feature allowed me to control the receiver connected to my Philips 8K TV via HDMI. Very convenient, especially for those who don't want to manage multiple remotes.
Listening experience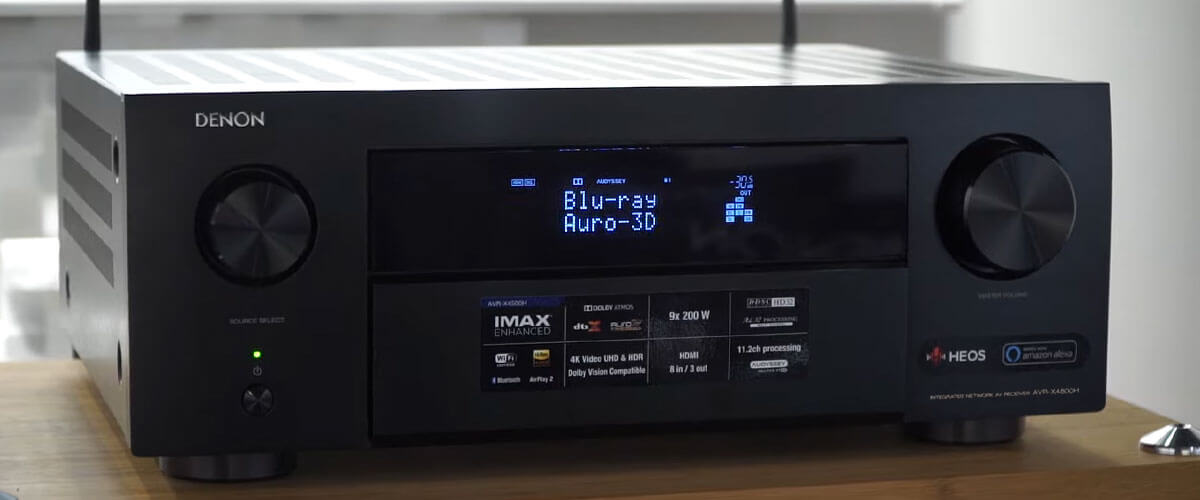 I began my sound test with a rather unusual thing - listening to music. Indeed, one won't buy an AV receiver solely to listen to music, but this is still one of the typical use cases. The AVR- X4800H offers several sound modes. You can conveniently switch between those via the remote or app. Although some sound modes may be somewhat distinct from the original tracks, I made them more vibrant with a phasing effect. Yet, none of the sound modes can fix low-quality songs. Altogether, the unit proved itself to be an improvement over the AVR- X4700H, offering more detailed and broader sound with great detail.
When gaming, the receiver incredibly precisely worked with object-based sounds. In movies, the AVR-X4800H doesn't have the same power as Yamaha RX-A6A but provides a more transparent and precise sound. The truth is that in terms of power, the new model is not much of an improvement over the X4800H. Yet, it surpassed its predecessor in terms of immersive sound and dynamics. The new AVR-X4800H is an excellent and reliable receiver with no game-changing flaws that may spoil the experience.
Key specs
Channels: 9.4.
Power output: 125W/8 Ohm, 165W/6 Ohm.
HDMI inputs/outputs: 7/3.
Video functions: 8K/60Hz, 4K/120Hz, 4K/60Hz pass-through, video upconversion (up to 1080p and 8K) for analog and HDMI sources.
Bluetooth/Wi-Fi: yes/yes.
Streaming services: AirPlay2, Deezer, Tidal, Pandora, SiriusXM, Napster, SoundCloud, Amazon Music, Amazon Music HD, Mood mix.
Supports: HDMI ARC, HDMI eARC, HDMI CEC, HDCP2.3, HDR10, HDR10+, Dolby Vision.
Surround sound: DTS HD Master, DTS Neural:X, Dolby TrueHD, Dolby Surround, Dolby Digital Plus, Dolby Atmos Height Virtualization, Dolby Atmos, Auro-3D, IMAX Enhanced, Multichannel stereo.
This Denon AVR-X4800H maintains the reputation of the brand and is really good! It is equipped with all the necessary features the average user could want. And, of course, sound quality will not leave you indifferent.
Yamaha RX-A2A
The receiver plays a crucial role in the formation of a complete home theater. Many well-known brands release these devices on the market, but Yamaha has been one of the real leaders in the industry for many years. With these considerations in mind, I have prepared a Yamaha RX-A2A review for you today. The model was released in 2020, belonging to Yamaha's premium Aventage lineup. It is now the most affordable version of this series, combining optimal performance for most of your needs and a reasonable price.
Design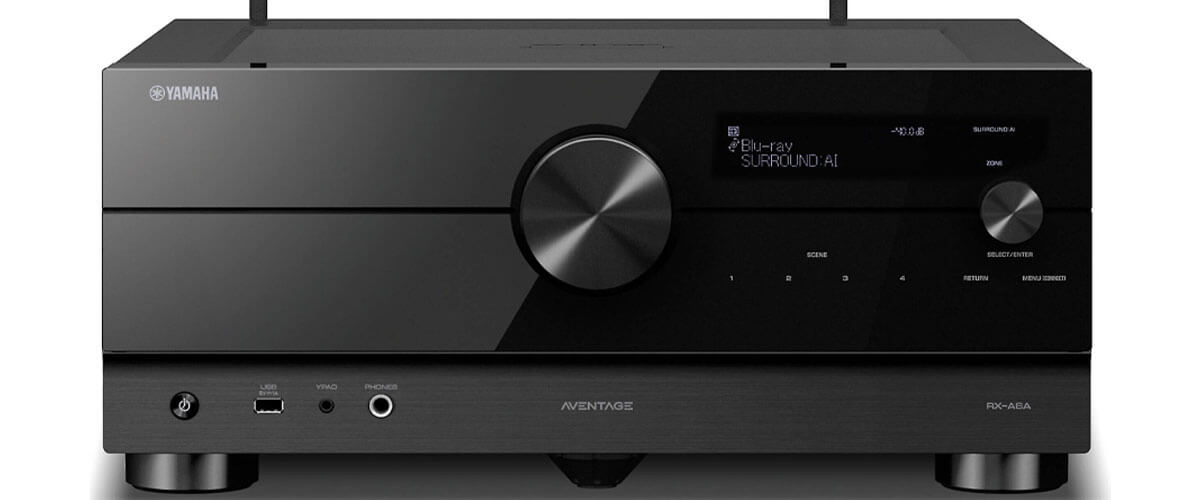 Yamaha has always distinguished itself from competitors through the elaborate design of its products. And the RX-A2A was no exception. The minimalistic design and the glossy black front panel of the device, on which there is a large volume knob in the middle, certainly draw attention.
To the right of the volume control, you will find 4 shortcut buttons. The power button, ports for the microphone, and headphones with 3.5 mm / 6.5 mm connectors are on the opposite side of the receiver, respectively. An excellent engineering solution is using a fifth leg in the center of the chassis model base, damping any vibrations, which positively affects the overall sound quality.
Features and specs
The Yamaha Aventage RX-A2A has a 7.2-channel amplifier with about 100 watts per channel (8 ohms, 20 Hz - 20 kHz, 0.06% THD). Since the device is the cheapest option from the premium class, it is equipped with a 384kHz/32-bit BB PCM5102A DAC. Of course, if you consider newer models, they are equipped with even better components. For example, the RX-A4A already has the latest Qualcomm QCS407 64-bit processor and Surround:AI.
But let's take a closer look at the RX-A2A specifications. It works with 4K resolution (120Hz), HDR10+, Dolby Vision, and Dolby Surround encodings. As a result, the picture looks quite bright and clear. This model also supports 8K resolution (60Hz) and advanced gaming capabilities. The only nuance to consider is that before you turn the receiver on, you must first activate the video synchronization of the TV. If this is not done, sometimes the sound and video will not be displayed, and the image format will be reduced.
There is also support for surround sound formats, such as DTS:X and Dolby Atmos. So watching movies will definitely take you to the next level.
As for connectors and connections, the receiver has 7 HDMI inputs (2.1) and 1 HDMI output (2.1) with HDCP 2.3 and eARC support. Available connection methods include 2 subwoofer outputs, Wi-Fi, USB inputs, network ports, Bluetooth, and Phono (MM) input.
Yamaha has two multi-room zones. This definitely expands the possibilities of using the receiver.This function allows you to enable playback from different sources in the main and Zone 2.
AirPlay 2 technology was also present in this model, allowing my iPhone to stream video and music to supported screens and speakers. So those who are worried about streaming services may not worry - they are also present here.
Listening experience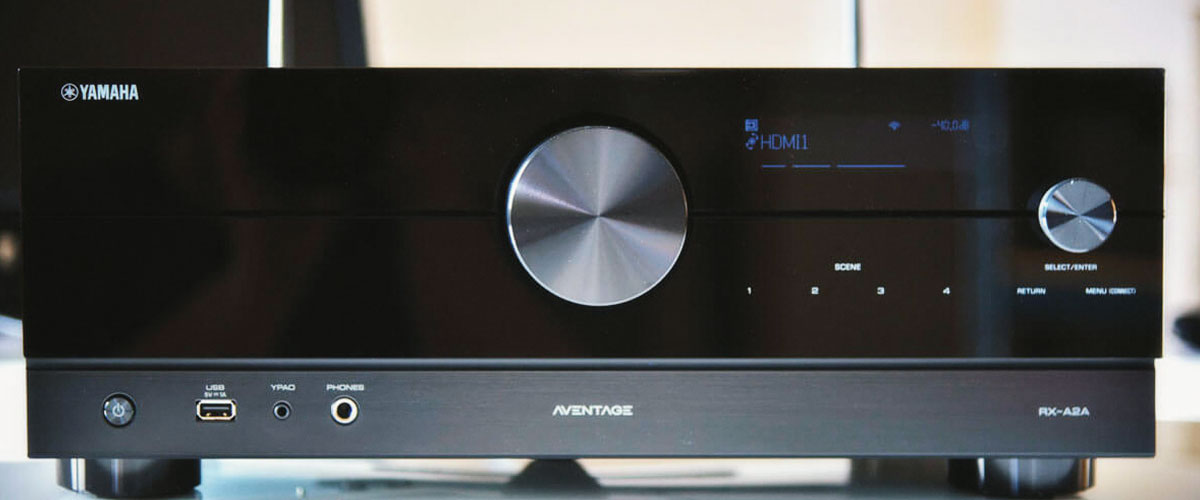 Before using the receiver, I first calibrated the sound with exclusive YPAO technology, and I must say, I achieved excellent results. Watching the movie "Fast and Furious 9" turned out to be quite a thrilling experience. The car chases sounded quite dynamic to me, and the squeals and truck drifts were pleasingly broad and fizzy. Thanks to the presence of surround sound technology, I was able to feel like I was in the middle of the action.
The explosions were less surprising. I'd say they sounded a little rough. As for the rest of the soundstage, it was neatly detailed.
During testing, I faced the problem of delayed sound several times. Namely, "Automatic Lip-sync" did not work correctly. It is hard to say whether this problem is present in all devices of this model or if it was just my "luck."
However, to summarize, I would like to note that the sound did not disappoint me, and although Yamaha RX-A2A is not the leader among the top models, you will definitely be satisfied with the unit for this money.
Key specs
Channels: 7.2.
Power output: 100W/8 Ohm.
HDMI inputs/outputs: 7/1.
Video functions: 8K/60Hz, 4K/120Hz, 4K/60Hz pass-through, video upconversion (up to 1080p and 4K) for analog and HDMI sources.
Bluetooth/Wi-Fi: yes/yes.
Streaming services: AirPlay2, Deezer, Tidal, Pandora, SiriusXM, Napster, SoundCloud, Amazon Music, Amazon Music HD, Mood mix.
Supports: HDMI ARC, HDMI eARC, HDMI CEC, HDCP2.3, HDR10, HDR10+, Dolby Vision.
Surround sound: DTS HD Master, DTS Neural:X, Dolby TrueHD, Dolby Surround, Dolby Digital Plus, Dolby Atmos Height Virtualization, Dolby Atmos.
As you know, Yamaha spends a lot of time on exactly how its receivers sound. And the RX-A2A was no exception. Thanks to the technologies used in the model, it can surprise even the most avid audiophile. It is definitely a great option that combines the unmatched quality of a well-known brand and a pretty acceptable price.
Denon AVR-X1700H
Given the competitiveness of the modern AV receiver market, Denon had to take a bold step to strike its competitors. From the first glance at AVR-X1700H specifications, I realized that the competition would be fascinating. And I wasn't wrong back then.
The Marantz has a slim but mighty 5.2 channel NR1510 receiver in this price range. In turn, Yamaha doesn't seem to take a backseat with their 5.2 channel RX-V4A. And when the Denon cavalry, the AVR-X1700H, arrived in October 2021, the market already had the AVR-X2700H. Nevertheless, the hero of my review is not the most expensive model among analogs and is cheaper than the X2700H. So now, when some time has passed, I can make a comprehensive Denon AVR-X1700H review to see whether this unit is actually worth all the fuss around.
Design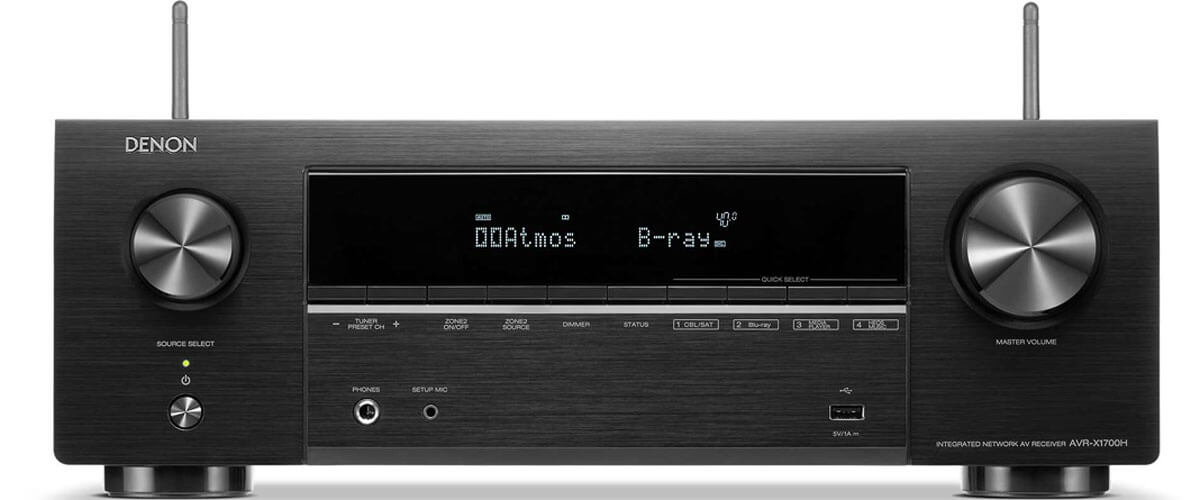 The AVR-X1700H is not a trendsetter when it comes to design. I didn't manage to find much of a change when comparing the X1700H with X2700H. A classic black box with convenient control surfaces and a big readable screen in the middle. Dimensions are also relatively standard for this price range, 17.1× 13.3 × 6 in. The AVR-X1700H weighs slightly less than the AVR-X2700H - 18.96 lbs vs. 21.
After unpacking the receiver and holding it in the hands, it felt solid and rigid, giving a feeling of holding a costly and quality unit. No strange noises or scary crunch sounds that one may have from more simple units. Even though the AVR-X2700H is more expensive, it has the same case and quality. This aspect enormously benefits the AVR-X1700H, as in some cases, more affordable AV receivers have cheaper cases.
Features and specs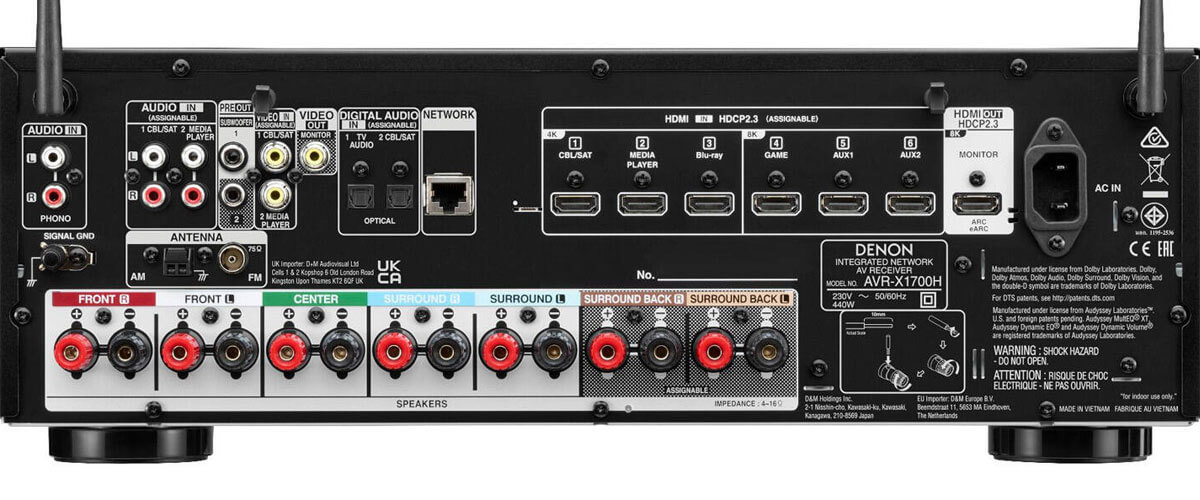 Denon AVR-X1700H has the situation firmly in hand by being a 7.2 Ch AV receiver. For comparison, Marantz, in the same price range, offers 5.2 NR1510, and Yamaha also comes with 5.2 channel RX-V4A. Denon also surpasses its competitors in terms of power, offering 80W with 8-ohm speakers, 20 Hz - 20 kHz, 0.08%. It is enough to fill the middle-sized room with immersive sound, especially with the help of supported Audyssey MultEQ XT and DTS:X technology trees.
Denon has an advantage, having 6 HDMI inputs (HDCP 2.3), 3 of which support 8K resolution at 60 Hz. At the same time, as all analogs, Denon AVR-X1700H features include only a single HDMI output. It also contains 2 composite inputs, a single output, 7 speaker terminals, 2 outputs for subwoofers, assignable bi-amping, an FM antenna, has built-in Wi-Fi and Bluetooth. The receiver fully supports Zone 2 feature, which also gives the AVR-X1700H advantage over the NR1510 from Marantz. The latter supports only HEOS-compatible speakers, with no multi-room feature.
In terms of video capabilities, all HDMI support 4K/120Hz, and, as I have mentioned before, only 3 are 8K/60Hz capable. The AVR-X1700H offers almost complete support of the DTS:X technology family, apart from DTS Neo:X. The same goes for the help of the latest Dolby technologies. But in this case, the only exception is Dolby ProLogic II. HDMI to HDMI scaling and HDR 10+. In terms of video features, the receiver stands alongside its competitors without significant flaws or advantages, with specific characteristics that partially equal it to more expensive models.
Listening experience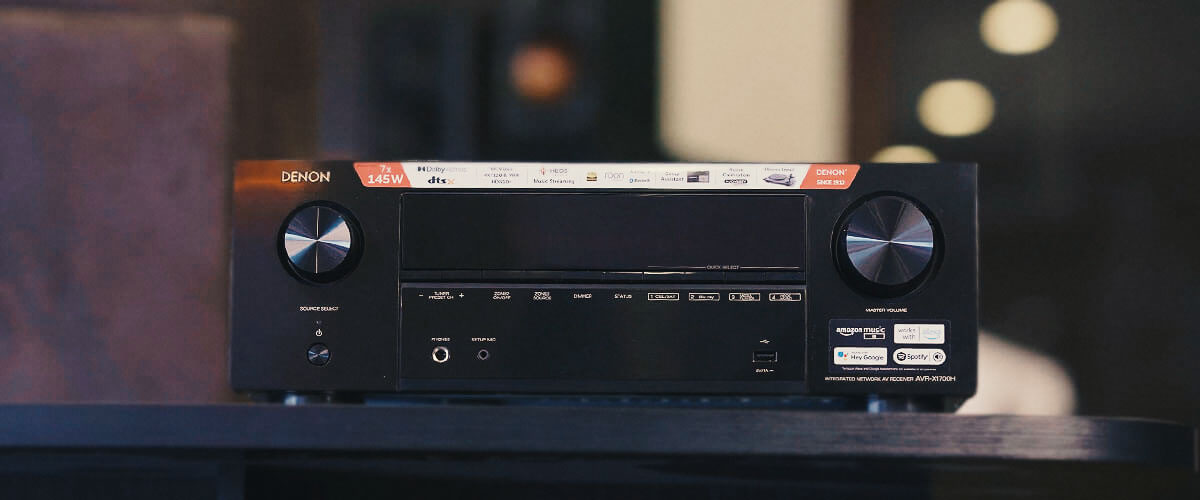 The AVR-X1700H has a pretty pleasant sound when listening to music, showing similar results with a different genre. The level of detail, stability, and vibrato can almost be compared to AVR-X2700H. Compare these two blindfolded, and you won't find much difference in music. With movies, The AVR-X1700H shows detailed, steered, balanced sound. Despite not having the highest power, it delivers just enough to fill a medium-sized room with immersive sound. Two subwoofers work great, delivering theater-like sound.
Denon habitually plays one of the leading companies in the AV receiver industry. Their AVR-X1700H adhered to the company's tradition and didn't disappoint me during the test. It is a severe competitor of Marantz and Yamaha and an excellent choice for optimizing your multimedia system.
Key specs
Channels: 7.2.
Power output: 80W/8 Ohm, 120W/6 Ohm.
HDMI inputs/outputs: 6/1.
Video functions: 8K/60Hz, 4K/120Hz, 4K/60Hz pass-through, video upconversion (up to 1080p and 8K) for analog and HDMI sources.
Bluetooth/Wi-Fi: yes/yes.
Streaming services: AirPlay2, Deezer, Tidal, Pandora, SiriusXM, Napster, SoundCloud, Amazon Music, Amazon Music HD, Mood mix.
Supports: HDMI ARC, HDMI eARC, HDMI CEC, HDCP2.3, HDR10, HDR10+, Dolby Vision.
Surround sound: DTS HD Master, DTS Neural:X, Dolby TrueHD, Dolby Surround, Dolby Digital Plus, Dolby Atmos Height Virtualization, Dolby Atmos, Multichannel stereo.
Although the Denon AVR-X1700H is most suitable for undemanding use, it is quite capable of providing pleasant sound and a clear picture. Of course, it's not without flaws, but it costs much less than other models.
FAQ
How many zones can a receiver have?
The more zones the device supports, the more expensive it is. In most cases, home theater receivers offer their users
2 multi-room zones
. But of course, in premium models, you can find
3
and even 4 zones, which are designed mainly for large houses.
How do I connect my receiver to multiple rooms?
There is nothing complicated here. If you want to take full advantage of multi-room audio, you first need to connect the available speakers with an HDMI cable to specific zones of the home theater receiver. This way, the device can distribute the audio signal to your desired rooms, allowing you to watch different content simultaneously.
But also keep in mind an important nuance. If you have, for example, a 7.2 channel receiver, then running the device for two rooms, you can only use it in 5.1 channel mode for the main room. The other two channels, in this case, can be used for the second room.
Is multi-room audio worth it?
The investment in multi-room audio is definitely worth it. Why? It is especially evident when you have a family and a large home. In the first case, as it often happens, the interests of loved ones are very different from each other. And in order to avoid disputes in the future, you will benefit from the support of such a function.
In the second case, a multi-room system with integrated voice assistants, such as Alexa and Google Assistant, will create a smart home, significantly simplifying life. Once you try it, you won't be able to do without it anymore.
What are the most popular multi-zone audio systems?
In fact, there are a huge number of multi-room speaker systems. But the most popular, in my opinion, are SONOS Play 1 Multi-Room Speaker System, Denon HEOS 3 Wireless Multi-Room Speaker System, Marshall Stanmore II Multi-Room Speaker System, and Yamaha MusicCast WX-010 Multi-Room Speaker System.
Is Sonos better than Bose?
Which is better – Sonos or Bose? I think it's more a matter of taste. But if I compare them, Sonos has a more rational approach to creating its speakers than Bose.
On the other hand, Bose offers its users many more options in the form of additional products for home speakers and soundbars. So what choice you need to make is up to you to decide.
We are supported by our audience. When you purchase through links on our site, we may earn an affiliate commission at no extra cost to you.
Our newsletter
* We will never send you spam or share your email with third parties