Marantz is a well-known company that pays tremendous attention to tuned sound. They have become popular because they don't like to compromise quality for their price. Therefore, when users buy Marantz products, they can expect to have a quality product that adheres to Marantz's classic sound. My today's Marantz SR5015 review aims to check whether its mid-range product adheres to those traditional quality and sound peculiarities and to determine its place in this price segment among the models of other manufacturers.
Design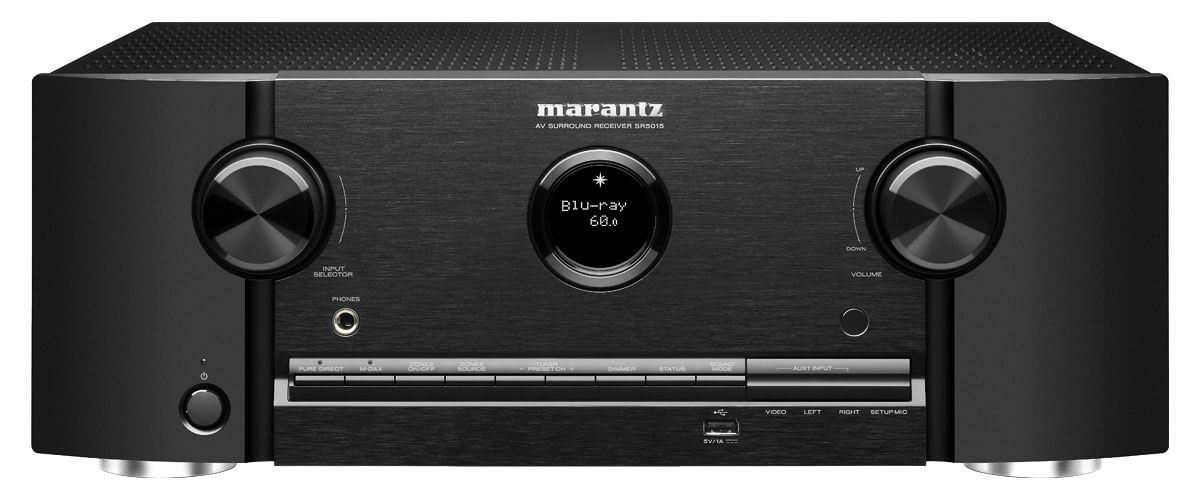 Is there a way to improve perfection? Perhaps, but not in this case. The Marantz SR5015 is a timeless classic – a black box with two large control surfaces on the left, control buttons in the center, and a screen in the middle. Though, one of the competitors, Denon AVR-X2700H, has a more readable screen. The device measures 17.3 x 9.1 x 13.7 inches and weighs slightly over 22 pounds.
Altogether, it is a well-made AV receiver that, in terms of design, sticks to Marantz traditions but has no distinctive features that make it stand out from the line of other, figuratively speaking, black boxes with minor differences from one another.
Features and specs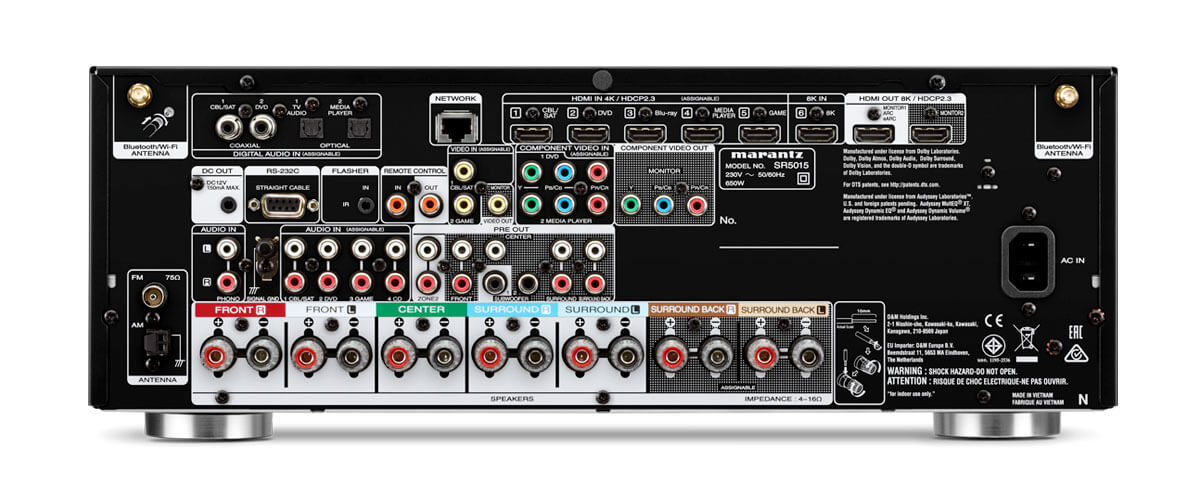 According to the SR5015 specifications, a 7.2 channel receiver provides 100W per channel using 8 Ohm speakers 20Hz-20kHz and 0.08% THD. An interesting aspect is that Marantz's proprietary energy-saving technology automatically adapts the receiver to a wide range of speakers. It also shows stable performance with 4 Ohm speakers, which is pretty unusual for this class of AV receivers.
The receiver supports the latest audio technologies, including Dolby Atmos, Dolby Atmos Height Virtualization Technology, DTS:X, and DTS Virtual:X processing. The set is pretty impressive, isn't it?
Typically, for this price range, the SR5015 supports Zone 2 features. It is also quite common, and even the more expensive models of different brands mainly provide support for only 2 zones.
The model supports 6 HDMI (HDCP 2.3) inputs, but only one of those supports 8k60Hz (but the cheaper Denon AVR-X1700H supports 3 HDMI 8k60Hz). The SR5015 supports two HDMI outputs, 2 (1 front) composite, 2 component inputs, single USB(a) on the front, and single composite and component outputs, 6.3 mm headphones output. In addition, the model supports Ethernet, Wi-Fi, Bluetooth, HEOS-compatible speakers, and all modern streaming services. No frills, but there is everything you need.
Marantz SR5015 features HDR10+ and older, HLG, Dolby Vision, and Dynamic HDR. It shows pleasant video quality, brightness, clarity, and contrast control. Typically, for the price range, the receiver supports 8K upscaling. It meets all modern requirements, and you will have no problems watching any format and video quality.
Listening experience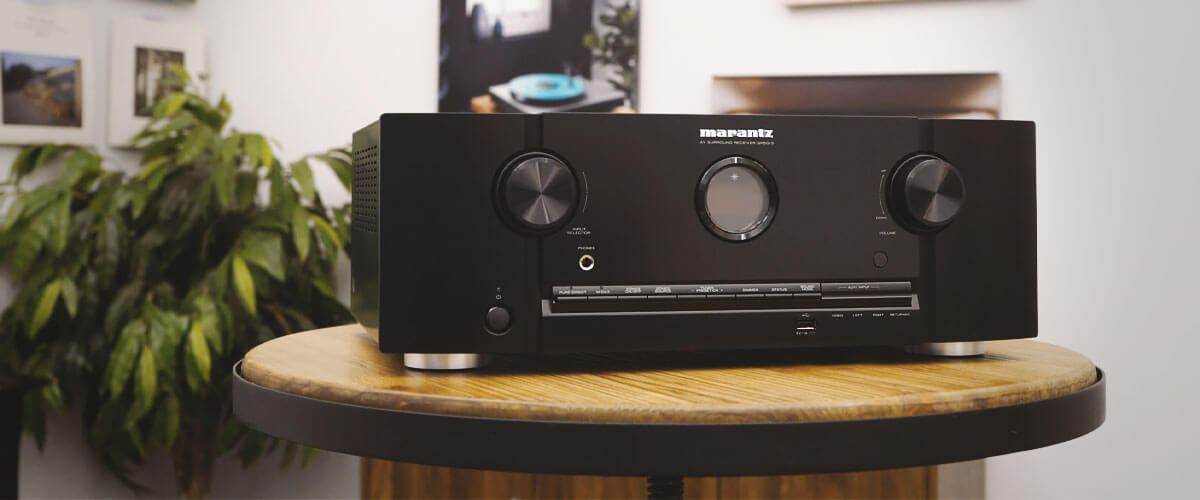 As you would expect from any Marantz AV receiver, the new SR5015 pays special attention to sound quality. When watching movies, it delivers an immersive and richly detailed surround sound experience. Due to its proprietary current feedback topology and definition of HDAM, the SR5015 has the power to fill pretty large rooms with immersive sound and does it surprisingly well. It may even be compared to more expensive models from competitors, such as the Denon AVR-X3700H. And it may even surpass it in dialogue correction.
The unit's performance in music may not match the so-called audiophile quality standard, but it still offers pretty impressive lower frequencies while maintaining clear heights. I often stick to listening to music with classic compressed audio in MP3. The SR5015 also pleasantly surprised me with proprietary Marantz MDAX2 technology that boosts the quality of songs recorded in compressed audio formats such as MP3 or AAC and takes their quality to a new level. Indeed, it doesn't match the lossless FLAC format, but the difference when using MDAX2 is audible.
Key specs
Channels: 7.2.
Power output: 100W/8 Ohm, 140W/6 Ohm.
HDMI inputs/outputs: 6/2.
Video functions: 8K/60Hz, 4K/120Hz, 4K/60Hz pass-through, video upconversion (up to 1080p and 8K) for analog and HDMI sources.
Bluetooth/Wi-Fi: yes/yes.
Streaming services: AirPlay2, Deezer, Tidal, Pandora, SiriusXM, Napster, SoundCloud, Amazon Music, Amazon Music HD, Mood mix.
Supports: HDMI ARC, HDMI eARC, HDMI CEC, HDCP2.3, HDR10, HDR10+, Dolby Vision.
Surround sound: DTS HD Master, DTS Neural:X, Dolby TrueHD, Dolby Surround, Dolby Digital Plus, Dolby Atmos Height Virtualization, Dolby Atmos, Multichannel stereo.
We are supported by our audience. When you purchase through links on our site, we may earn an affiliate commission at no extra cost to you.
Our newsletter
* We will never send you spam or share your email with third parties