Given the competitiveness of the modern AV receiver market, Denon had to take a bold step to strike its competitors. From the first glance at AVR-X1700H specifications, I realized that the competition would be fascinating. And I wasn't wrong back then.
The Marantz has a slim but mighty 5.2 channel NR1510 receiver in this price range. In turn, Yamaha doesn't seem to take a backseat with their 5.2 channel RX-V4A. And when the Denon cavalry, the AVR-X1700H, arrived in October 2021, the market already had the AVR-X2700H. Nevertheless, the hero of my review is not the most expensive model among analogs and is cheaper than the X2700H. So now, when some time has passed, I can make a comprehensive Denon AVR-X1700H review to see whether this unit is actually worth all the fuss around.
Design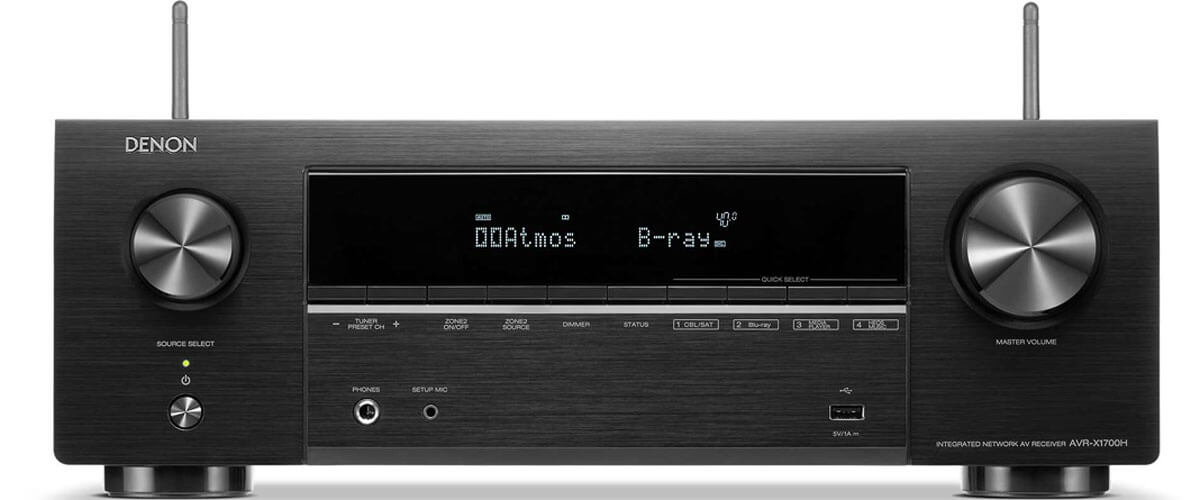 The AVR-X1700H is not a trendsetter when it comes to design. I didn't manage to find much of a change when comparing the X1700H with X2700H. A classic black box with convenient control surfaces and a big readable screen in the middle. Dimensions are also relatively standard for this price range, 17.1× 13.3 × 6 in. The AVR-X1700H weighs slightly less than the AVR-X2700H – 18.96 lbs vs. 21.
After unpacking the receiver and holding it in the hands, it felt solid and rigid, giving a feeling of holding a costly and quality unit. No strange noises or scary crunch sounds that one may have from more simple units. Even though the AVR-X2700H is more expensive, it has the same case and quality. This aspect enormously benefits the AVR-X1700H, as in some cases, more affordable AV receivers have cheaper cases.
Features and specs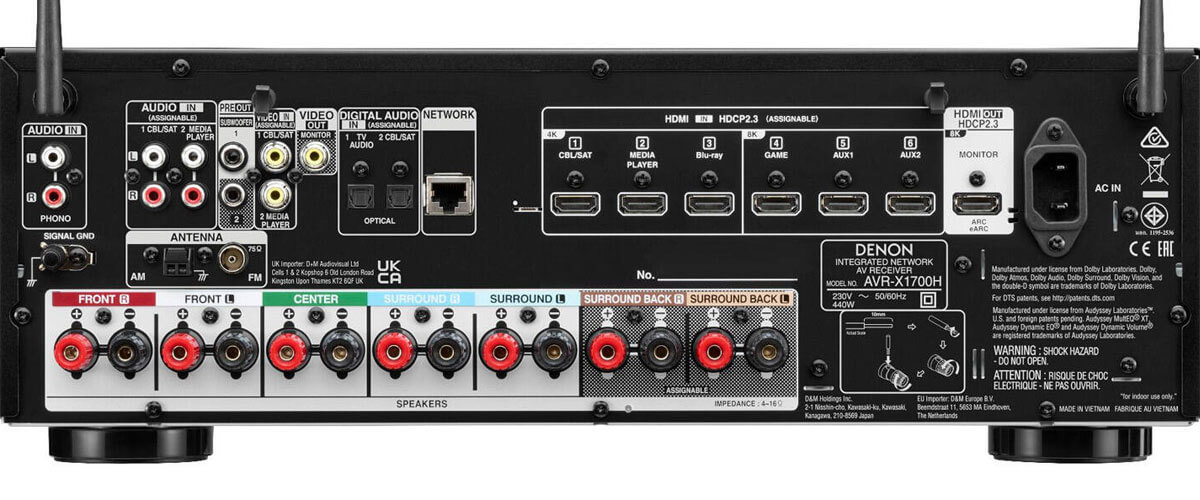 Denon AVR-X1700H has the situation firmly in hand by being a 7.2 Ch AV receiver. For comparison, Marantz, in the same price range, offers 5.2 NR1510, and Yamaha also comes with 5.2 channel RX-V4A. Denon also surpasses its competitors in terms of power, offering 80W with 8-ohm speakers, 20 Hz – 20 kHz, 0.08%. It is enough to fill the middle-sized room with immersive sound, especially with the help of supported Audyssey MultEQ XT and DTS:X technology trees.
Denon has an advantage, having 6 HDMI inputs (HDCP 2.3), 3 of which support 8K resolution at 60 Hz. At the same time, as all analogs, Denon AVR-X1700H features include only a single HDMI output. It also contains 2 composite inputs, a single output, 7 speaker terminals, 2 outputs for subwoofers, assignable bi-amping, an FM antenna, has built-in Wi-Fi and Bluetooth. The receiver fully supports Zone 2 feature, which also gives the AVR-X1700H advantage over the NR1510 from Marantz. The latter supports only HEOS-compatible speakers, with no multi-room feature.
In terms of video capabilities, all HDMI support 4K/120Hz, and, as I have mentioned before, only 3 are 8K/60Hz capable. The AVR-X1700H offers almost complete support of the DTS:X technology family, apart from DTS Neo:X. The same goes for the help of the latest Dolby technologies. But in this case, the only exception is Dolby ProLogic II. HDMI to HDMI scaling and HDR 10+. In terms of video features, the receiver stands alongside its competitors without significant flaws or advantages, with specific characteristics that partially equal it to more expensive models.
Listening experience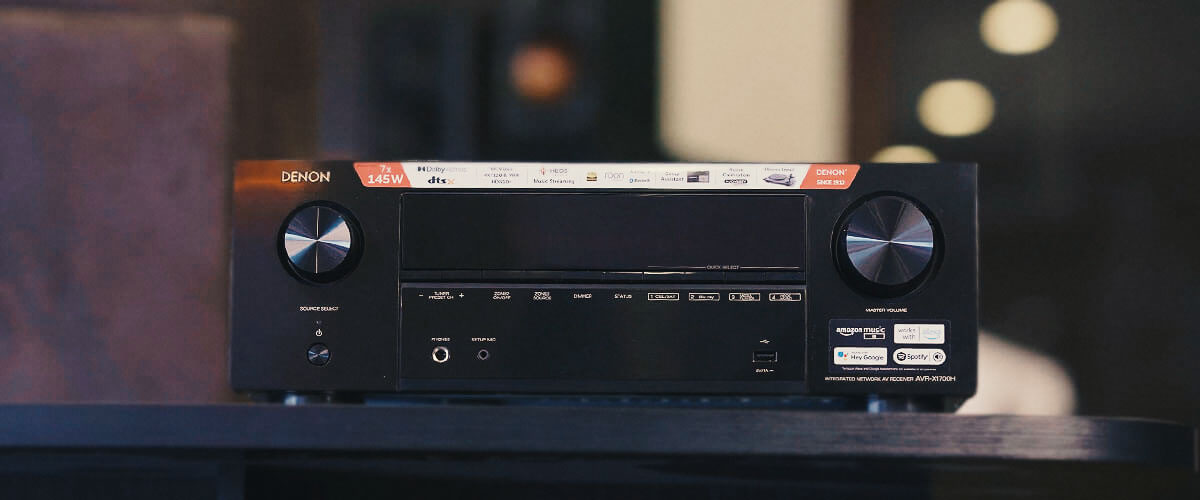 The AVR-X1700H has a pretty pleasant sound when listening to music, showing similar results with a different genre. The level of detail, stability, and vibrato can almost be compared to AVR-X2700H. Compare these two blindfolded, and you won't find much difference in music. With movies, The AVR-X1700H shows detailed, steered, balanced sound. Despite not having the highest power, it delivers just enough to fill a medium-sized room with immersive sound. Two subwoofers work great, delivering theater-like sound.
Denon habitually plays one of the leading companies in the AV receiver industry. Their AVR-X1700H adhered to the company's tradition and didn't disappoint me during the test. It is a severe competitor of Marantz and Yamaha and an excellent choice for optimizing your multimedia system.
Key specs
Channels: 7.2.
Power output: 80W/8 Ohm, 120W/6 Ohm.
HDMI inputs/outputs: 6/1.
Video functions: 8K/60Hz, 4K/120Hz, 4K/60Hz pass-through, video upconversion (up to 1080p and 8K) for analog and HDMI sources.
Bluetooth/Wi-Fi: yes/yes.
Streaming services: AirPlay2, Deezer, Tidal, Pandora, SiriusXM, Napster, SoundCloud, Amazon Music, Amazon Music HD, Mood mix.
Supports: HDMI ARC, HDMI eARC, HDMI CEC, HDCP2.3, HDR10, HDR10+, Dolby Vision.
Surround sound: DTS HD Master, DTS Neural:X, Dolby TrueHD, Dolby Surround, Dolby Digital Plus, Dolby Atmos Height Virtualization, Dolby Atmos, Multichannel stereo.
We are supported by our audience. When you purchase through links on our site, we may earn an affiliate commission at no extra cost to you.
Our newsletter
* We will never send you spam or share your email with third parties