My Denon AVR-X6700H review allows you to get a closer look at this rather interesting receiver model. It is an advanced modern high-end receiver occupying the X series' middle position. The AVR-X8500H is the flagship of this line, which, of course, is more expensive. And its simplest and cheapest representative is the AVR-X2700H. And today's "guest" takes place between them and is oriented to most users. So I tested X6700H and want to tell you what differentiates this model from the other two, its features, and how it sounds.
Design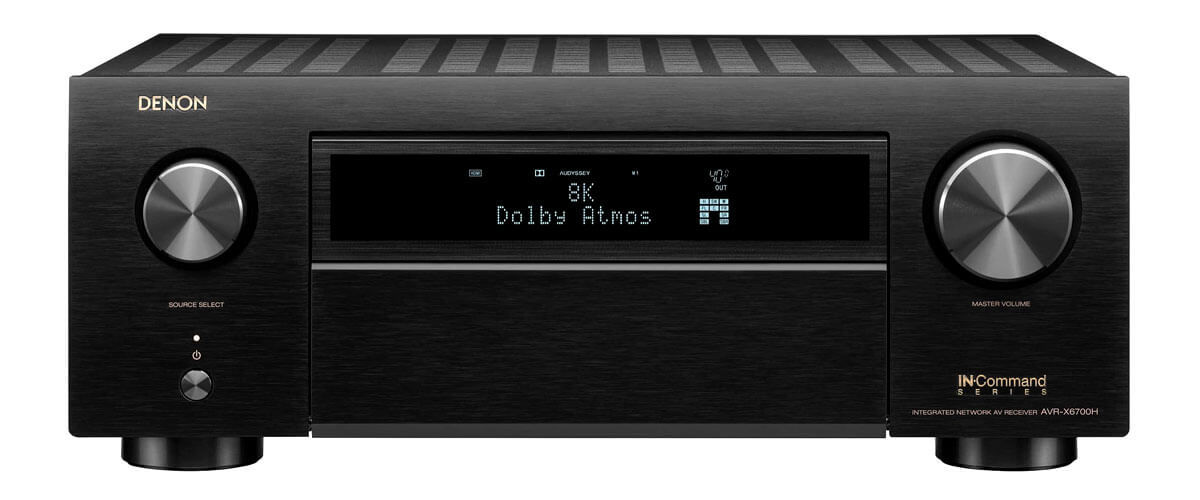 In terms of exterior and construction, almost all Denon models look alike. Measuring (without antennas) 17.1 x 15.3 x 6.6, it weighs 32 pounds. The exterior is minimalist, like most of the more expensive models. On the sides of the small LCD, you'll find round Source Select and Master Volume controls, and below the left is the Power button. And that's it! The thing is that the control panel is hidden behind the cover. And there, you have everything you need for setup and jacks: HDMI, USB, Phones, and Setup Mic. I personally love it. Minimal dust, maximum options at my fingertips.
Features and specs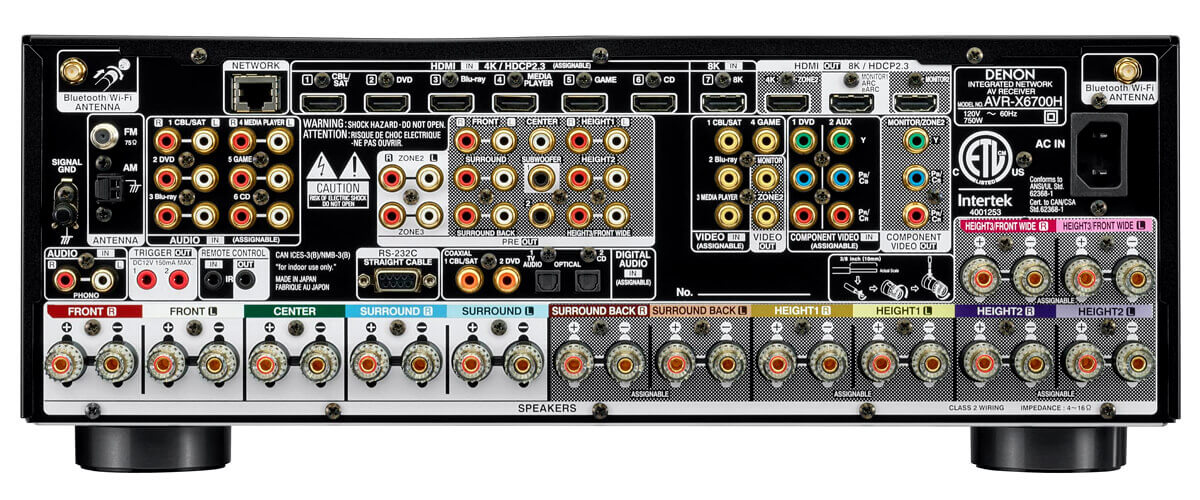 The description of Denon AVR-X6700H features should start with the fact that this is an 11-channel receiver, which means you can create 5.2.6 or 7.2.4 configuration or 5.2.4 systems. The more expensive AVR-X8500H has 13 channels, while the budget AVR-X2700H has only 7. There are also two additional full-featured preamp outputs here, and you can connect an additional stereo receiver and increase the total power for 13 channels for 3 Multi-room zones. The nominal output power is 140 watts (8 ohms, 20 Hz – 20 kHz, 0.05% 2ch Drive) or 175 watts (6 ohms, 1 kHz, 0.7%, 2ch Drive). So for about five channels, you can get 100 watts. For me, that's more than enough!
The connectivity didn't disappoint me. Eight HDMI inputs and three HDMI outputs, one input and two outputs in HDMI 2.1 standard. So 8K support at up to 60 Hz and 4K at 120 Hz are provided, which is not surprising for its rank. The seven inputs are HDMI 2.0 standard but support VRR, ALLM, QMS, and QFT functions, so gamers should be satisfied. All HDR, including Dolby Vision and HDR10+, HDR10, and HLG, and one of the outputs with eARC are supported with any input. At this level, Denon offers no longer just a video converter but a sophisticated switcher/distributor of any signal available today.
As for audio capabilities, the receiver supports most of the existing latest formats, including Dolby Atmos, Atmos Height Virtualization, DTS:X, DTS Virtual:X, IMAX Enhanced, and Auro-3D. Among the features worth noting is the Pre-Amplifier mode for an external amplifier. Using this mode, you get 4.8 Vrms at the preamp outputs, which is impressive compared to the nominal 1.44 Vrms at the internal preamps.
When listing the specifications of the AVR-X6700H, I can't pass up the following features: support for high-quality audio file formats FLAC, ALAC, and WAV up to 24 bits/192 kHz, the ability to stream, including Spotify, Pandora, AirPlay 2, etc. And the presence of voice assistants from Google, Amazon, and Apple will be a nice bonus to control the device.
Listening experience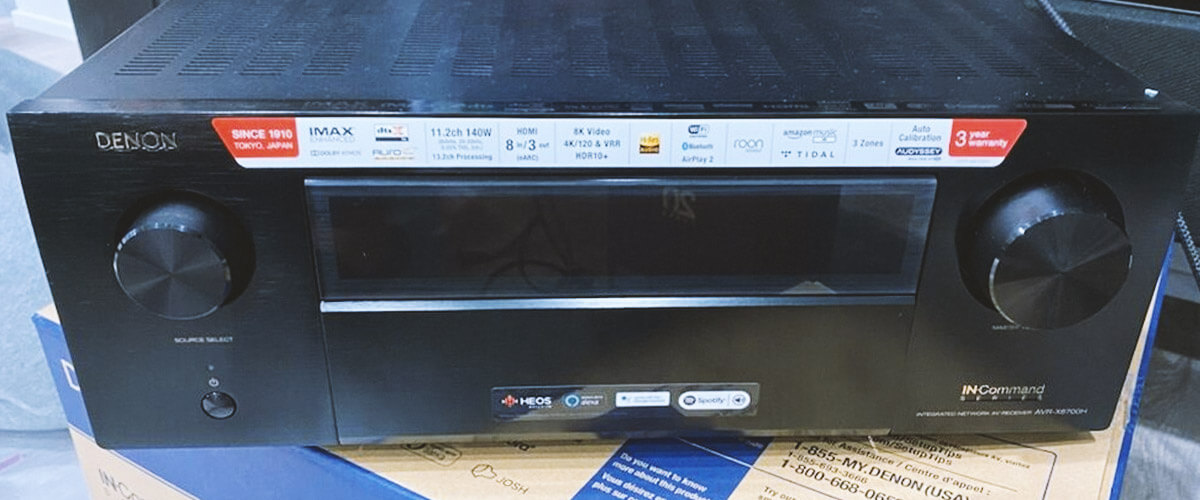 Sound calibration with Audyssey MultEQ XT32 is easy, so it took little time and effort. So I decided to test the X6700H on the Transformers franchise. Do you like to be tossed around in your chair by sound? Then you'll understand me. A total delight! The sound is detailed, and you can hear every single bass (and there are plenty of them in the movie), and the clang of metal was clean and tinkling. It was an enveloping feeling, as if you were participating in the movie's events.
As for the music, I decided to try HEOS since I mostly play tracks from Tidal. Well, it took a little bit of work to set up. But the sound quality was excellent. Mystify, INXS with Spotify made me go to the rock dance. Great, just great.
Key specs
Channels: 11.2.
Power output: 140W/8 Ohm, 175W/6 Ohm.
HDMI inputs/outputs: 8/3.
Video functions: 8K/60Hz, 4K/60Hz, 4K/120Hz, upscaling to 8K.
Bluetooth/Wi-Fi: yes/yes.
Streaming services: AirPlay 2, Spotify, TuneIn, Deezer, Tidal, Netflix, Amazon Prime.
Supports: HDMI ARC, HDMI eARC, HDMI CEC, HDCP2.3, HDR10+, Dolby Vision.
Surround sound: DTS:X, DTS Virtual:X, Dolby Atmos, DTS HD Master, Dolby TrueHD, Auro 3D.
We are supported by our audience. When you purchase through links on our site, we may earn an affiliate commission at no extra cost to you.
Our newsletter
* We will never send you spam or share your email with third parties