Today I have prepared for you a special Marantz NR1200 review. It is a compact and stylish two-channel stereo receiver released in 2020. Marantz aimed to make it the ultimate music-listening unit with movie capabilities.
The NR1200 is the latest generation of Marantz's popular NR series. The company claims to offer improvements over previous models in terms of design, features, and audio quality. They also tried to make it more versatile and take its performance to another level by filling it with the latest 4K video pass-through and support for multiroom audio. This is very rare for stereo receivers. So, today I will share with you whether Marantz managed to achieve new heights with this model.
Design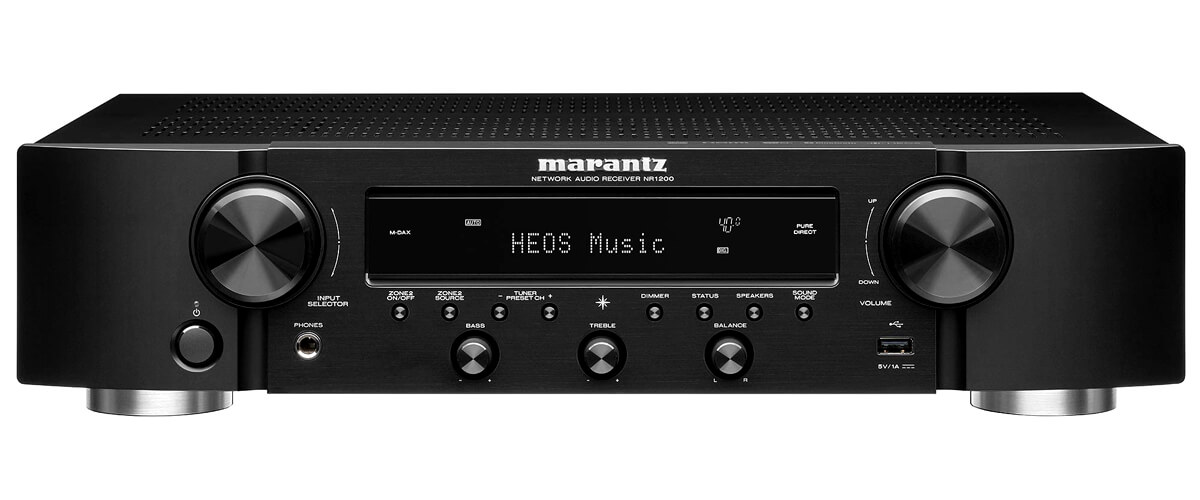 The Marantz NR1200 has an elegant and pretty fancy design that is stylish and functional at the same time. The receiver has a high-quality build, with a well-constructed metal chassis and conveniently large controls and interfaces.
The NR1200 is compact and lightweight, with dimensions of 4.1 x 17.3 x 12.6 inches (104 x 439 x 320 mm) and a weight of 16.5 lbs (7.5 kg) which, together with Onkyo TX-8220 makes the unit among the lightest stereo receivers in its class. Moreover, the unit is easy to use, with a clear and intuitive interface of the built-in menu. So it is hard to get lost in it.
Features and specs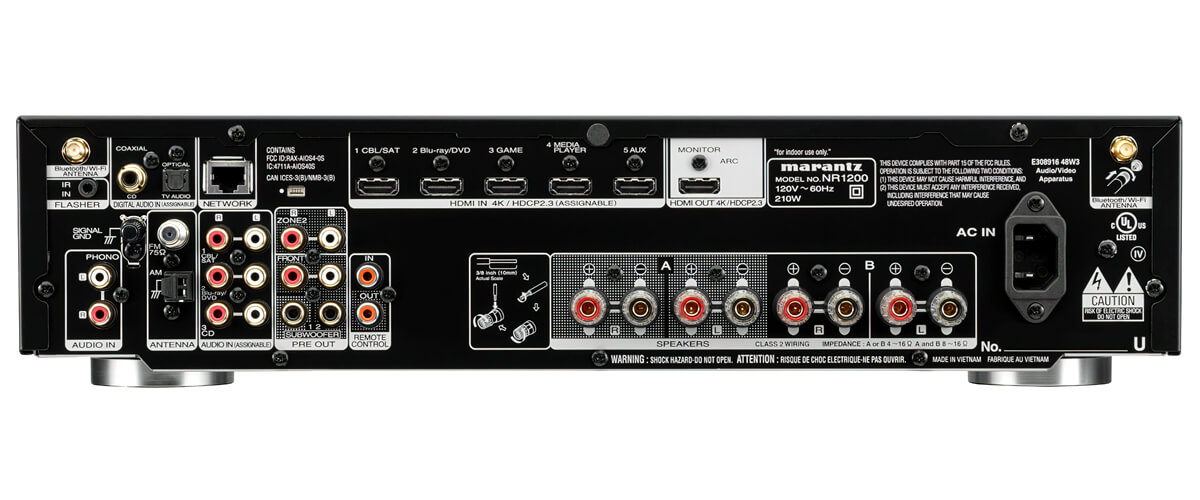 Conceptually, this unit is much closer to AV receivers than to stereo amplifiers, although it does not replace them. It is almost a perfect representative of the Post AV class models. It has two channels, but otherwise, it meets AV-receiver users' requirements.
The Marantz NR1200 provides 50 watts per channel at 8 ohms load. The unit can also work with 4 Ohm speakers, but the manufacturer recommends using an impedance of 6 Ohms or higher. Otherwise, they don't guarantee optimal performance. The receiver features a high-quality amplifier section and a built-in DAC for improved sound quality. The receiver's frequency response is 20 Hz to 20 kHz, with a total harmonic distortion of 0.08% at rated power.
According to the NR1200 specifications, it has the following ports and connections: five HDMI inputs, each supporting HDCP 2.3. The sixth HDMI connector, labeled white on black "MONITOR ARC," allows the device to completely replace your TV's sound system with control from the regular "TV" remote control. Note that the other five HDMI connectors on the rear panel are labeled: 1 CBL/SAT, 2 Blu-ray/DVD, 3 GAME, 4 MEDIA PLAYER, and 5 AUX. And it is done for a reason. Digital switching is represented by coaxial and optical inputs. In addition, there is a cable connection to the network. The wireless option, of course, is present in all its glory – two antenna connectors on the upper corners of the rear panel, marked "Bluetooth/Wi-Fi ANTENNA". Built-in Wi-Fi supports two bands: 2.4 GHz/5 GHz. Apart from this, the receiver supports streaming services. I tested it with Spotify, Tidal, and Amazon Music — all worked correctly. Apart from this, the receiver has Wi-Fi and Bluetooth. I also put its phono stage with my record player to the test. Wonderful experience! Now, I can conclude that the NR1200 is a pretty valuable solution for vinyl enthusiasts.
The NR1200 also has a built-in network module and support for HEOS technology, which is found in most Denon and Marantz models. HEOS is a combination of a streamer and an intelligent platform, so the NR1200 can be used with other compatible devices in a multiroom system and controlled by a single application.
Regarding video features, the NR1200 supports 4K at 60 Hz video with HDR. Sadly, the receiver functions only with an older HDR10 and doesn't support HDR10+. At the same time, it can offer quality video conversion and scale up to 4K/60 Hz. The receiver also has Dolby Vision and HLG technologies, which is pretty valuable for a stereo receiver.
This Marantz stereo receiver supports a wide range of audio formats, including DSD and FLAC. The NR1200 decodes ALAC-, FLAC- and WAV-files at bitrates up to 24 bit/192 kHz as well as DSD 2.8 MHz and 5.6 MHz tracks.
Listening experience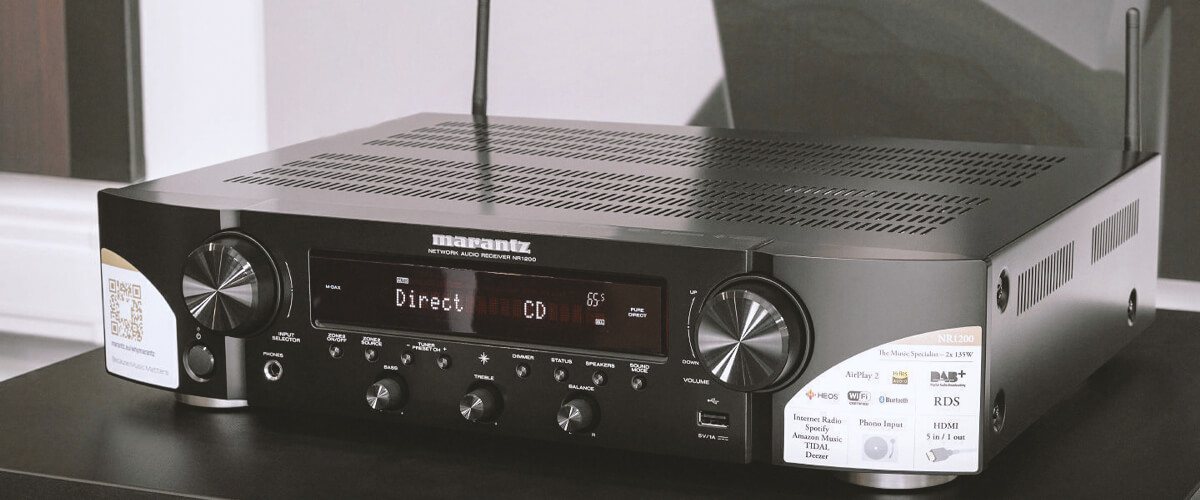 After putting the device to the test in music, I can say that the Marantz NR1200 delivers a high-quality audio performance. It gave me a powerful, detailed, and well-suited one. This device works great with mids, delivering a very balanced sound in every music genre, a juicy and deep bass supplements the overall impression. The sound quality doesn't drop in movies too. Yet, during action moments with lots of explosions and special effects on the screen, it is clear that it could use more power. But still, it is a very solid solution for movies among stereo receivers.
Key specs
Channels: 2.1.
Power output: 75W/8 Ohm, 100W/6 Ohm.
HDMI inputs/outputs: 5/1.
Video functions: 4K/60Hz.
Bluetooth/Wi-Fi: yes/yes.
Streaming services: AirPlay 2, Spotify, TuneIn, Deezer, Tidal, Netflix, Amazon Prime.
Supports: HDMI ARC, HDR, HLG, HDCP2.3, 3D Signal Pass-Through, HDR10.
Surround sound: has not.
We are supported by our audience. When you purchase through links on our site, we may earn an affiliate commission at no extra cost to you.
Our newsletter
* We will never send you spam or share your email with third parties