The Marantz company is considered one of the leaders in the receiver manufacturing industry. Their products have many fans around the world. However, the modern market is filled with various exciting models of this brand, and it can be challenging to choose. That is why I have prepared the Marantz SR7015 review for today. It is IMAX Enhanced certified, supporting Auro-3D's proprietary immersive audio technology, enhanced by the Auro-Matic mixer that delivers three-layer sound, including standard surround, ceiling, and height speakers. This technology makes Marantz's immersive sound stand out from many competitors.
Another famous Marantz technology allowing this company to compete with Denon successfully is HDAM (Hyper Dynamic Amplifier Module). It is used on top-level AV receivers, such as the SR7015, and focuses on noise reduction. Therefore, providing accurate, clear, and detailed sound while still making it feel dynamic, the SR7015, in some cases, outperforms even the mighty Denon AVR-X8500HA.
Design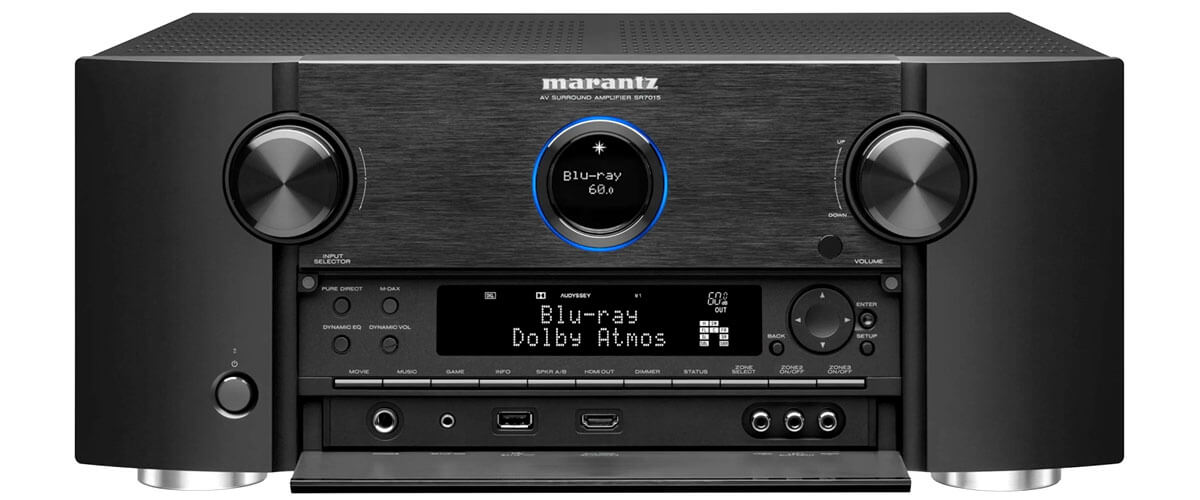 Like other receivers from the product line, the SR7015 offers a classic design consistent with the company traditions. Curvy sides somewhat distinguish it from other AV receivers from other brands. There is a huge power button supplemented by input controls on the left. The right side offers a large volume control dial. The display between these dials shows only the bare minimum information. It's not bad, and besides, Marantz has always been famous for its desire for minimalism and ergonomics.
From the first touch, the unit feels rigid and well-developed. All elements (even the smallest ones) and components look solid and of high quality. However, in terms of size and weight, it is not distinctive from other receivers from the same price range. The unit's dimensions are LxWxH 16.54 x 17.32 x 7.48 inches, and it's a bit heavier than 30 lb. The SR7015 comes in two colors: silver-gold and black.
Features and specs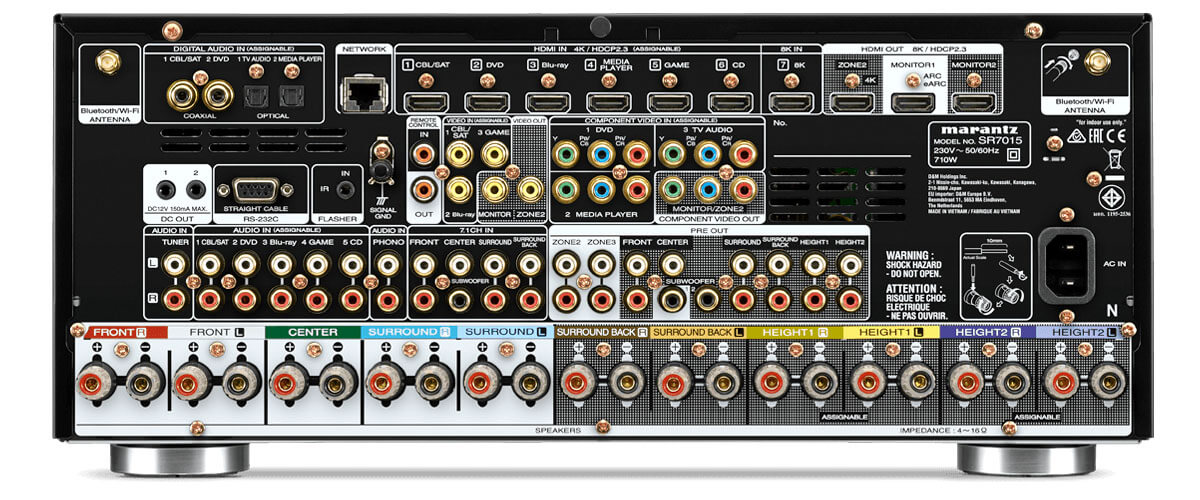 The Marantz SR7015 is a 9.2-channel AV receiver. According to the SR7015 specifications, it offers 125W power per channel with 8 Ohms speakers with 20Hz-kHz 0.08% THD. When using 6 Ohms speakers, it provides 165W 1 kHz with 0.7% THD. The AK4458 chip is a central audio processor in this receiver which guarantees a quality sound without interference. An interesting aspect is that the audio processor can support up to 11 channels, but the receiver has only 9 built-in amplifiers. So it may need an additional amplifier to show its potential entirely.
The SR7050 has a rich set of inputs, including 8 HDMI (1 front) support HDCP 2.3. Sadly, only a single HDMI input supports 2.1. Other inputs include a single USB, 4 composite videos (1 front), 7 line RCAs, 2 coax, and 2 digital optical and 6 analog inputs (1 front). Outputs include 3 HDMI (1 supports eARC), and a single HDMI supports 8K/60Hz and 4K/120Hz. Other ports include Ethernet, remote control, FM/AM antenna, and RS-232C port. The unit is equipped with 2-band Wi-FI and Bluetooth and supports the AirPlay2 function. Also, the receiver supports Deezer, TuneIn, Spotify Connect, TIDAL, Amazon Music, and Amazon Alexa voice assistant. In my opinion, this model's range of features and versatility is clearly above average.
Just like older receivers had to come with built-in support of radio features, modern receivers must support Zone 2. The SR7015 pleasantly surprises by allowing the arrangement of three separate audio rooms as it supports Zone 2 and Zone 3. Also, the model has access to the HEOS ecosystem, which allows for organizing a multi-room setup and managing all the devices through a single application transferring data between HEOS-compatible systems.
This model supports 8K 60 Hz video, including 8K upscaling, with support for HDR options: HDR10+, Dolby Vision, Dynamic HDR, HLG, and HDR10. Also, the receiver supports Quick Frame Transport (QFT) technology and automatic low latency operation mode (ALLM). Furthermore, Marantz SR7015 features all modern immersive sound formats, including DTS: X and Dolby Atmos, Auro-3D, and even DTS Virtual. Quite a profound set of features. Indeed, I was wondering how it sounds. Therefore, next, I will share my experience testing the sound of the SR7015.
Listening experience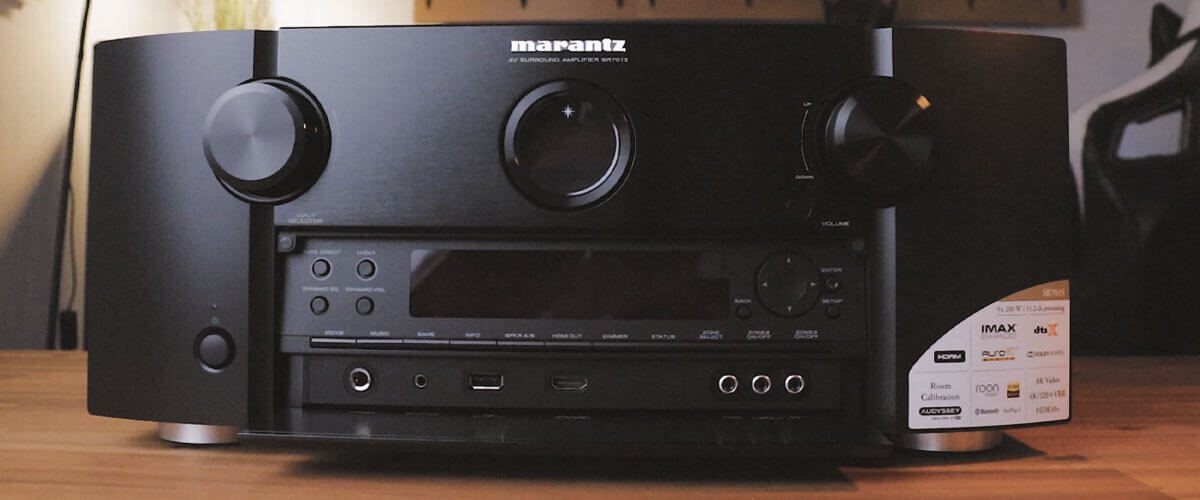 First, I will share how the SR7050 handles surround sound when watching movies. My BP9080X accompanied the receiver to let it show its full strength. The unit provided an incredible bass, filling the room with immersive vibes. It even made my clothes vibrate during active moments. I have to admit a pleasant balance between action scenes and calm moments. In addition, the receiver managed to keep readable dialogues delivering the slightest details. Overall, it left a very positive experience, completely satisfying my needs. I can't wait to get my hands on Avengers 5: The Kang Dynasty to watch with the SR7050.
While music is not the main selling feature for the AV receiver, Marantz SR7050 showed itself very well, keeping a consistent quality and sound distribution. Indeed, a dedicated pre and power amplifier for the same price would deliver a superior and more energetic sound. But concerning its excellent immersive sound in gaming and watching movies, it is a very solid solution worth every cent you pay for it.
Key specs
Channels: 7.2.
Power output: 125W/8 Ohm, 235W/6 Ohm.
HDMI inputs/outputs: 8/3.
Video functions: 8K/60Hz, 4K/120Hz, 4K/60Hz pass-through, video upconversion (up to 1080p and 8K) for analog and HDMI sources.
Bluetooth/Wi-Fi: yes/yes.
Streaming services: AirPlay 2, Pandora, Spotify, Napster, SiriusXM, TIDAL, Deezer, Qobuz, Amazon Music.
Suppots: HDCP2.3, HDMI ARC, HDMI eARC, Dolby Vision, CEC, HLG, HDR, HDR 10+.
Surround sound: DTS HD Master, Dolby Atmos, Dolby Atmos Height Virtualization, Dolby TrueHD, Dolby Surround, DTS:X, DTS Neural:X, Multichannel Stereo, Auro 3D, IMAX Enhanced.
We are supported by our audience. When you purchase through links on our site, we may earn an affiliate commission at no extra cost to you.
Our newsletter
* We will never send you spam or share your email with third parties