Onkyo is a manufacturing company originating in Japan. Despite its long history in making audio equipment and some of its popular home theater systems, most people still prefer to stick to Denon, Marantz, and Yamaha. I didn't hesitate to make the Onkyo TX-NR7100 review when I had the chance, even though this brand is somewhat out of earshot for most people. One can translate the company's name from Japanese as "harmony of sound." It resembles their main goal – making reliable sound equipment to feel our homes with sound and harmony.
Those interested in the industry probably already heard about their TX-SR393 receiver when the company tried to take the lower price segment of the market or their mid-range TX-NR696. In turn, the specification of this 9.2 channel is pretty optimistic, especially considering the price range and that the unit is full of modern technologies. So, I want to see how Onkyo tries to cut a slice for themselves of the AV receiver market pie.
Design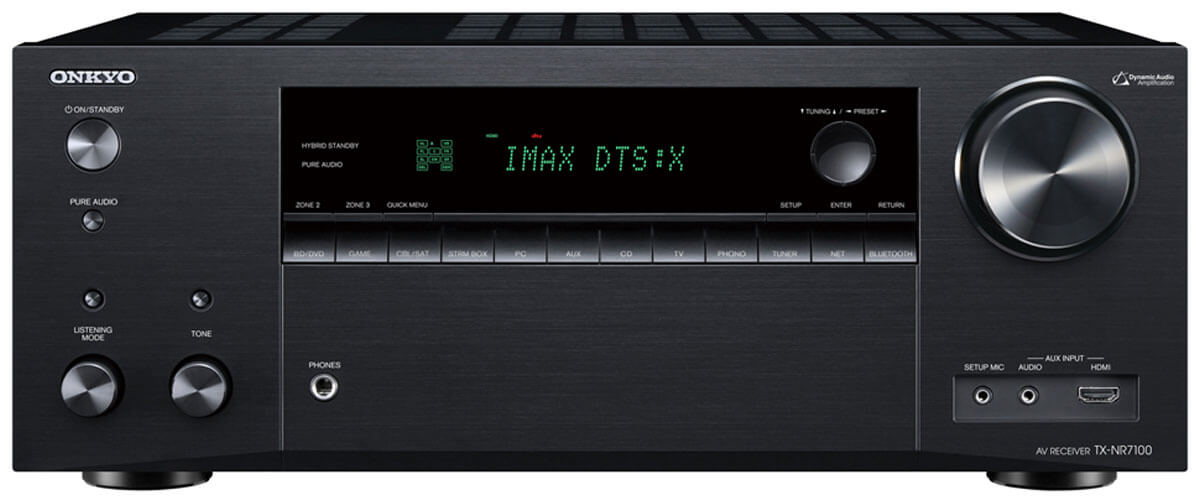 Looks and design are indeed subject to personal opinion. Too much depends on the individual taste, yet, Onkyo offers a true refreshment after the Denon AVR series and Marantz with their NR receivers. The TX-NR7100 offers versatility, having only one colossal volume control surface on the right side. On the left, it has two smaller knobs and several control buttons. It resembles classic receivers from the 90s – a traditional black box with multiple control buttons and several inputs.
From the ergonomic perspective, such a location is neither better nor worse than its competitors. All the difference lies in personal preferences, whether the control buttons should be located and how their color and display match the overall setup. The dimensions are also pretty standard for this class – 17-3/16″W x 6-13/16″H x 16-3/16″D. The same can be said about its weight – 22.9 lbs, which is a bit heavier than the AVR-X1700H from Denon.
Features and specs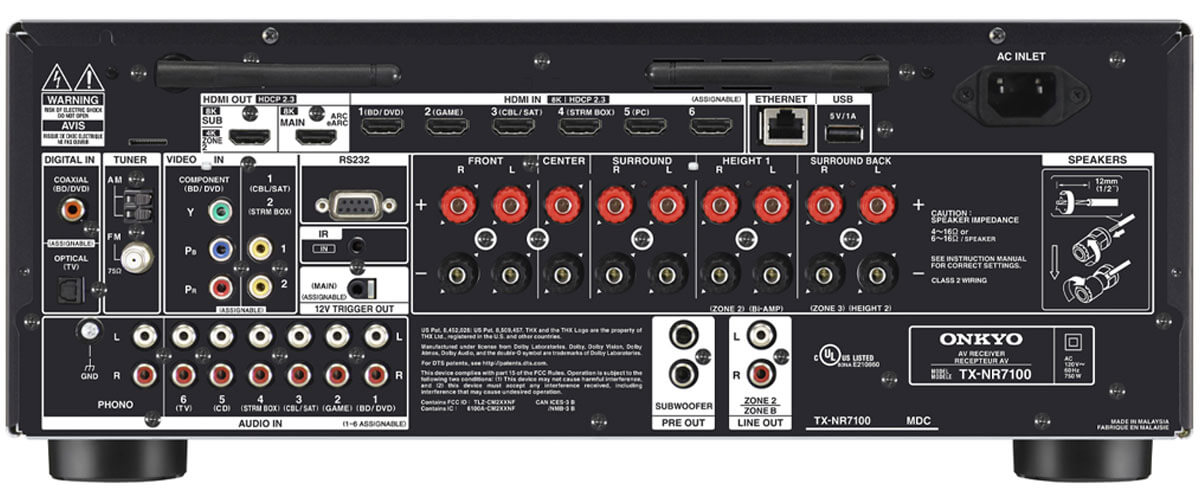 Onkyo TX-NR7100 offers 100 watts per channel with 8-ohm speakers at a classic 20-20.000 Hz rate with 0.08% THD, which is pretty standard for this price range. It was enough to provide a pleasant sound with my 5.4.4 setup, with no distortions or feelings of a lack of power. Regarding channels, the TX-NR7100 has a clear advantage over Denon AVR – X2700H and can be compared to the AVR-X3700H.
According to TX-NR7100 specifications, the receiver has 7 HDMI inputs, yet only the main one supports eArc/Arc. The number of HDMI outputs equals Denon AVR-X2700H and Marantz SR5015, which have 2. The unit includes component and composite video inputs, single phono, and two digital inputs. Altogether, this set of connectors allows the receiver to handle almost any device connected to it. It also has Bluetooth, Wi-Fi, and AirPlay 2 built-in, together with supporting current streaming services. Furthermore, the receiver supports Zone 3 feature, which is not very common in this price range.
Onkyo TX-NR7100 features the latest sound enhancement technologies, including DTS Neo:X, DTS:X, and IMAX Enhanced. The main HDMI inputs can support up to 8k/59-60HZ video, supplemented by HDR10+ family technology. At 4k resolution, one can watch movies or play games at 120hz. While in gaming, the receiver shows itself more or less equally to main competitors. It has a clear advantage over the AVR 2700H and SR5015 when watching movies as it is IMAX Enhanced, surpassing them in terms of picture, sound, and scale.
Like other AV receiver companies, Onkyo has its own room equalization and calibration technology – Accu-EQ. For those users who have no experience in tuning the receiver by themselves, this technology will seriously help. Indeed, a professional will tune the receiver much better, but Accu-EQ also does an excellent job.
Listening experience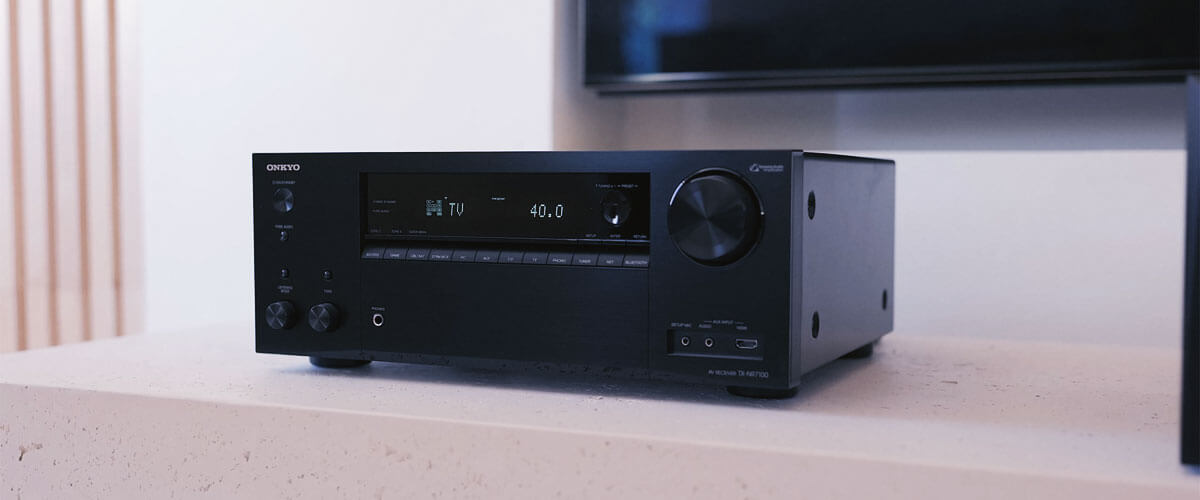 Concerning the price and support of the 9.2 channel, I was eager to put the receiver to the test with movies. I chose several more or less modern ones and undying classics to check the upscaling. I can't say the receiver takes the sound quality to the next level, but it has clear advantages over competitors. While supporting the same new surround audio sound formats and video technologies, it is IMAX Enhanced, which adds lots of quality to sound and pictures. Loved the bass parts and grainless dynamic moments.
The receiver fades when listening to music, offering no advantages over Denon AVR X1700H or Marantz NR5015. I can't say it sounded bad, yet I missed overtones usually inherent to Denon, Marantz, or Yamaha, considering their unique sound. Overall, the receiver shows itself to be very solid. I never felt like an Onkyo fanboy or even had any faith in it, yet, concerning the price, the TX-NR7100 is an excellent receiver that can genuinely compete with its rivals. Maybe if Onkyo had more models like the TXNR-7100, we would have heard more often about this company.
Key specs
Channels: 9.2.
Power output: 100W/8 Ohm, 220W/6 Ohm.
HDMI inputs/outputs: 7/2.
Video functions: 8K/60Hz, 4K/120Hz, 4K/60Hz pass-through, video upconversion (up to 1080p and 8K) for analog and HDMI sources.
Bluetooth/Wi-Fi: yes/yes.
Streaming services: AirPlay2, Deezer, Tidal, Pandora, SiriusXM, Napster, SoundCloud, Amazon Music, Amazon Music HD, Mood mix.
Supports: HDMI ARC, HDMI eARC, HDMI CEC, HDCP2.3, HDR10, HDR10+, Dolby Vision.
Surround sound: DTS HD Master, DTS Neural:X, Dolby TrueHD, Dolby Surround, Dolby Digital Plus, Dolby Atmos Height Virtualization, Dolby Atmos, IMAX Enhanced, DIRAC Live.
We are supported by our audience. When you purchase through links on our site, we may earn an affiliate commission at no extra cost to you.
Our newsletter
* We will never send you spam or share your email with third parties