The modern AV receiver is a technological and multifunctional device capable of taking your emotions from watching movies and listening to music to another level. But it is often very difficult to decide which model can meet most of your needs. That's why I've prepared a Pioneer Elite VSX-LX105 review for you today. It is a model from one of the market leaders, which has been delighting fans with good products for many years.
The Japanese company Pioneer made the unit in 2021 as the most affordable premium model, designed exclusively for the American market. The more expensive VSX-LX series receivers are the Elite VSX-LX305 and Elite VSX-LX505.
Design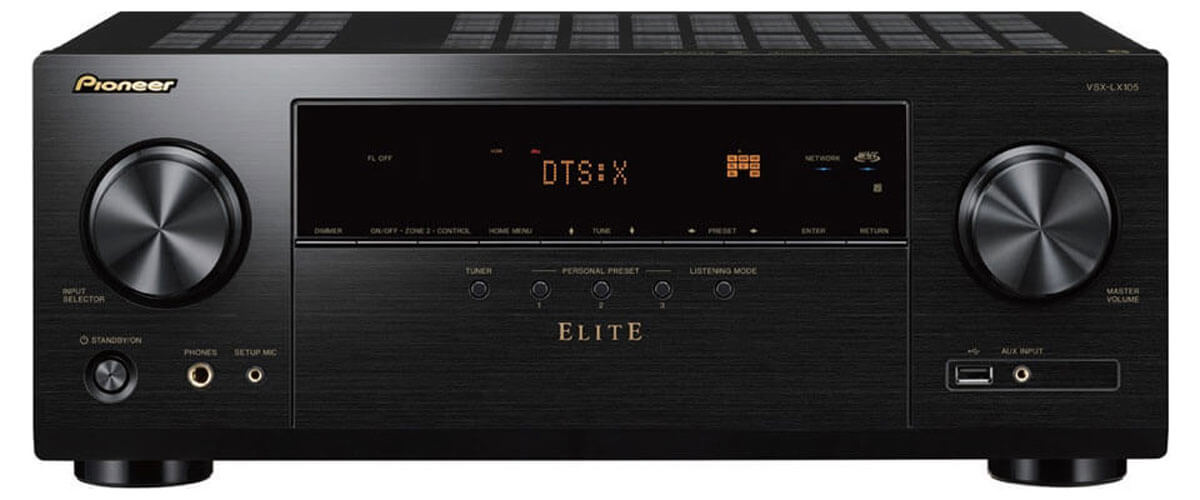 In terms of design, the VSX-LX105 doesn't differ much from its older brothers. Partly because Pioneer always tries to keep a certain style of its products. The receiver's front panel is not overloaded with various details, so it looks pretty minimalistic.
I liked having a large and well-readable screen in the model's center. There is one knob each on the left and right sides for input selection and volume control. USB and AUX inputs are very conveniently located. As for the power button and Phono input, you will find them in the left corner of the device.
Features and specs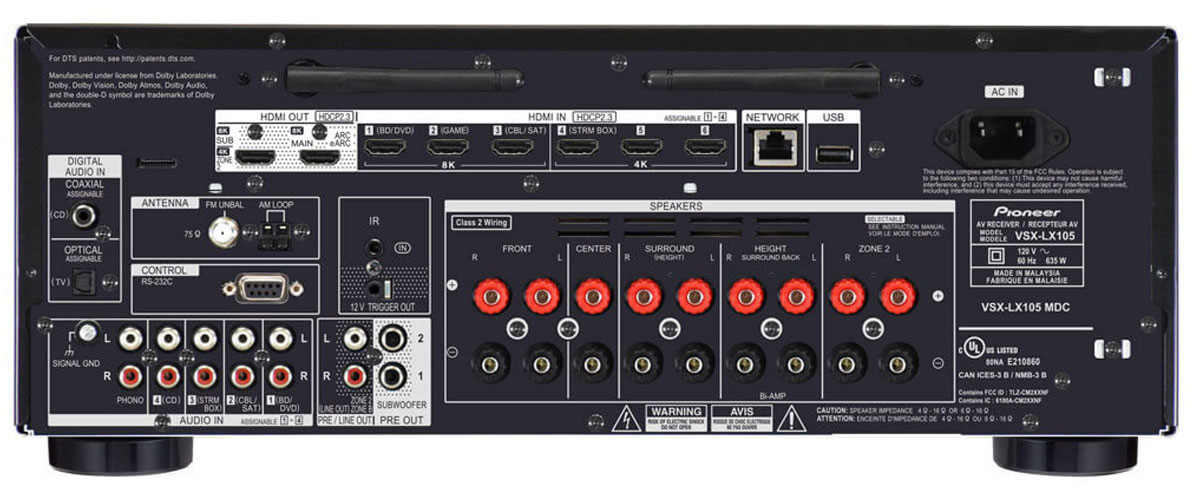 Well, now let's talk about the Pioneer Elite VSX-LX105 features. The receiver has a 7.2-channel amplifier with about 100 watts per channel (8 ohms, 20 Hz-20 kHz, THD 0.08%). In addition to the possibility of using 3 personal presets, it has also been profiled as Roon-Tested, thus guaranteeing perfect compatibility between different devices.
From the technical point of view, the receiver supports 8K resolution at 60Hz, Dolby Vision, and HDR10+ technologies. During image quality testing, I did not notice any malfunctions. The Forrest Gump movie (my favorite classic with lots of talks and action scenes) was played without interruptions or flickers. In general, the picture looked clear, vivid, and moderately contrasted.
Also, a good plus is the presence of two multi-room zones and enhanced gaming. But there is an important nuance here – the 8K pass-through is only available in Zone 1.
Speaking about connectors and methods to connect – everything is also good here. The device has 6 HDMI inputs (2.1) and 2 HDMI outputs (2.1), which are not always found in other models in a similar price range. In addition, the VSX-LX105 supports HDCP 2.3 and eARC technology. Furthermore, there are 2 subwoofer outputs, Ethernet ports, dual-band Wi-Fi, Bluetooth 4.2, and Phono (MM) In, among the available connection methods.
Now, as for the audio specifications of the Elite VSX-LX105. It supports surround sound formats such as Dolby Atmos and DTS:X. Thanks to Dolby Atmos Height Virtualization technology, it is also possible to create a virtual surround effect without additional overhead speakers. But most interestingly, the receiver is certified to work specifically with the Sonos ecosystem. So if you have a Sonos home audio system, you'll like the Sonos Port.
Listening experience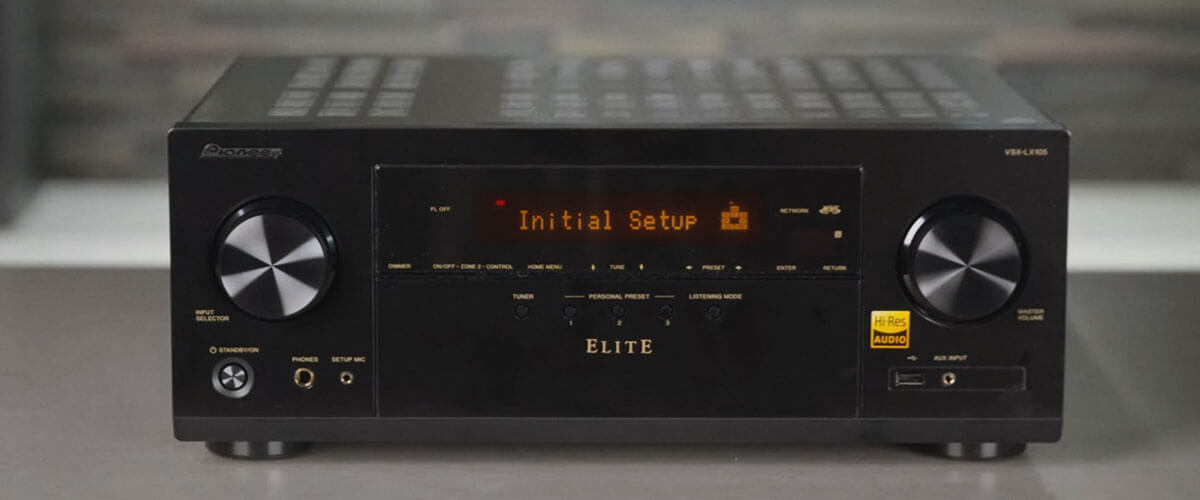 I calibrated the sound from the beginning with MCACC automatic room tuning technology. The sound was pretty easy to set up, so I don't think you'll have any problems with that. The test was conducted in two ways: I watched Forrest Gump and listened to music using AirPlay 2. In both cases, there was an immersive effect. All the details sounded realistic and, most importantly, clean. Although the distortion did not appear when I turned up the volume, I noticed that the receiver started overheating. That is why I ask you to pay attention to this.
Key specs
Channels: 9.2.
Power output: 100W/8 Ohm, 210W/6 Ohm.
HDMI inputs/outputs: 6/2.
Video functions: 8K/60Hz, 4K/120Hz, 4K/60Hz pass-through, video upconversion (up to 1080p and 8K) for analog and HDMI sources.
Bluetooth/Wi-Fi: yes/yes.
Streaming services: AirPlay2, Deezer, Tidal, Pandora, SiriusXM, Napster, SoundCloud, Amazon Music, Amazon Music HD, Mood mix.
Supports: HDMI ARC, HDMI eARC, HDMI CEC, HDCP2.3, HDR10, HDR10+, Dolby Vision.
Surround sound: DTS HD Master, DTS Neural:X, Dolby TrueHD, Dolby Surround, Dolby Digital Plus, Dolby Atmos Height Virtualization, Dolby Atmos.
We are supported by our audience. When you purchase through links on our site, we may earn an affiliate commission at no extra cost to you.
Our newsletter
* We will never send you spam or share your email with third parties