Are you wondering what a very inexpensive receiver has to offer today? Then my Sony STR-DH790 review will be helpful for you. This model is not much more expensive than STR-DH590, but it offers considerably more features in its parameters. Well, let's take a step-by-step look at the receiver's improvements, features, and capabilities, as I'm sure it could be trendy for its price if all expectations hold true. Let's go.
Design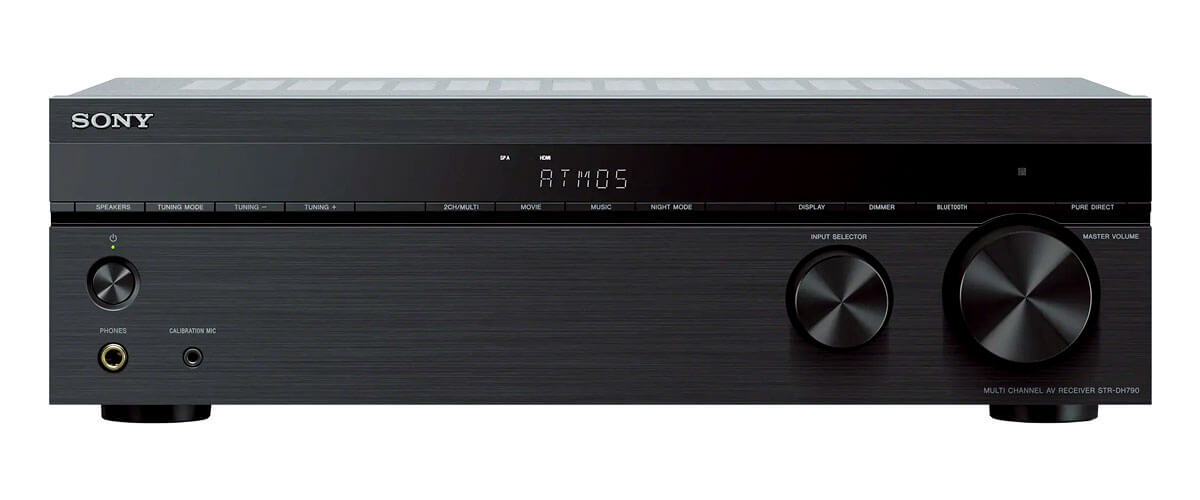 Externally, the two devices are indistinguishable. The black case in traditional Sony style measures 17″ x 5-1/4″ x 11-3/4″ and weighs 16 lb 6 oz. The compact model has an LCD on the front panel with subtle control buttons underneath. You will find the power button on the left side, and on the right side, there are two round controls of different sizes: Input Selection and Master Volume. The only jacks here are Phones and Mic. Many users like to have an HDMI input on the front panel for quick access. I'm not too fond of wires, so minimalistic restrained exteriors are always a plus for me.
Features and specs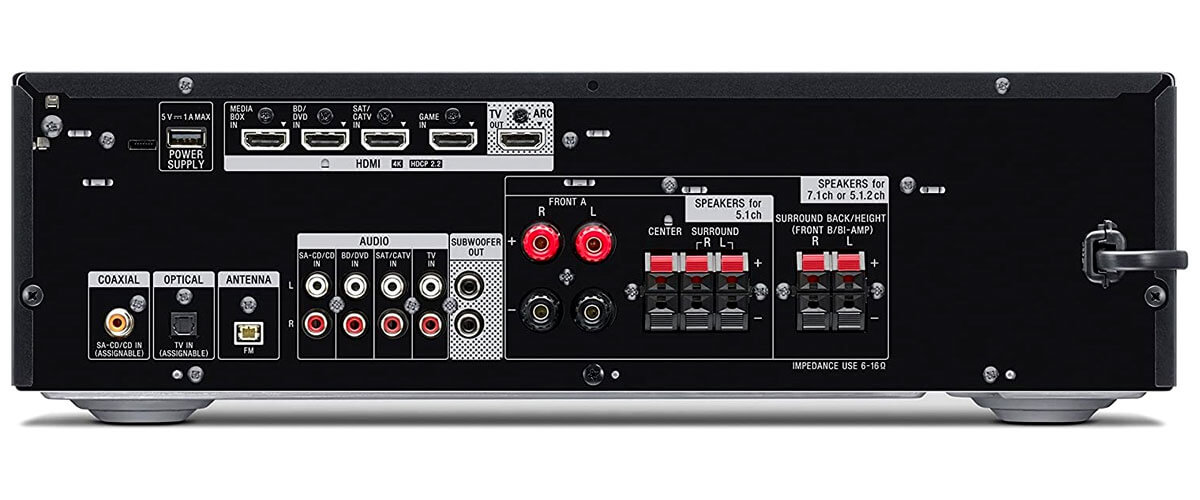 Well, we have a 7-channel receiver with the possibility to form a configuration like 5.1.2. The unit's power is 145 watts (6 ohms, 1 kHz, THD 0.9%, 1 ch).
For its price, STR-DH790 has pretty decent features. The channel organization allows bi-amping for the two front speakers, as well as speakers for Dolby Atmos and DTS:X. Rarely a model in this price range can boast support for these formats. For example, the STR-DH590 is designed only for older sound formats.
Four HDMI inputs in the receiver support 4K and UHD with up to 60 Hz, HDR10, HLG, Dolby Vision, 3D, Deep Colour, and HDCP 2.2. There is only one HDMI output. But unlike the DH590 model, here you will find an HDMI port with an enhanced audio return channel (eARC).
Of the other connection possibilities, there is a USB socket (5V/1A). But the lack of Wi-Fi or Ethernet was surprising. It is not a critical lack, but it certainly does not add to its versatility and usability. Although there is Bluetooth, which may well make up for this shortcoming, as it supports the AAC codec, which means listening to Apple will be without loss of quality.
Of course, we should have expected that the STR-DH790 specifications are limited. But we should remember how inexpensive it is. So, if you ask me, I think the receiver stands out from the crowd of competitors favorably. And in some respects, it is even pleasantly surprising.
Listening experience
Before testing the receiver, I checked the calibration microphone's tuning. Autocalibration determines the size of the speakers, levels, distances, and EQ. Not the most innovative system. I had to adjust some parameters manually. But it's easy. The movie I chose was saturated with all sorts of sound effects: The Hitman's Bodyguard. Great soundtrack, lots of detail, action, wheel rattling, and dialogue – just the thing. Well, the sound was surprisingly good. Needless to say, it could have been better. But in this particular case, it was great. There are few competitors for a Sony STR-DH790 in its price range. The Dolby Atmos sound surrounds and follows the picture, moving from one corner of the room to another, just as it should be for the feeling of being in a movie.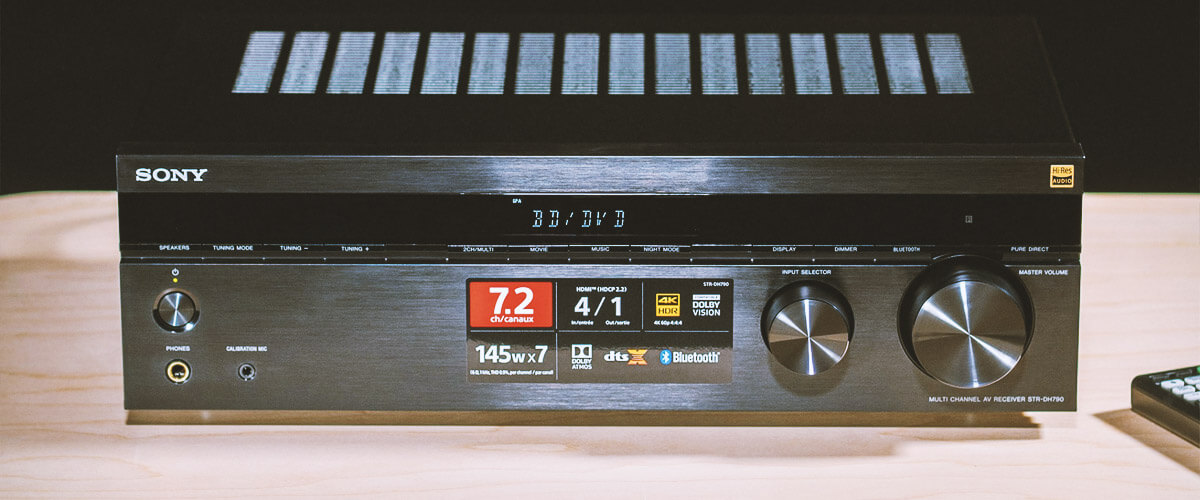 Key specs
Channels: 7.2.
Power output: 145W/6 Ohm.
HDMI inputs/outputs: 6/2.
Video functions: 4K/60Hz pass-through.
Bluetooth/Wi-Fi: yes/no.
Streaming services: no.
Suppots HDMI ARC, HDMI eARC, HDCP2.2, HDR10, Dolby Vision.
Surround sound: DSD, DTS-HD Master, DTS:X, Dolby Digital, Dolby Dual Mono, Dolby Atmos.
We are supported by our audience. When you purchase through links on our site, we may earn an affiliate commission at no extra cost to you.
Our newsletter
* We will never send you spam or share your email with third parties