The Yamaha R-S202 is a stereo receiver released in 2018. Yamaha positions this model as a cost-effective solution for individuals who want to build a home entertainment system and take the listening experience to a new level but are not ready to spend too much money on it. So, I decided to make my Yamaha R-S202 review because it will be of interest to many users, and I haven't tested a budget Yamaha stereo receiver in quite some time. The last time it was the predecessor of today's model, the Yamaha R-S201. So, let's see what innovations the new model has.
The R-S202 features updated connectivity and sound if we directly compare it to the previous generation. When looking at the other models in its class, the R-S202 is more affordable. But are these improvements enough to make it the top offer in the price range? You will find out throughout this article.
Design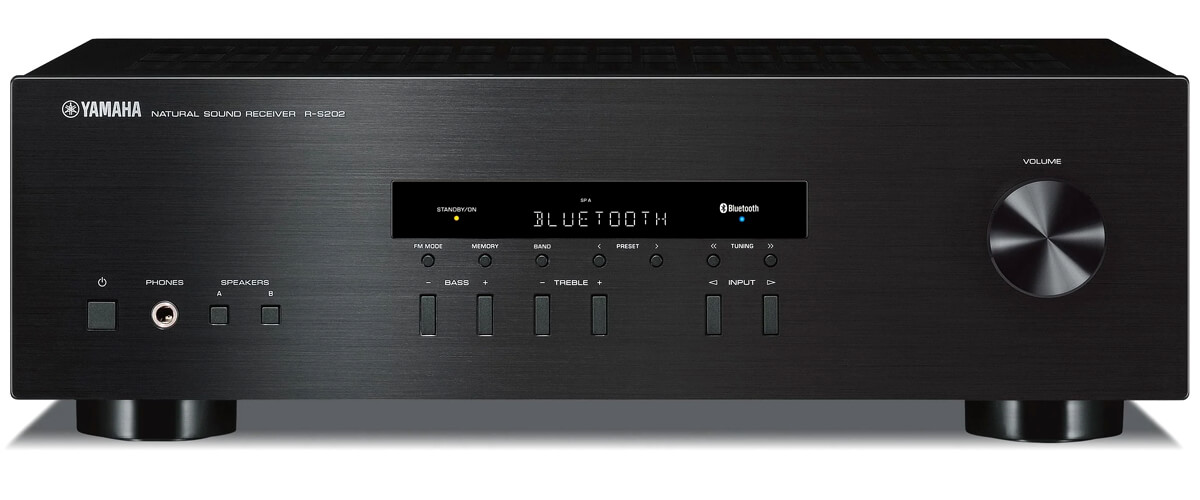 The Yamaha R-S202 has a classic, straightforward design with a sleek black finish. In other words, it is a typical black box with controls on the front supplemented by a screen and a back panel full of various connectors. The build quality is solid, and the control surfaces are straightforward. The dimensions of the Yamaha R-S202 are 17-1/8″ x 5-1/2″ x 12-5/8″ (H x W x D), and it weighs 14.8 lbs. In terms of dimensions and weight, the device is a typical stereo receiver, slightly different from Denon, Onkyo, and Marantz units.
The receiver's discrete output stages are made with complementary pairs of Sanken transistors and operate in class A/B. They are cooled by a ribbed heatsink, which occupies a central place inside the receiver case. The power supply is provided by a Bando transformer. The back wall of the case is traditionally devoted to switching. Acoustic terminals give the budget class of the device – there are four pairs of terminals to connect two pairs of speakers, but, unfortunately, all of them are spring-loaded. R-S202 is equipped with four line inputs on RCA connectors and one output.
Features and specs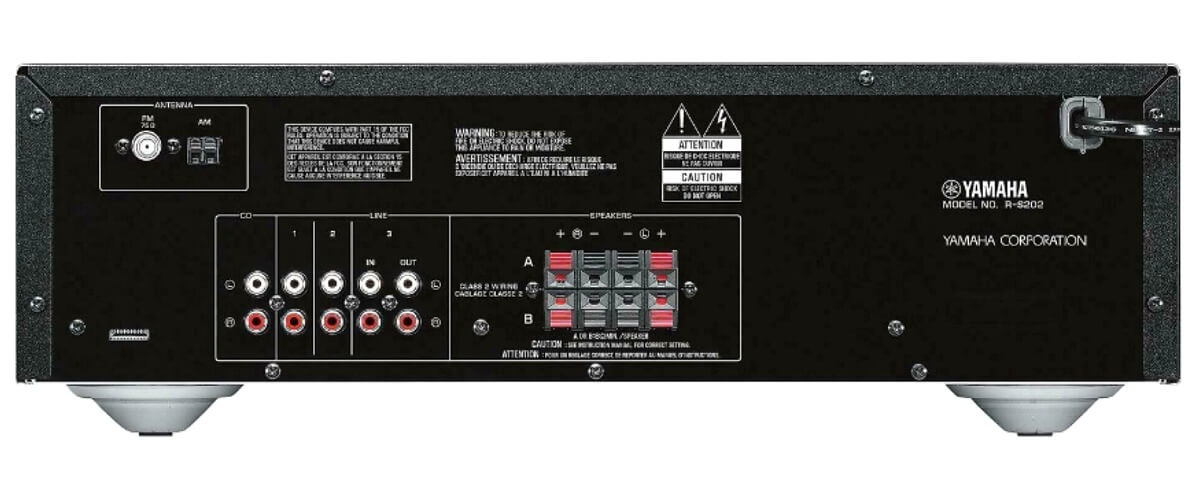 The Yamaha R-S202 2-channel receiver. So, it can work only with stereo and supports varying impedance speakers. Thus, it can provide 100 W at 8 ohm / 40 Hz to 20 kHz / 0.2% THD. With 6-ohm speakers, the unit offers about 165 W per two channels. In turn, with 4-ohm speakers, it delivers 115 W / 1 kHz / 0.7% THD. It can pump more than 140 W with 8-ohm speakers but with 10% THD. Note that the manufacturer guarantees quality sound only with 8-ohm speakers.
According to the R-S202 specifications, it is a classic stereo receiver with a conventional tuner capable of handling AM and FM radio signals. In addition, the tuner has a memory for storing fixed settings, so you can tune all your favorite radio stations once and switch between them. This model is also equipped with a Bluetooth adapter that can receive digital streams from mobile gadgets without the help of wires. That is, when you come home in the evening, you can continue listening to your favorite track on the big stereo from your smartphone that you were listening to on the road.
Setting up the receiver only took a few minutes. It consisted of connecting the speakers. Connecting my iPhone, which I was using, via Bluetooth was no problem. I saved a lot of time because I didn't have to specify the distance to each speaker, the signal levels for each channel, or run auto-tuning like you usually do when setting up a modern AV receiver. Instead, I simply plugged in the speakers and sank into my favorite chair, prepared to immerse myself in the music.
Listening experience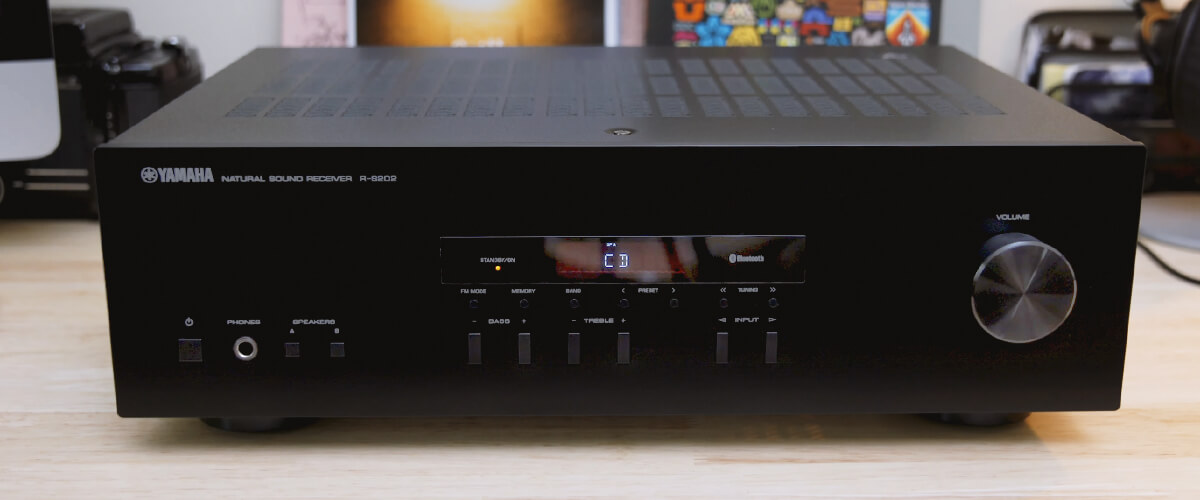 I had a positive experience when listening to this Yamaha stereo receiver. The R-S202 also has enough power to fill my apartment, even when handling peaks.
When I manually played with settings, it was because I wanted to push the unit to its limits and not because it couldn't set itself right out of the box. I manually tried different modes and additions to test the unit's tuning flexibility. Altogether, my tests showed that the R-S202 delivers high dynamic power with low-impedance drive capability, providing a rich and controlled audio output.
Key specs
Channels: 2.0.
Power output: 140W/8 Ohm.
HDMI inputs/outputs: 0/0.
Video functions: has not.
Bluetooth/Wi-Fi: yes/no.
Streaming services: has not.
Surround sound: has not.
We are supported by our audience. When you purchase through links on our site, we may earn an affiliate commission at no extra cost to you.
Our newsletter
* We will never send you spam or share your email with third parties