The receiver is the heart of the home theater system. Thanks to it, you can have an unforgettable experience and add some bright colors to watching movies and listening to music. Today, I have prepared a Yamaha RX-A6A review for you. In my opinion, this device is perfect for the most avid fans of high-quality sound.
The RX-A6A was created in 2021 and is the second model in the premium Aventage series. However, there is not much difference between it and the top flagship RX-A8A, and many of the same technologies are available here at a better price.
Design
Externally, all models of the Aventage series resemble each other, having a pleasant and minimalistic design. The RX-A6A has a glossy black panel with a vast built-in volume control in the center, an input select dial, and an LCD (which can be customized to show the information you want).
You won't find many connectors on the front panel. Such a solution preserves the neatness of the receiver. There is only a 6.3 mm headphone jack, a USB-A port, and a mini-jack for auto-calibration. Audio noise has been reduced thanks to Anti Resonance Technology (A.R.T.) Wedge. Convenient, simple, and ergonomic. I like it.
Features and specs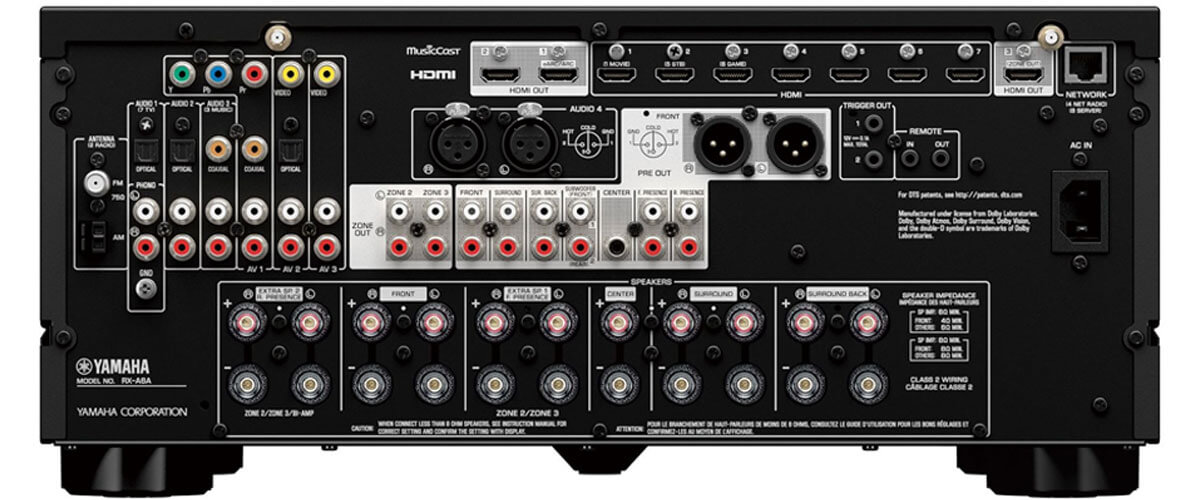 The receiver has a 9.2 channel amplifier with 150 watts per channel (8 ohms, 20Hz – 20kHz, 0.06% THD, 2ch driven). Also, the Yamaha Aventage RX-A6A features a 32-bit SABRE PRO Premier ES9026PRO DAC (main channels) and an ES9007S (height channels).
As for the video capabilities of the model, it supports 8K resolution, last HDR formats, and enhanced gaming. After the testing, I was pleased with the result. The picture was at the highest level, as the movie scenes looked bright and clear. I especially liked the detailing of the individual elements. Due to this, my eyes were not tired after the prolonged viewing.
Also, it presents a fairly wide range of possibilities when it comes to the specifications of the RX-A6A and connection options. It has 7 HDMI inputs and 3 HDMI outputs with HDCP 2.3 and eARC support. By the way, all these ports have HDMI 2.1 with up to 40 Gbps bandwidth. Connection methods include 2 subwoofer outputs, Wi-Fi, Bluetooth, USB port, Phono (MM) input, and so on. Basically, it has everything a modern receiver should have. Therefore, I give another plus to this model.
RX-A6A supports the latest surround sound formats, such as Dolby Atmos, Auro-3D, and DTS:X with CINEMA DSP HD3. Agree that such a set immediately indicates that watching a movie will now become a whole new level of quality. Definitely, it's a plus.
The advantage of this device is also the ability to easily and quickly play music from different streaming services through the MusicCast App. And I have to say, there are many of them, including Spotify, Pandora, Tidal, and others. As for iPhone owners, they will like the presence of AirPlay 2 technology. Convenient features also include the presence of three multi-room zones, which is quite rare (mostly, there is support for 2 zones) in mid-range models.
Despite the excellent hardware and a wide range of features, the small and poorly readable display frustrated me a bit. Obviously, Yamaha sacrificed screen size in favor of a minimalistic and beautiful panel.
Listening experience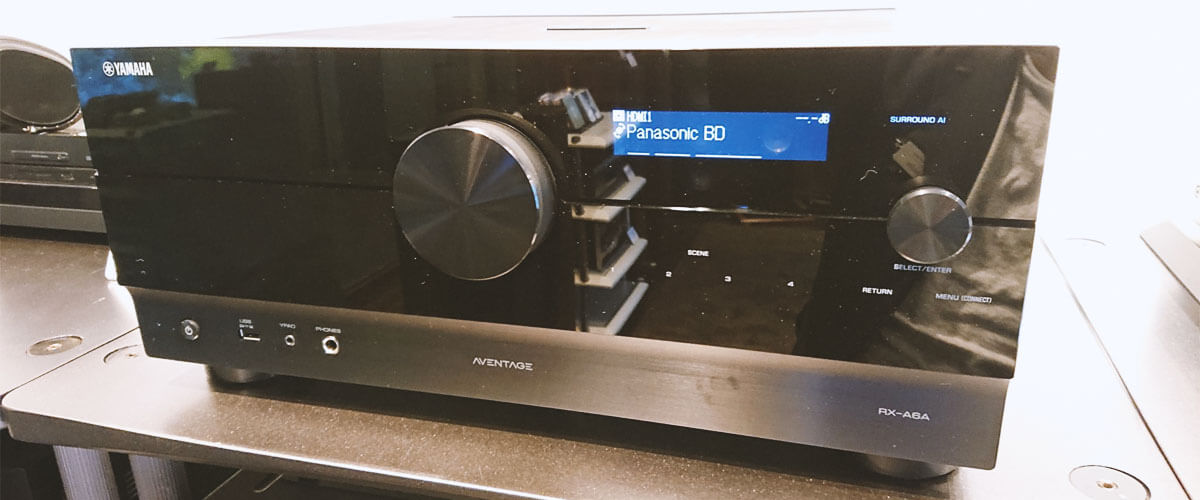 Now let's talk directly about my testing experience. For starters, I calibrated the sound with the YPAO-R.S.C. Although the sound improved, Denon and Marantz have already switched to the more advanced Dirac Live. The setting options are more advanced there, although YPAO is quite able to cope with its task.
The two-channel mode is neutral without adding the typical Yamaha warmth. I did not like Surround:AI because it distracted me by turning on and off the reverb effect in songs where there are vocals and instruments.
As for the surround sound, it was top-notch! The dialogues were heard clearly and perceived in a completely new way. In addition, the action scenes made me shudder and relive everything together with the hero. In a word – great!
Key specs
Channels: 9.2.
Power output: 150W/8 Ohm.
HDMI inputs/outputs: 7/3.
Video functions: 8K/60Hz, 4K/120Hz, 4K/60Hz pass-through, video upconversion (up to 1080p and 8K) for analog and HDMI sources.
Bluetooth/Wi-Fi: yes/yes.
Streaming services: AirPlay2, Deezer, Tidal, Pandora, SiriusXM, Napster, SoundCloud, Amazon Music, Amazon Music HD, Mood mix.
Supports: HDMI ARC, HDMI eARC, HDMI CEC, HDCP2.3, HDR10, HDR10+, Dolby Vision.
Surround sound: DTS HD Master, DTS Neural:X, Dolby TrueHD, Dolby Surround, Dolby Digital Plus, Dolby Atmos Height Virtualization, Dolby Atmos, Auro-3D
We are supported by our audience. When you purchase through links on our site, we may earn an affiliate commission at no extra cost to you.
Our newsletter
* We will never send you spam or share your email with third parties