It wasn't long since Denon put the market of AV Receivers on the blades with its AVR-X4700H, and they have already presented the new AVR-X4800H. Considering all the fuss about their new receiver, I didn't have to think twice when I got the chance to make a Denon AVR-X4800H review.
The AVR-X4700 belongs to the same price range yet comes a bit cheaper than the new AVR-X4800H. Altogether, the new unit is an upgraded version that offers an upgraded 9.4-channel amplified sound, including 4 independent subwoofers. Theoretically, this provides an immersive experience, especially including HEOS support and Zone 3 features. All these features may take this receiver to the top, especially considering its price.
Design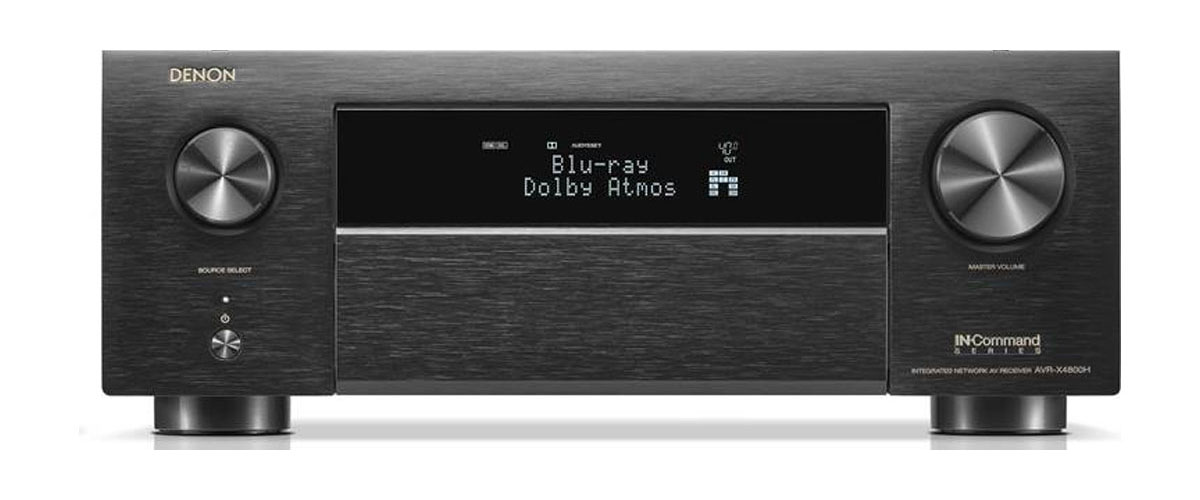 In terms of design, the new model offers next to nothing special. From the first glance at the front panel, one may not even see the difference between these two devices. The same large control surfaces, a small power button on the lower-left side, and a large screen with valuable information.
Altogether, the AVR-X4800H follows Denon's traditional design path – making solid, well-built, classically designed receivers. The unit's chassis is robust and reliable, but at the same time, it requires quite a bit of space, considering its size of 17.1 x 6.6 x 14.9″. Weight is not much different from its predecessor or models from competitors, such as Marantz. The unit weighs 29.1 lb.
Features and specs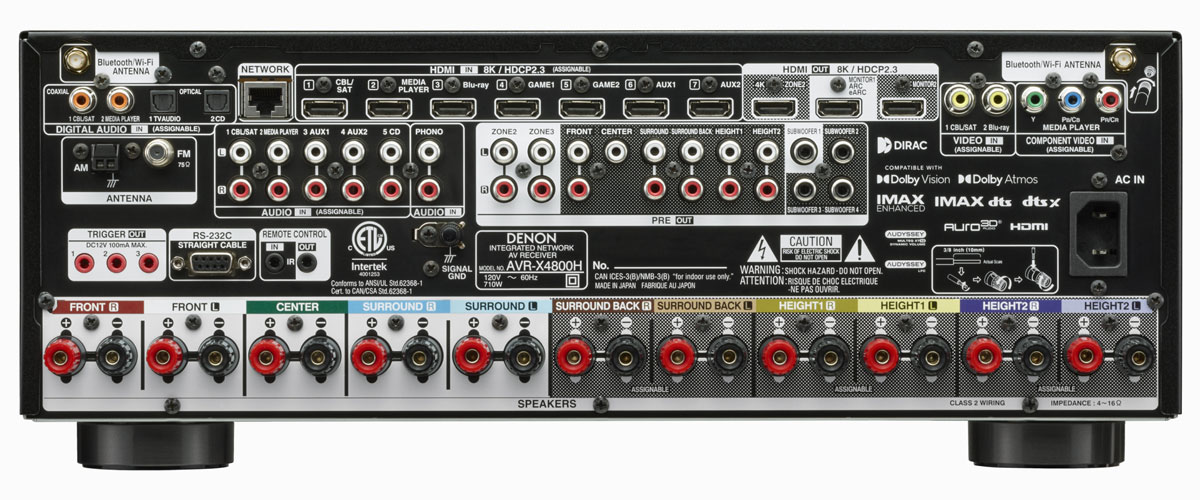 The AVR-X4800H is a 9.4 channel 8K compatible AV receiver. It delivers up to 125W of power per channel with 8-ohm speakers (20-20,000 Hz) at 0.05% THD. The device fully supports Dolby technologies, including the latest DTS Virtual:X and Auro-3D. An exciting moment is that the device has 4 amplified subwoofer outputs, creating an immersive and deep sound in several zones. According to the AVR-X4800H specifications, it supports Zone 3 features, creating up to 3 separate rooms and controlling them from a single unit.
The receiver has 7 HDMI inputs. Sadly, none of them is located on the front side. Also, on the rare side, there are 3 HDMI outputs. All HDMIs are 2.1 and can maintain 8K/60Hz AB or 4K/120Hz AB. Inputs and outputs come with 2.3 HDCP technology. The device has 5 analog inputs, single phono, 2 digital optical and coaxial connectors, an assignable bi-amp drive, and an FM/AM antenna. Network capabilities are presented by fully supporting modern streaming services such as Amazon Alexa, Apple Airplay, etc., 2,5/5Ghz WI-FI, and Bluetooth. Altogether, a substantial number of ports and connectors.
The Denon AVR-X4800H features the latest video technologies. As I have noticed, it showed an outstanding capability with 4K/120hz video and 8K upscaling. The list of other video features includes support for Dolby Vision, HDR10+, and those that came before it, Dynamic HDR. In addition, it allowed me to watch action movies seamlessly, without a single stutter or lag. Speaking about gaming, if you have a compatible console or PC, you can play at 4k 120 frames per second with no problems, thanks to the support of VRR, ALLM, and Quick Frame Transport.
The Smart TV connectivity feature was another aspect that took my attention. With all my respect to the Denon remote, I am more used to my TV one. This feature allowed me to control the receiver connected to my Philips 8K TV via HDMI. Very convenient, especially for those who don't want to manage multiple remotes.
Listening experience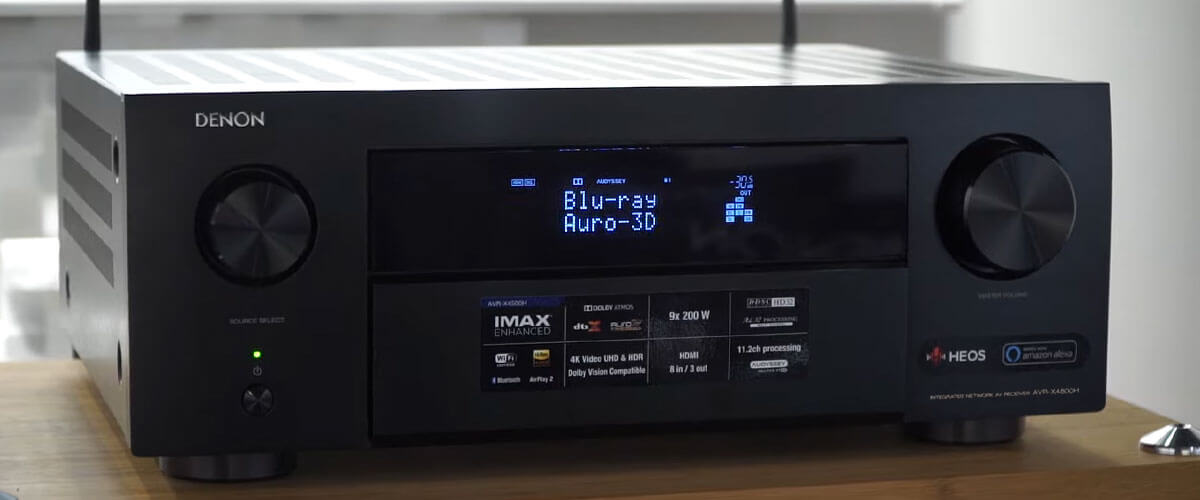 I began my sound test with a rather unusual thing – listening to music. Indeed, one won't buy an AV receiver solely to listen to music, but this is still one of the typical use cases. The AVR- X4800H offers several sound modes. You can conveniently switch between those via the remote or app. Although some sound modes may be somewhat distinct from the original tracks, I made them more vibrant with a phasing effect. Yet, none of the sound modes can fix low-quality songs. Altogether, the unit proved itself to be an improvement over the AVR- X4700H, offering more detailed and broader sound with great detail.
When gaming, the receiver incredibly precisely worked with object-based sounds. In movies, the AVR-X4800H doesn't have the same power as Yamaha RX-A6A but provides a more transparent and precise sound. The truth is that in terms of power, the new model is not much of an improvement over the X4800H. Yet, it surpassed its predecessor in terms of immersive sound and dynamics. The new AVR-X4800H is an excellent and reliable receiver with no game-changing flaws that may spoil the experience.
Key specs
Channels: 9.4.
Power output: 125W/8 Ohm, 165W/6 Ohm.
HDMI inputs/outputs: 7/3.
Video functions: 8K/60Hz, 4K/120Hz, 4K/60Hz pass-through, video upconversion (up to 1080p and 8K) for analog and HDMI sources.
Bluetooth/Wi-Fi: yes/yes.
Streaming services: AirPlay2, Deezer, Tidal, Pandora, SiriusXM, Napster, SoundCloud, Amazon Music, Amazon Music HD, Mood mix.
Supports: HDMI ARC, HDMI eARC, HDMI CEC, HDCP2.3, HDR10, HDR10+, Dolby Vision.
Surround sound: DTS HD Master, DTS Neural:X, Dolby TrueHD, Dolby Surround, Dolby Digital Plus, Dolby Atmos Height Virtualization, Dolby Atmos, Auro-3D, IMAX Enhanced, Multichannel stereo.
We are supported by our audience. When you purchase through links on our site, we may earn an affiliate commission at no extra cost to you.
Our newsletter
* We will never send you spam or share your email with third parties